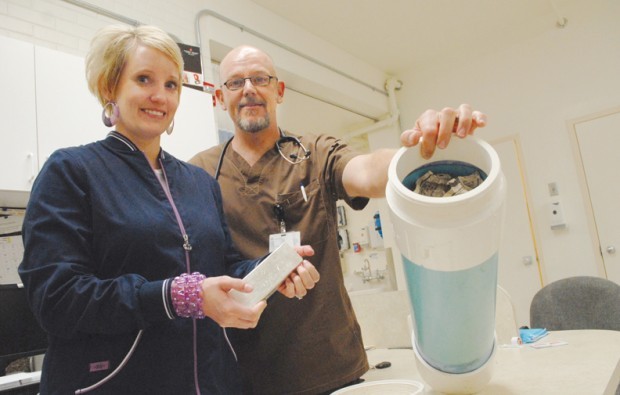 RUPERT — A Rupert couple's discovery of a time capsule in their yard came with a silver lining worth about $46,000.
James and Brytten Sievers, who have lived in their home for five years, uncovered a plastic tube filled with 18 silver bars as they dug out an egress window well while recently performing home renovations.
Brytten, who had won the couple's argument of where to place the window, said that if the tube had been 6 inches further from their home, they never would have found it.
"When I got down about 4 feet my shovel hit something that went 'crunch,'" said James, who was digging the hole on Oct. 29 because he had been unable to reach the worker he'd planned to hire for the task.
As James began removing the dirt from around the tube he realized that it wasn't a clean-out sewer line like he feared it was. Brytten said she immediately thought it looked like a time capsule.
A neighbor who had previously uncovered 100 pounds of lead buried in his yard watched on, expecting that the Sievers had unearthed a similar find.
James unscrewed the tube's lid and began pulling out 100-ounce bars of .999 pure Johnson-Matthey silver wrapped in newspaper.
After James pulled out the third bar, he said his neighbor left, muttering that he hadn't seen anything and didn't know anything.
Brytten looked up the cost of one of the bars — about $2,600.
"I was out there doing the chicken dance in my yard," James said.
But he said his glee was soon tempered by another thought — who had buried the silver?
A 1982 date was stamped on the time capsule and the newspapers inside bore the same year. A little detective work by the Sievers soon revealed that Clint Nelson, who now lives in Utah, had built the home and occupied it in 1982.
James placed a call to Nelson and told him that he now lives in his old house.
"I said, 'I found something in the backyard when I was digging around and I think it's yours,"' James said.
When Nelson realized that the couple planned to return the bars to him, he told them they had restored his faith in humanity and they didn't owe him anything. He said if he didn't hear anything back from them once they hung up, he'd know they'd decided to keep it.
"So I'm doing the chicken dance again," James said. "But 30 minutes later I knew what I wanted to do. I wanted to split it with him."
That Sunday, the Sievers packed up all the silver — just in case Nelson changed his mind about wanting it all back — and drove to Utah to see him.
"What a decision to be faced with," James said. "I could have just kept my mouth shut."
The Sievers ended up giving Nelson half the silver.
Brytten said Nelson assured them there is no more buried treasure in their yard. And their portion has been tucked away in a safety-deposit box where they plan to keep it in the hopes that silver prices will continue to rise.
"Clint was a businessman and he said someone had paid him in silver. Apparently the bottom had fallen out of silver and he buried it because he was tired of looking at it," James said. "He said at one time there was five tubes buried back there and that one just got left behind."
James added that if they eventually find out the silver was stolen and the FBI comes knocking, at least he and his wife have a cool story to tell.
Be the first to know
Get local news delivered to your inbox!