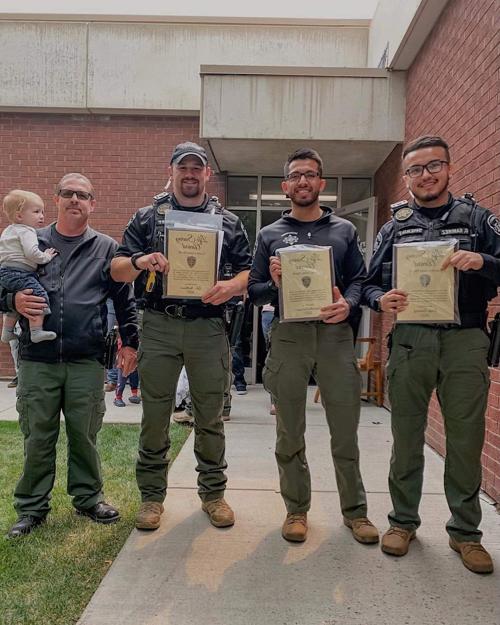 BURLEY — Three Cassia County Sheriff deputies received commendations for life saving measures after a California man broke a window at a pawn shop and cut an artery in his arm.
Deputies Tyler Matthews, Alex Carrasco and George Ramirez were honored for their efforts in saving the life of Francisco Manuel Pizarro Jr., 18, of Dixon, California, after they were dispatched to EZ Money Pawn & Auto by an alarm company at 1:40 a.m. on June 5.
The call turned out to be part criminal and part medical, Cassia County Sheriff George Warrell said.
Warrell said this type of commendation is fairly rare.
A deputy was able to tie a tourniquet around the man's right arm to quell massive bleeding from his artery while restraining him, Warrell said.
"I don't know how he survived," Warrell said about the extensive blood loss the man experienced.
According to the Cassia County Sheriff's report on the incident when deputies arrived at the Overland Avenue pawn shop they saw a broken window with significant amount of blood around it and outside on the ground. They followed a blood trail across the street to Kentucky Fried Chicken, where Pizarro attempted to break another window. The blood trail went back toward the pawn shop and when they entered the building, Pizarro came out of the bathroom, which was covered in blood.
Pizarro kept trying to pull his arm away as deputies tried to help him so he was handcuffed and hobbled so he would stay still. A deputy then applied a tourniquet, and the bleeding stopped and gauze was wrapped around his wounds.
Pizarro was taken to a hospital and he was later transferred to another hospital via air ambulance.
Warrell said police officers receive first-aid training as part of their Peace Officer Standards and Training courses.
Warrell said all three are fairly new officers who demonstrated great presence of mind during service.
"I'm very proud of them and pleased to have such high caliber people on staff," he said.