BURLEY — Several dozen high school students with special needs from across the Magic Valley experienced a dose of grown-up reality Wednesday during Disability Mentoring Day held at the College of Southern Idaho Mini-Cassia Center.
The students were assigned careers with corresponding paychecks and families, and they were thrust into the expensive world of buying housing, cars, insurance, child care and medical services.
"We want to introduce these students to what it takes to manage a household," said Linda Upton, with the Magic Valley Transition Team, which is made up of professionals and stakeholders across the valley who help students transition to careers or college. "We are all about transition and this is meant to prepare them for the world of work."
The Magic Valley Transition Team hosted the event, which included a career and finance simulation game called Reality Town.
For the game, each student became a 30-year-old adult and was given a handbook that included a personal scenario including a career, monthly wage, marital status and how many children they had.
The student then visited a station to set up a checking account with their pay stub. They then went to more than a dozen other stations to pay for utilities and communications packages and to decide on housing options, complete with pictures, descriptions and prices, and what kind of car and grocery package they could afford based on their family size and income.
Other mandatory stations included buying a clothing package based on their job type, visiting the dentist and doctor, and paying for all types of insurance. The students could also visit optional stations like the pet store or receive financial counseling or take a second job if their finances were running in the red.
Abbey Dewey from Mt. Harrison Junior/Senior High School drew a playing card at the "Just my Luck" table and found she owed $100 for taking her family to an amusement park.
"It's a good thing I put that extra money in savings," said Dewey, whose scenario included being a married insurance agent with a child.
"I think it's really interesting and fun," she said. "It could help prepare you for the future."
You have free articles remaining.
Other "Just my Luck" cards included finding $20 in the laundry, lottery ticket winnings or paying a bill for replacing the alternator in their vehicle.
After setting up their checking accounts, one of the stations with the longest line of students was the communications choices booth, which included a price breakdown for telephone or cellphone and data packages along with internet and television.
Many students opted to purchase a phone first before housing or transportation.
Minico High School student Krista Sibbett chose a cost-saving option by purchasing a bus pass instead of buying a car.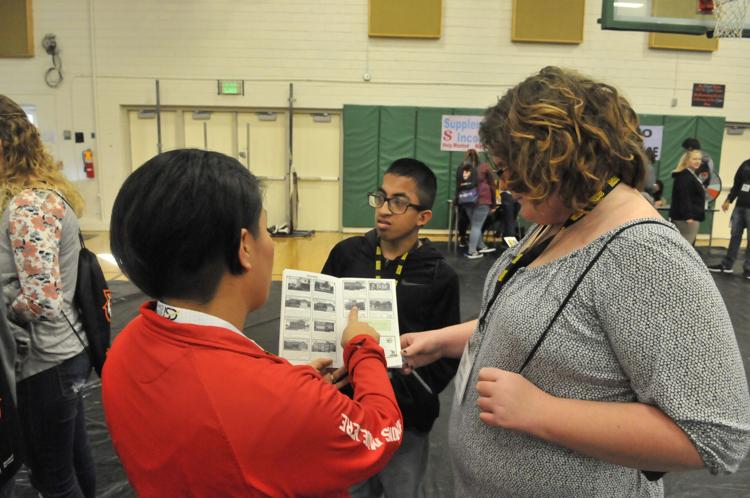 "It's fun," Sibbett said.
After the game and lunch, a human resources panel assembled so the students, who came from Cassia County, Minidoka County and Buhl, could ask job-related questions, said Ludean Henderson, director of Cassia County School District special education.
Kristy Buffington, who is part of the transition team, said they host career awareness events twice a year for students with disabilities.
Reality Town is also used at other schools for the general populations, Henderson said.