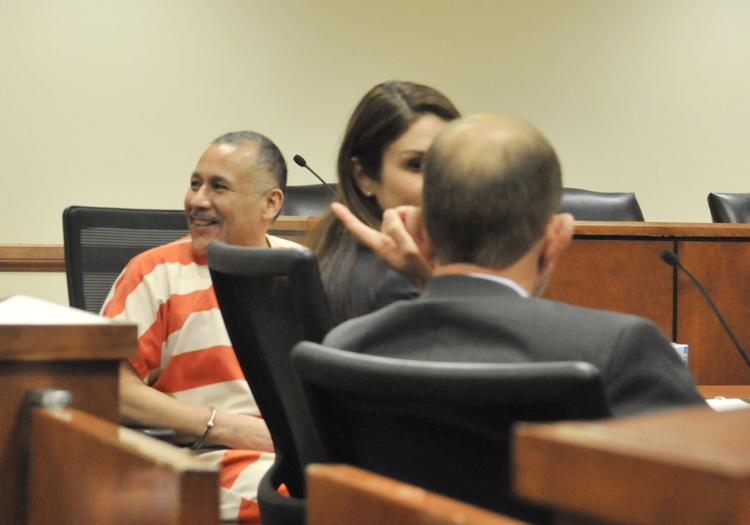 BURLEY — After being postponed due to COVID-19, a jury trial for Gilberto Flores Rodriguez, who is charged with first-degree murder in a 1995 Cassia County teen's death, was scheduled Monday for January 2021.
Rodriguez is charged with killing 14-year-old Regina Krieger, who disappeared from her basement bedroom and was later discovered dead on a river bank.
Rodriguez was charged with her death in January 2019.
During a hybrid hearing with Rodriguez's attorneys Keith Roark and Danica Comstock appearing via Zoom and with Cassia County District Judge Michael Tribe, Cassia County Prosecutor McCord Larsen and Rodriguez along with court staff in the courtroom, Roark expressed his concern about the safety of the hearing during the pandemic.
The Idaho Supreme Court sent out an order on Friday that seems to have different metrics for determining if it safe to hold jury trial than the metrics used to determine whether it is safe for children to attend school, said Roark, who called the order "liberal."
"I may be the oldest person in the courtroom," said Roark, who questioned what procedures would be in place for social distancing and for people wearing masks.
How to hold jury trials safely during the pandemic, Tribe said, has "caused the court to lose a significant amount of sleep."
Tribe said people will stay 6 feet apart and wear masks and they will not use the jury room but will instead use the courtroom as the jury room, with the lawyers and court staff leaving the courtroom after the session.
Tribe said they may also consider using plexiglass around the witness stand so the witnesses can take off their mask to speak and the court reporter and jury can more easily understand them.
They may also use plexiglass to partition off the law clerk and between the defense and prosecutor's tables.
Along with seating a jury, the court will also choose two alternative jurors.
Roark said he will request the jury be sequestered to keep everyone safer during the trial. He also asked that the trial be held in December and objected to waiting for January because by then Rodriguez will have been in jail for two years without being convicted of a crime.
Larsen said the state has been mediating many cases lately and would not be opposed to mediation in this case.
Roark said he needed to speak with Rodriguez outside of the hearing before answering whether mediation is an option.
Tribe remarked prior to the hearing that the court had been working hard on getting nearly two dozen criminal cases that have been in "COVID purgatory" back on the calendar.
In the Rodriguez case, the court will send out 1,200 jury questionnaires and plans to call about 600 potential jurors in for the pool.
People ages 65 and over can opt out of serving on the jury.
The jurors will be brought into two courtrooms to be sworn in and fill out the questionnaire in waves over several days.
Be the first to know
Get local news delivered to your inbox!