ACEQUIA — Sixteen kindergarten students sit at their desks — headphones propped on their heads, iPads in hand — as they work on individualized curriculum during class.
The scene in Acequia is different than what might have been found in a kindergarten class a few years ago. Along with rest periods, constructive play, art and recess, the students are also busy learning reading and math.
The elementary school is one of two in Minidoka County using part of their state money for teachers to provide one class of all-day kindergarten for free, Michelle Deluna, Minidoka County School District business manager, said. The schools are bold — using precious state teacher funding on their youngest students — while Idaho lags behind in providing funds for all-day kindergarten across the state.
The district is also providing all-day kindergarten to English as Second Language students and those with low scores on the Idaho Reading Indicator test, classes funded with the aide of Limited English Proficient funds.
The district's third elementary school offers paid full-day kindergarten at a cost of $11 a day for parents. About half of the kindergarteners in the district are attending full-day, Deluna said.
Focusing on early childhood
Piloting the Acequia class in the smallest school in the district — with 310 students — was a priority for Principal Heather Hepworth.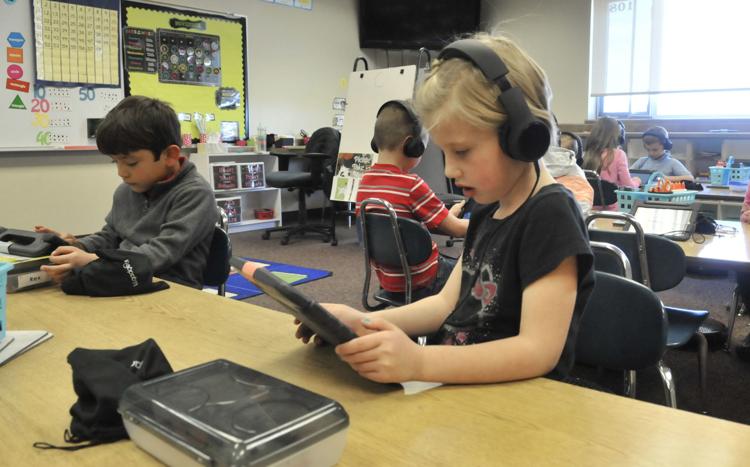 Using the resources on the youngest students will pay off when the students reach later grades and will provide more "bang for the buck," Hepworth said.
Too often by the third-grade, students are falling behind and not reading at grade level. When that happens, she said, it often doesn't get better.
"When we have fifth graders reading at first-grade level, what we're doing is not working and we have to change something," Hepworth said.
The decision was not made lightly, because the other grades could use more teachers too.
"My hope is to really push early childhood education for kindergarten and first grades, which will put students on grade level and help them be successful," Hepworth said.
Whether the program is continued next year will depend on the school's allocation from the state for teachers. They will not know until next spring.
"I really hope we can keep the program," Hepworth said.
The school still offers a morning and afternoon kindergarten class for parents who want their children to attend half-day or for children who are not ready for full-day classes.
Parents were able to choose at the beginning of the year. So far only two students were temporarily placed in half-day classes after enrolling in full-day because they weren't quite ready, Hepworth said. She hopes they will soon move back into the full-day class.
"I think it's great, I love it. It has been wonderful this year," teacher Hailee McCall said. "I don't know why Idaho hasn't funded all-day kindergarten."
It is hard, McCall said, to spend extra practice time in areas where the students need it during half-day classes.
"It's really nice keeping the same kids all day," she said.
No state money for full-day kindergarten
The Idaho School Boards Association's trustees passed a resolution a few weeks ago calling for the state Legislature to pay for full-day kindergarten.
If state lawmakers approve the plan, it would significantly change Idaho early childhood education.
The ISBA will now lobby for the kindergarten funding during the next two legislative sessions.
School trustees passed a new resolution Friday calling on the Idaho Legislature to pay for full-day kindergarten.
Meanwhile in Twin Falls, about half of the elementary schools are offering extended intervention time to kindergarten students, funded through the state literacy funding, Eva Craner, spokeswoman for the Twin Falls School District, said in an email to the Times-News.
"In most schools, this looks like an additional half day of class time for students who are invited to participate," Craner said. "The students chosen to participate can change throughout the year depending on the student's progress. A student may not be in the program all year or may join partway through the year.
"We aren't able to serve every student who could benefit from this program but it does help," she said.
Last year the district also had one school that offered all-day paid kindergarten, but the program isn't offered this year.
Paid programs were also offered in the past, but were discontinued due to space restrictions in 2013-14, before the district's recent bond construction project, Craner said.
Cassia County School District is not offering a full-day option at any of the elementary schools this year, spokeswoman Debbie Critchfield said.
"We use to offer it to English language learning students," Critchfield said, "but we have no funds for that even, now."
At Acequia, along with beefing up academic skills in kindergarten, an emphasis is also placed on teaching social skills — which for some students are lacking and are vital for success, Hepworth said. The emphasis on social skills is carried over to the other grades as well.
"We see a lot of students coming in now with more difficult behaviors," she said. Some do not have the social skills that are needed in school, like getting along with others, following directions and listening.
One drawback to all-day kindergarten is that bad behaviors tend to come out more during an all-day session. Hepworth said. Regardless, what has been done in the past hasn't always been successful. And for these youngest students, it's imperative to teach them to read and keep them at grade level.
"Why not try something different. It will be really interesting to follow this group and see how they do later on in school."