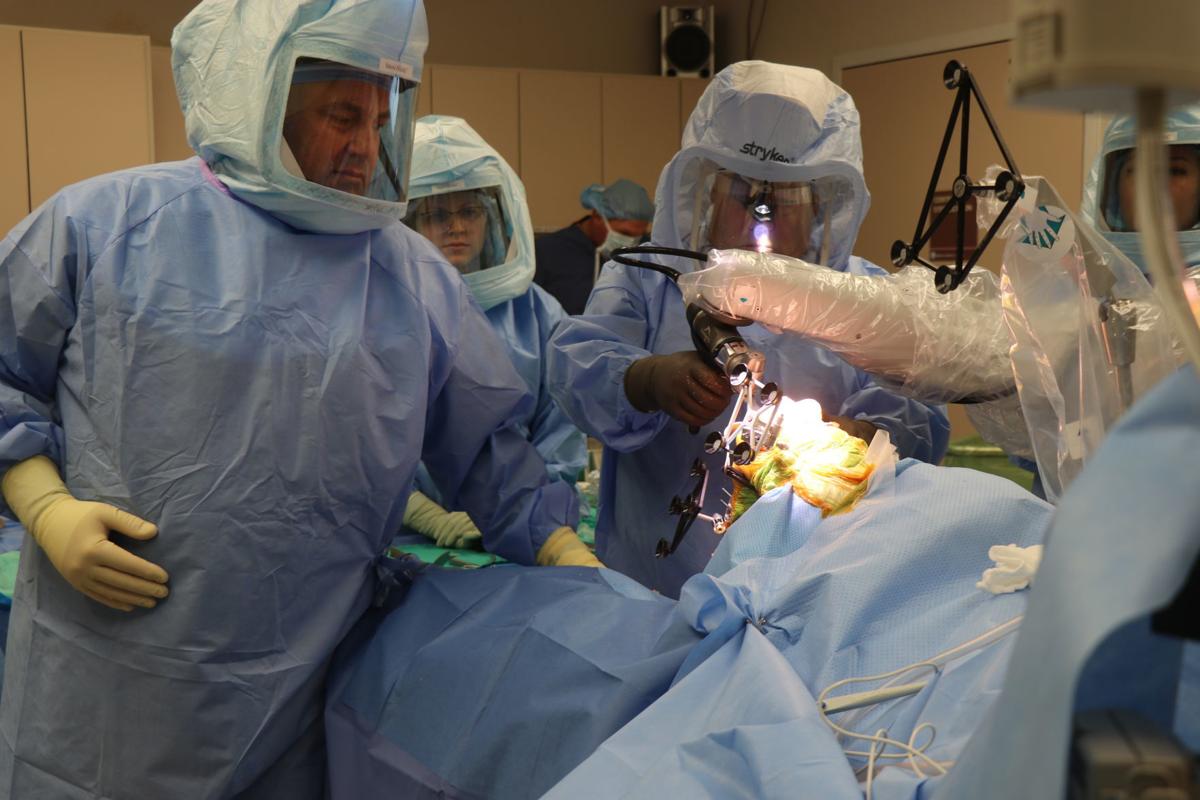 RUPERT — Minidoka Memorial Hospital has invested more than $1 million in a new robotic arm to assist surgeons with knee and hip replacements.
The Stryker's Mako Robotic System was placed in service on Jan. 6 and has assisted doctors with about a dozen surgeries so far.
"The majority of the surgeries that we've done have been knees," said Amy Davis, manager of surgical services at Minidoka Memorial Hospital.
This is the first robotic arm in use in Mini-Cassia, hospital officials said in a press release.
"The decision to bring robotics to our hospital was not one we took lightly. We did our research on the Mako system for about a year," said hospital administrator Tom Murphy said in an email to the Times-News. "This has been a huge investment for us, but we are confident that bringing this technology to our hospital to benefit the community was absolutely the right thing to do.
"We think our patients deserve to have the highest quality care and outcomes possible, and the Mako Robotic technology delivers an exceptional outcome for patients receiving a total or partial knee, or total hip. This system will take our orthopedic surgical program to a whole new level."
The robot is about 3 feet wide and 5 feet tall and sits in the corner of the operating room until it is wheeled into place and locked down for a surgery, said Jason Gibbons, chief financial officer at the hospital. It weighs about 900 pounds.
Davis said there are two operating rooms and the robotic arm can be wheeled back and forth between them.
"This arm assisted robot is controlled by the physician and doesn't operate on its own," Gibbons said.
You have free articles remaining.
The benefits of the robotic arm for patients includes less pain after surgery, fewer complications, quicker rehabilitation and more precise and perfect fit of the replacement joint, he said.
"A lot of our patients keep waiting for the pain after surgery and they are surprised when they walk out the door two days later," Gibbons said.
Three orthopedic surgeons are certified to perform the robotic arm assigned joint replacement surgeries at the hospital: Dr. Gilbert Crane, Dr. Bryce Millar and Dr. Mark Wright.
The doctors had to be certified to operate with the robotic arm and other staff members were trained to use the device. The equipment company is also providing an onsite instructor for a few weeks to give support and expertise, Gibbons said.
"This is really exciting to me as a nurse and operating room manager," Davis said.
Gibbons said the hospital performs about 125 hip and knee surgeries per year.
The demands for hip and knee replacements are expected to rise in the coming decade, according to the hospital.
Gibbons said the bump in expected joint replacements is likely due to the aging population.
"There is an increasing demand and need for quality of life that the baby boomers expect and want," said Gibbons.
The increased need for these types of surgeries may also stem from the type of physical labor people are doing, especially repetitive motions. People's weight also plays a role in joint deterioration, Gibbons said.