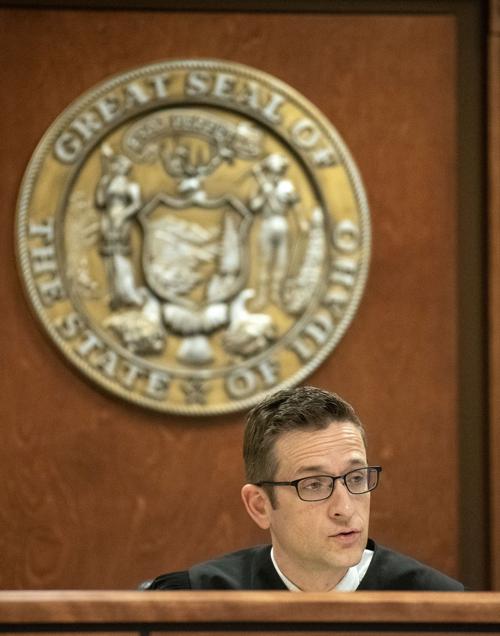 BURLEY — Courts across the Magic Valley and statewide will resume holding jury trials in civil and criminal cases in March, but COVID-19 restrictions will still be in place.
A recent order issued by the Idaho Supreme Court says trials may resume as long as courts follow COVID-19 restrictions, which also applies to grand juries.
The public will be allowed to attend, as courtroom space allows, Fifth Judicial District Trial Court Administrator Shelli Tubbs said.
But there will be fewer seats in the courtroom because people will still be required to maintain social distance, she said.
Jury trials will be held in person, while many of the other proceedings may be held remotely, which will be at the discretion of the presiding judges.
Cassia County District Judge Michael Tribe said the courts will follow the Idaho Supreme Court's order from Feb. 3.
"The panel of prospective jurors will be smaller so we can socially distance in the courtroom as we pick the jury and masks will continue to be required based on previous Supreme Court Orders," Tribe wrote in an email to the Times-News. "Instead of bringing in a large pool of prospective jurors the first morning of trial, the plan is to bring in an additional group the second day. Once the jury is selected, they will be spaced out. Trials will be open to the public as socially distanced seating allows."
Find out what you need to know about getting the COVID-19 vaccine.
Last March, the Idaho Supreme Court suspended all jury trials across the state and in September another order was issued that allowed trials to start again, providing the county where they were held met thresholds for new cases. The threshold was determined by the seven-day average of new virus cases in each county.
Attorneys around the state were encouraged to use a beefed-up mediation program to quell the backlog of cases and most hearings were held using Zoom meetings.
The Supreme Court also ordered anyone entering court to wear a mask and stay six feet apart, while staff routinely cleaned between hearings. Plexiglas was also installed in the courtrooms along with other safety measures.