MINIDOKA — Many people desire a final resting place that reflects the way they lived their life.
A windswept parcel of ground covered in crested wheatgrass and dotted with sagebrush resting on the eastern edge of the city of Minidoka suits Mayor Jim Cook just fine.
After all, the 72-year-old Cook was born just a few miles down the road and spent the bulk of his adult life working in the fields surrounding the city, population 103.
At one time the cemetery cradled at least 40 people, Minidoka County Historical Museum Curator Melissa Alley said.
But over the years, the cemetery fell into disrepair. Some families moved the remains of their loved ones to the Minidoka-Acequia-Rupert (MAR) Cemetery north of Rupert and the markers for those who remained behind were either removed — or in the case of wooden crosses — crumbled back to the earth, Alley said.
Only the grave marker of Henry Mitchell, born Oct. 19, 1868, and died May 8, 1905, remains. No one knows how many others are still buried at the cemetery — or where they are located.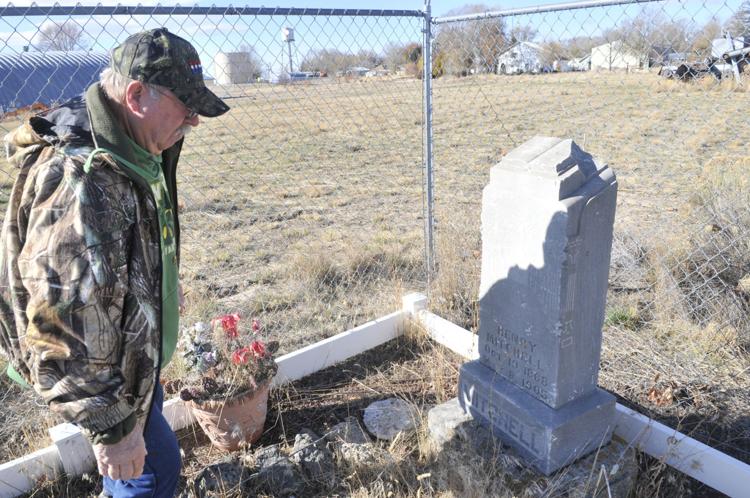 In its heyday, the city nestled 13 miles northeast of Rupert was the county seat with about 2,500 residents and bustling businesses. A fire in one of the city's hotels destroyed half of the town in 1906, and Minidoka never regained its luster.
Only a post office, city hall, three parks and a small embroidery business remain today. Most of the residents, Cook said, are work hands at nearby farms and dairies.
The graveyard has held Lynn Porter's interest for about five years and she's used it as a training ground for her human cadaver dogs.
Porter, of Rupert, owns a cold-case assistance business called Semper Vigilans, which provides missing persons assistance, forensic archeology and historic grave location.
She never charges people for her services.
"I love history and I like helping people," Porter said. "It also gives my dogs a chance to keep their skills sharp."
When Porter signed up for a clandestine historical grave class with Paul Martin, a forensic archeologist from Tennessee, a group of nine dog handlers spent Sept. 29 and 30 at the Minidoka cemetery using their dogs and ground penetrating radar to map remains. The handlers came from northern Idaho, Arizona, California and Colorado.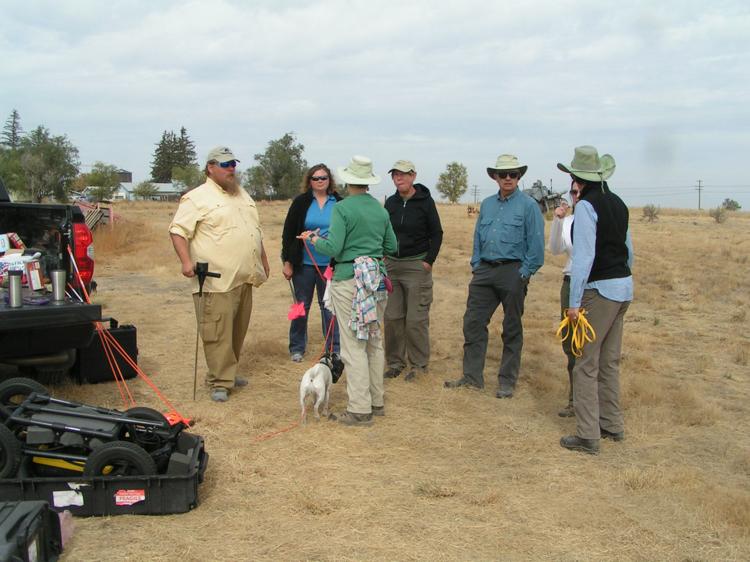 All of the information they gleaned was marked with GPS coordinates and will be used to make a map, Porter said.
Further research has also confirmed the name of one other person buried at the cemetery, who died in 1928, she said.
The remains detected were "somewhat scattered," she said.
The field work was also hampered by a drought period, which meant less moisture to carry scents to the K9 noses.
A study of the soil density at the cemetery showed hardpan at 30 inches, so bodies would probably have been buried in shallow graves.
There is also a possibility that a gravel road running along the east side of the cemetery may have bodies underneath it, Porter said.
Over the years the cemetery had been used as a stock pen and as a parking lot for unused farm equipment, according to information at the museum.
At one time vandals toppled Mitchell's headstone, Cook said, but a Boy Scout took the grave on as a project, cleaning it up and installing a fence around it.
The property was deeded to the city a year ago and city officials would like to pay proper homage to those people who remain buried there, the mayor said.
"If we can find out where the bodies are located the city will at least put up crosses to mark the graves," Cook said. "We might not have names to go with them, but they will be marked."
If they find names of people buried there but do not know the location they will put up a plaque listing the names, he said.
Porter said a proposal for work at the cemetery is in progress but it will likely cost some money. She said they may be able to get donations or grants to help with the costs.
The city doesn't have a lot of money to spare, Cook said, and recently spent $28,000 putting in a new well because the other one was going dry.
"Sometimes I think we should just dissolve the city because the water and electricity is so expensive here," Cook said.
Meanwhile, Cook's quest to reclaim the cemetery remains personal.
He and Louise, his wife of 47 years, live in one of the town's former hotels and raised their two children here.
"I really wouldn't mind being buried here," Cook said as walked around the six-acre lot. "My wife doesn't want me to though, so it may depend on who goes first."
The couple already picked out plots at the MAR Cemetery, he said, but if the city could get the graves mapped, he could buy a plot and doll it up with rock.
"If I had it all fixed up maybe she wouldn't mind so much," he said. "After all, this is where I've lived my whole life."