RUPERT — About 100 prom guests with special needs ate dinner, walked the red carpet, danced, sang karaoke and rode in a limo during Grace Church's first Night to Shine event Feb. 7.
The Night to Shine event was sponsored by the Tim Tebow Foundation and the church. The Rupert event was one of three proms held in Idaho. About 800 churches worldwide participated.
"This means so much to me because this is also our church," said Teresa Torrez, whose son, Steven Torrez, was attending the event. "As a mom, to see your child being acknowledged like this and to have the church open their doors to our kids, is just amazing. Not everybody acknowledges our kids and for the church and community to do this for us makes me very happy."
Steven Torrez, loves to dance and sing karaoke and he plays the piano by ear.
"He's seeing a lot of his friends here," Teresa Torrez said. "He's not one to talk much, but he's been grinning from ear to ear all night. He loves this."
Torrez said many times people with special needs don't attend their prom because they feel intimidated.
"Seeing how happy he is tonight is incredible," said Steven Torrez's father, Raul Torrez.
People donated prom dresses and attendees came early to get dressed and have their hair and makeup done or get their shoes shined and put on their corsages and boutonnieres. All the participants were allowed to bring a buddy.
They ate a catered dinner, danced, had their pictures taken at two photo booths, sang karaoke and rode in a limousine, all for free.
Each attendee was crowned king or queen during the evening.
"We want to celebrate them all. They are all kings and queens in God's eyes," said Grace Church Pastor Travis Turner.
Turner said about 60 volunteers helped make the evening special.
"There have been incredible acts of volunteerism," he said. "We plan on doing this every year."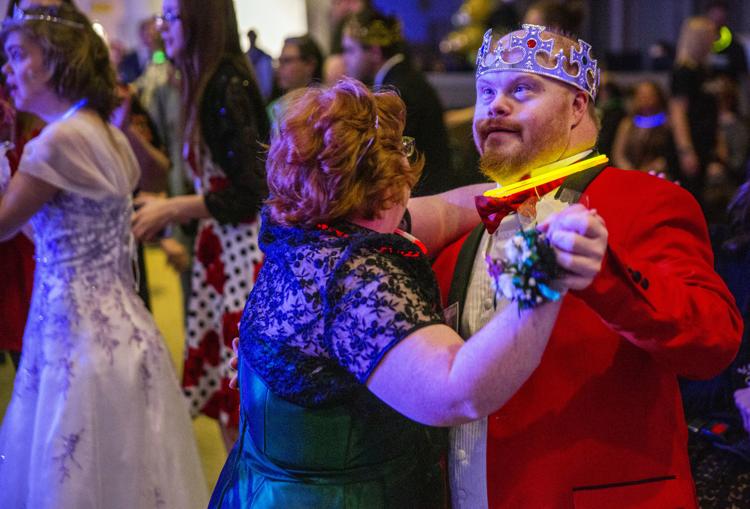 Dressed in an evening gown, title sash and tiara, Miss Washington 2019 Abbie Kondel escorted her cousin, Mac Hess, to the prom.
Kondel said there was another prom event in Washington that she could have attended, but she chose to come and be her cousin's guest.
"I knew Mac was going to this one, so I decided to come here," she said.
Grace Church members Taylor and Brandon Gee became aware of the event and suggested it to the congregation.
"It's a night all about them," Brandon Gee said.
Attendee April Harris said her favorite part of the evening was walking the red carpet and having the announcer say she loved her family.
Harris was accompanied by her sister Aria Spear.
"This is just mind blowing and humbling that there are people who care so much that they'd put on an event like this," Spear said. "It's humbling to see the kind hearts and unconditional love here tonight."
Spear said there are places in the community where her sister has a good time, but this event was catered especially for her.
"She's been all smiles and giggles all night," said Spear.
Be the first to know
Get local news delivered to your inbox!