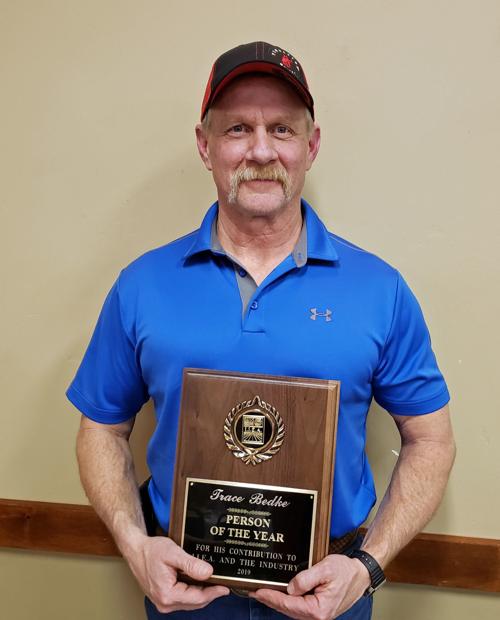 BURLEY — A local man was selected as Idaho Irrigation Equipment Association's 2019 Person of the Year.
Trace Bedke, 55, is a longtime assistant manager for Butte Irrigation, according to an Idaho Irrigation Equipment Association statement.
"It was a complete surprise," the Burley native said after he received the award.
Bedke arrived at the Jan. 15, IIEA membership banquet at Morey's Event Center to find his parents, Leon and Ruth Bedke and several family members in attendance. He then realized he would likely be named person of the year.
His friend and employer, Brice Beck, made the presentation.
You have free articles remaining.
"It was a great honor to receive the award that other very respected and impactful people have been awarded in the industry. The respect and relationships that I've gained over the years is very humbling," Bedke said.
The award is presented annually to a distinguished member of the organization who has provided many years of service to the irrigation industry and to the association. The organization's officers and board of directors decide the winner.
Bedke grew up in Burley and graduated from Burley High School. He attended Boise State University and earned a degree in business management. He spent three years in a management position at a large Reno, Nevada, company and came back to Mini-Cassia to work for Butte Irrigation in February 1991.
Bedke has been involved with the IIEA, where he served as the scholarship chairman for many years and as a winter show chairman. He participated in grading the scholarship applications for more than 20 years and has always tried to attend the winter and summer IIEA conferences and meetings.
In his spare time, Bedke likes to hunt, snowmobile and perform carpentry along with attending BSU football games with family and friends.
IIEA incorporated as a non-profit corporation in 1971. It has 120 members, including retail dealers, wholesale suppliers, equipment manufacturers and financial institutions that serve Idaho's landscape and agricultural needs.