BURLEY — Some Burley Junior High School students are infusing a little humanity into their day by weaving sleeping mats out of plastic grocery bags for the homeless.
Two volunteers from The Magic Valley Area Humanitarian Center have been working with teacher Kimberly Whitaker's service-learning class since the beginning of the year prepping the bags for the project. Recently, the 54 students in two classes started using four looms set up at the school cafeteria to begin the final assembly.
"They just love helping," Whitaker said. "They feel like they are getting out of school work, but it is really about learning to be part of the community and as people we can help and serve others."
Whitaker said the class has talked about the work the humanitarian center does and about people being homeless.
"It's also teaching them about reusing items and recycling," she said. "Many of the kids are bringing in bags from home."
Humanitarian Center volunteer Janette Baker of Burley had crocheted plastic bag mats and it was hard on the nerves in her arms. When someone donated a loom, the project bloomed.
Someone at the center then used the loom as a model to create other looms.
Baker and Lesley Krosch of Heyburn have made 56 mats. The mats are given out to any nonprofit in the region that asks for them and some have been taken to Boise for distribution.
The plastic bags are prepped by cutting off the tops and bottoms of the bags, which are kept to stuff into the attached little pillow. Straps are woven into the mat so it can be rolled and carried as a pack. A heart design in contrasting color is weaved into the body of the mat and a tag from the center is included on the backside of it.
You have free articles remaining.
Some of the students are put to work on smaller looms weaving the pillow body.
Krosch, of Heyburn, had been creating women's handbags out of plastics when she read in the newspaper about the center making the mats.
"I walked into the center with several of my handbags to see if I was qualified," Krosch said.
Baker said the man-hours the students are providing to the project are incredible.
"It's pretty fun," student Hallye Searle said Wednesday as the 14-year-old coaxed a long pole over and under the existing strips to weave them all together. "I like to do service projects for others."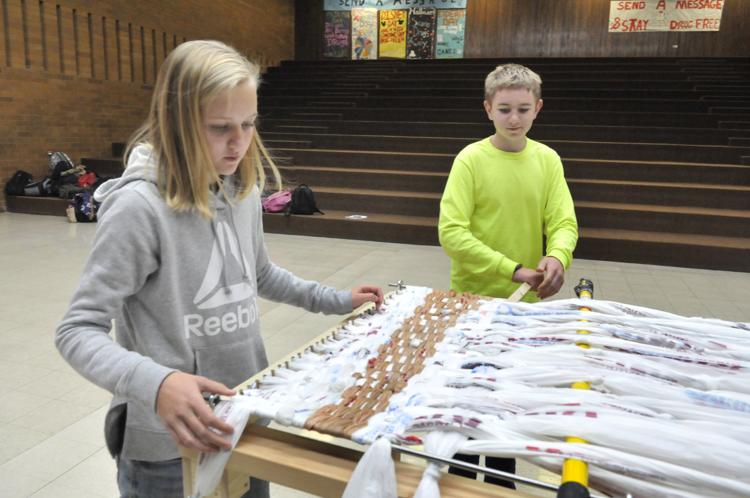 Student Danica Pace, 12, said the project has special meaning for her because her aunt was homeless for a period of time.
"My favorite thing is service," Pace said.
The Magic Valley Area Humanitarian Center is open from 10 a.m. to 3 p.m. on Tuesdays and Thursdays, and Wednesday evenings at 723 F St. in Rupert. The center is open Saturdays by appointment. Call the center at 208-261-2533.