Magic Valley Holiday Classic Jerome Vs. Filer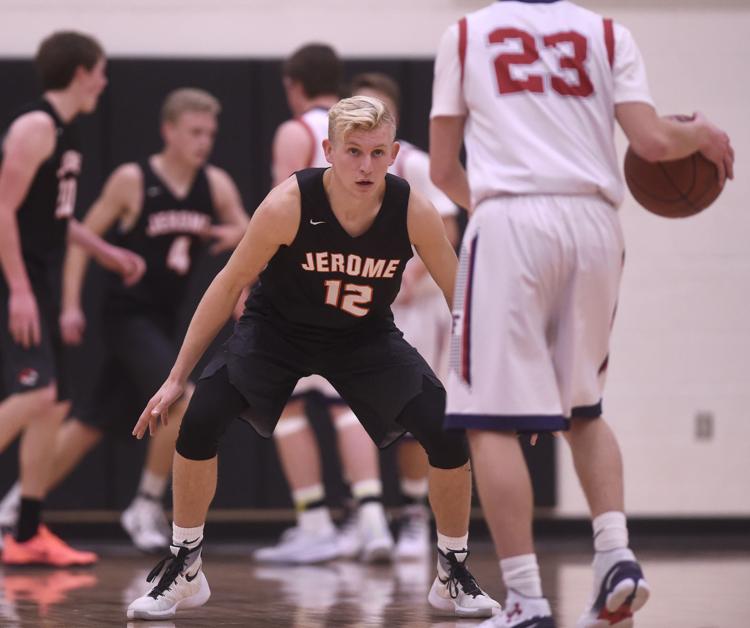 As featured on
Jerome defeats Filer 56-42 during the second day of the Magic Valley Holiday Classic tournam…
JEROME — Jerome erased an early deficit and used a big fourth quarter to pull away from Filer in day two of the Magic Valley Holiday Classic, winning by a final score of 56-42.
After a 13-point loss to Bishop Kelly on Monday that head coach Joe Messick called "extremely disappointing," the Tigers bounced back in a big way on Tuesday against Filer.
The first quarter showed signs of some poor performance hangover for the Tigers, when Filer hung 20 points and penetrated the paint on offense with ease. Jerome locked down on defense in the final three quarters, however, and surrendered just 23 points for the rest of the game.
"Our defensive energy and intensity was much better in the second half. I think we did a good job of getting that straightened out at halftime. We sat down and guarded, and did a better job of putting pressure on Filer's perimeter players," said head Messick.
Jerome trailed for nearly the entire first half, but secured the lead late in the third quarter and never looked back. After a hectic first quarter during which both teams relentlessly looked for opportunities to get out in transition, Jerome slowed the pace in the second half and, as a result, found easy baskets off of set plays.
"I thought we needed to change some things up, and our guys did a nice job of executing. We were able to get open looks of a couple of plays and knock down the shots when we had them," said Messick.
Filer senior Marcus Hale drew the task of guarding Jerome's standout guard, Logan Geist, who scored 32 points and made seven three-pointers against Bishop Kelly. Hale kept Geist from getting clean looks on offense, and the Wildcats looked determined to make someone else beat them scoring the basketball.
In the first half, Geist took just four shots and scored four points. He finished with 15 points, including three three-pointers, but Jerome's other guards, Tyler Cook, Brien Ploss, and Alex Clegg, filled in offensively with Geist relatively bottled up. Cook scored a game-high 16 points, and Ploss and Clegg combined for 16 more.
"We didn't talk about last night too much. We knew what we needed to fix, and we knew we had another big game today, so we focused our attention on Filer," said Geist. "Coach Messick preaches defense to us, and we gave up a ton of points last night. We knew defense would be the key today."
In addition to playing strong defense on Hale, Filer senior Marcus Hale was the lone Tiger in double-figure scoring with 11 points.
Jerome also shot 15-for-16 for the free throw line, making the Tigers 30-for-34 in the two tournament games.
Jerome (5-3) next takes on Pocatello on Wednesday in day three of the Magic Valley Holiday Classic. The Tigers lost to Pocatello back on December 6 by a score of 79-72.
Jerome 56, Filer 42
Jerome; 13;11;14;18—56
Filer; 20;8;7;7—42
Jerome 56, Filer 42
JEROME (56)
Cook 16, Geist 15, Ploss 9, Clegg 7, Myers 7, Nordquist 2 Totals: 17 15-16 56
FILER (42)
Hale 11, Koyle 9, Meyerhoeffer 7, Jaromilek 6, Hughes 6, Shaw 2, Moon 1 Totals: 14 10-19 42
3-point goals: Jerome 7 (Geist 3, Cook 2, Clegg, Ploss) Filer 4 (Jarolimek 2, Hale, Koyle) Total Fouls: Jerome 16, Filer 13 Fouled out: None
Vacation photographs often capture perfect moments in favorite places. Send us your best ones by July 16 for a chance to win up to $1,000 in our Destinations Photo Contest. The top photographs submitted will also be featured in a national publication reaching more than 1 million households.