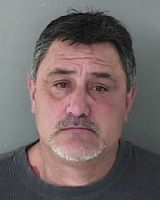 Name: RANDALL HAROLD JENNINGS, JR
Date of birth: 08/02/1973
Sex: Male
Height: 6'2"
Weight: 275
Hair: Black
Eyes: Brown
Race: White
Wanted for:
DOMESTIC BATTERY, and FAILURE TO APPEAR on the original charges of DOMESTIC BATTERY, PUBLIC NUISANCE, and RESISTING AND OBSTRUCTING
BOND: $75,000
The Twin Falls County Sheriff's Office is asking that anyone having information, please call Crime Stoppers at 208-343-COPS where you can remain anonymous and may be eligible for a cash reward.
Web tips can be made at www.343cops.com or download P3 Tips on your mobile phone.
Updated: March 10, 2019.