Who has the edge?
When the Broncos run the ball
San Jose State is giving up 236.5 rushing yards a game, which ranks last in the Mountain West Conference and No. 125 in the country. Last weekend against the Spartans, Army used its triple-option offense to rack up 326 yards and three touchdowns on the ground.
Boise State's running game is far more traditional. Moving 334-pound nose tackle Sailosi Latu won't be easy, but the Broncos should have a size advantage on the edges, where the Spartans have 233-pound freshman Viliami Fehoko starting at one end in their 3-4 scheme and 260-pound sophomore Cade Hall at the other.
"We want to establish the run game in every single game," Boise State offensive coordinator Zak Hill told the media on Wednesday. "And we want to be very heavy in that department and have that physical, downhill running game. That's a part of Boise State, and it's a part of what we want to do."
Robert Mahone suffered what looked like a leg injury while throwing a block in the first half of Boise State's loss to BYU, but true freshman George Holani is coming off two of the most productive games of his career. He scored three touchdowns against Hawaii, including on a late 40-yard burst through the middle of the defense. Against BYU, he posted 97 yards on the ground, just missing his second career 100-yard game.
When the Broncos pass the ball
Boise State has one of fastest wide receivers in the Mountain West, and maybe the country, in John Hightower, and CT Thomas, Khalil Shakir and Akilian Butler are all elusive in their own rights. As a defense, though, San Jose State leads the conference and ranks No. 2 in the country with 13 interceptions.
Spartans coach Brent Brennan said converted running back Zamore Zigler has added a veteran presence to the cornerbacks' room, and junior college transfers Bobby Brown II and Nehemiah Shelton have combined for six interceptions.
"They're opportunistic, so they will drop and bring some pressures and create turnovers in a lot of different ways," Hill said. "Some have been deeper balls into the secondary that they've been able to take advantage of, but their guys do rally around the ball and they fly around."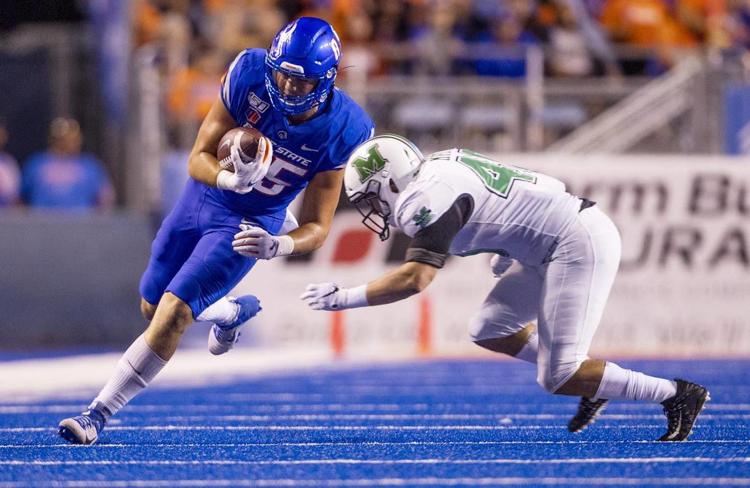 Of course, Boise State's success through the air will have a lot to do with who takes the snaps. True freshman Hank Bachmeier is completing 61.93 percent of his passes and has been intercepted just three times this season. Backup Chase Cord — filling in for an injured Bachmeier against BYU — was picked off twice against the Cougars, and that number could have been much worse as he threw into a crowd on several occasions.
You have free articles remaining.
When the Spartans run the ball
True freshman backup quarterback Nick Nash is the second-leading rusher on the team, and San Jose State is averaging 85.1 yards on the ground a game, which ranks last in the Mountain West and No. 127 in the country. The Spartans put up just 88 rushing yards last weekend against Army, and 54 the week before against San Diego State.
Senior DeJon Packer (5-11, 223) is compact and powerful, and with a team-high 256 rushing yards, he's closing in on his career-high 290, which he set in 2017. Nash has done a little bit of everything for the Spartans offense. He threw two touchdown passes and caught a pass against Air Force, and he's second on the team in rushing yards (255) and rushing touchdowns (3). He has missed the past two games since suffering an ankle injury against Nevada, but even if he isn't 100 percent, Boise State's defenders know how dangerous he is with his legs and will be on high alert whenever he's on the field.
"Watching him on film, he is really talented. It kind of reminds me of when we had our little one-two punch with Montell (Cozart) and (Brett Rypien), because he can throw the ball, too," Boise State defensive lineman David Moa said. "He's talented on his feet, and when he's in the game, we know more QB runs are coming, but at the same time he can throw, so we've just got to play solid."
When the Spartans pass the ball
Quarterback Josh Love is completing 59.3 percent of his passes and has thrown 15 touchdowns compared to just three interceptions. Part of that has to do with a deep group of wide receivers, led by junior Tre Walker, who caught 12 passes for 161 yards in the Spartans' win over Arkansas.
San Jose State's 311 passing yards a game rank No. 3 in the Mountain West and No. 12 in the country. Boise State's pass defense (205.3 ypg) ranks No. 2 in the conference, but the Broncos may be without physical safety Kekoa Nawahine, who was injured in the first half of the BYU game and did not return. The Broncos got safety DeAndre Pierce back from injury against the Cougars, though, and if Nawahine can't go on Saturday, sophomore Tyreque Jones will fill in. He also stepped in for Pierce while he was out.
"They're similar to Hawaii. They have explosive players," Boise State cornerback Avery Williams told the media on Tuesday. "Hawaii was one of the top passing teams in the country as well, so we're just carrying that mindset over to this game."
San Jose State kicker Matt Mercurio is coming off his second game with four field goals of the season, and Alex Galland has dropped 13 punts inside the opposition's 20-yard line. The Spartans aren't getting much out of their punt returner, cornerback Brandon Ezell, but Zigler is averaging 24.7 yards per kickoff return.
Boise State's Joel Velazquez struggled with a couple of short punts against BYU, but he also booted a 54-yarder. Kicker Eric Sachse made his first attempt in Provo but he missed one from 36 yards in the third quarter of the Broncos' 28-25 loss.