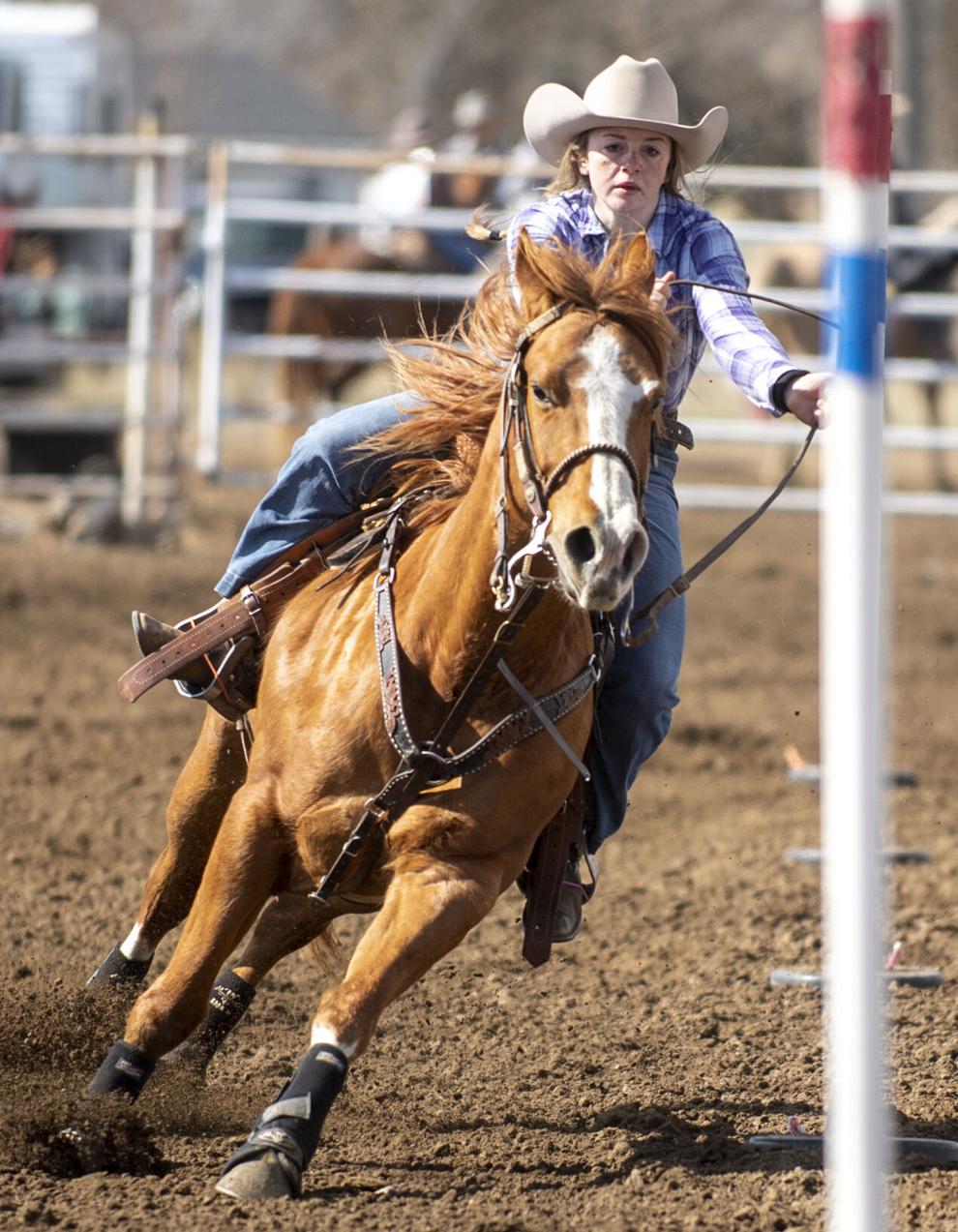 When the Idaho High School Rodeo Association State Finals get going next month in Pocatello, Megan Taber will be running barrels.
And weaving through poles.
And working cattle in the reined cow horse competition.
And partnering with one of her four horses to cut a cow from the herd.
And taking aim at target rounds in trap shooting.
"I'm a competitive person," the Shoshone cowgirl told the Times-News the other day. "Clearly."
Of the some 125 high school cowboys and cowgirls in the IHSRA's two Magic Valley districts, Taber was one of just seven to compete in six events, the only cowgirl to win at least two of them and the highest-scoring contestant this season with 413 points.
The all-around cowgirl won the barrel racing and pole bending titles, finished second by just seven points in reined cow horse, placed fourth in goat tying and girls cutting, and also threw loops in breakaway roping.
"Sometimes it's hard to juggle all the events, all the practices," Taber said. "But when you love it, you make it work."
Taber snickered at the question. "My favorite event is the one I do the best at," she said.
That was barrel racing this season, the event that attracted her to the sport in the first place. She won six times in 12 spring outings, including both rounds last weekend at the District 5 finals in Glenns Ferry, and topped the district standings by 20 points — the largest margin of victory in any of the four cowgirl events.
In a family of "horse people," Taber grew up around the magnificent animals and, eventually, began showing horses and competing in Western riding. When she expressed interest in trying rodeo going into her eighth-grade season, Taber said Shoshone's Brett and Italy Jo Sheehan generously loaned her a horse and she quickly "started to fall in love" with the competition.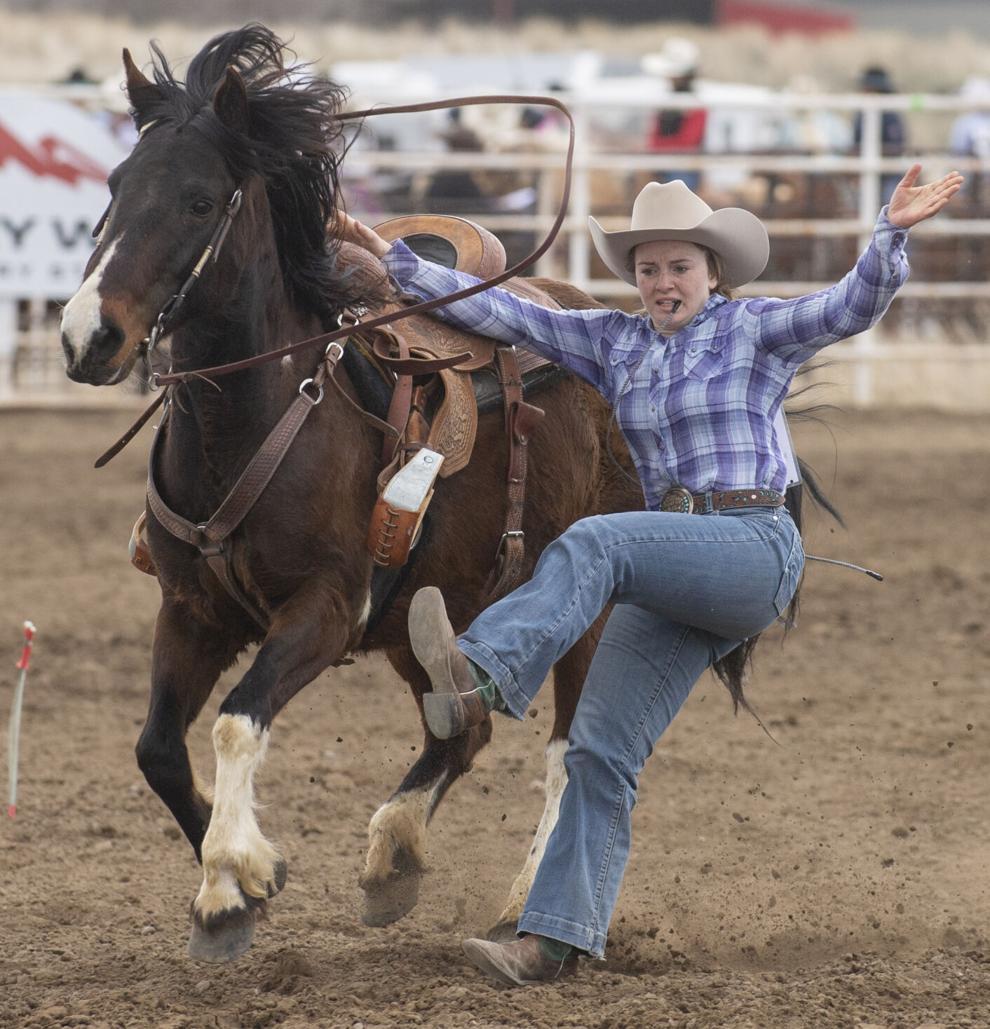 She went on to finish fifth at state, missing a trip to nationals by one place but amassing the confidence to know she could ride with the cowgirls.
"It was a huge realization that just because I didn't come from a rodeo background, I could do this," Taber said.
Soon after, Taber bought Millie from the Sheehans and set out on the high school circuit. Her freshman year was a mix of "good runs and bad runs" in barrel racing as she and Millie worked to build their chemistry. She qualified for state only in reined cow horse that year.
As a sophomore, Taber was better, making it to state in barrels, poles and reined cow horse but her showing was "nothing too amazing," she said.
Her junior year was another step up. Taber made the short go at state in three events — barrels, reined cow horse and trap shooting.
"We really kind of figured it out this season," said Taber, referring to the chemistry she's established with her horses — Millie (barrels and poles), Lacey (goat tying), Dusty (reined cow horse) and Hoss (cutting).
In addition to winning the barrels, Taber managed to serpentine her way through the poles without knocking over a single one all season, avoiding that dreaded five-second penalty. She needed every clean run, too: Taber finished just four points ahead of Gooding's Jacelyn Butler in the season standings.
"I never had an amazing run. I never had a 21-second run," she said. "I was just consistent."
When the week-long state finals kick off June 3 at the Bannock County Event Center, however, Taber acknowledged she may need to alter her strategy to push the limits in her bid to qualify for the National High School Finals Rodeo in mid-July at Gillette, Wyoming.
"I really have to look at my strengths, and my mare's strengths," Taber said. "For poles, I will probably try to go a little faster. But, I want to stay clean. I don't want to hit a pole — that means a lot to me."
She'll also lean on her adopted rodeo family in her quest to reach nationals for the first time. In addition to her parents, Darren and Amie, Taber credits her roping coach, Bill Stinemates, and his daughter, Aspen; Karl Smith, her coach for reined cow horse, and his wife, Pam; Kaycie Keller, her trainer for barrel racing and pole bending; and Jill Davidson, the owner of her cutting horse.
"Rodeo is not a sport you can do alone," she said. "Not matter how hard you try, you can't do it by yourself."
You can't do it without a competitive spirit, either.
"That is a family trait," said Taber, laughing. "It has been around forever. I don't even know where it started."
Former Idaho prep standout Shelby Higgins will be one of two CSI cowgirls to run at the College National Finals Rodeo next month in Wyoming.
Bulls, broncs & barrels
Challis cowboy Kade Bruno
had a nice weekend on the PRCA tour, cashing over $14,000 to crack $80,000 in season winnings and move into fourth place in the world saddle bronc standings. After finishing second at the Wild Rogue Pro Rodeo in Oregon, Bruno split first in the first round and finished third in the finals on Sunday at the World Famous Miles City Bucking Horse Sale Xtreme Broncs in Montana.
The
Dirty Rotten Buckers bronc futurity will go off on Saturday at the Andy James Arena at the Gooding County Fairgrounds. The $20,000 competition is designed to showcase some of the sport's rising saddle bronc riders and bucking horses. Tickets for the 2 p.m. performance are on sale at
Times-News Editor Steve Kiggins writes weekly on Idaho rodeo. Contact him at 208-735-3255 or via email at Steven.Kiggins@magicvalley.com. Follow along on Twitter, @scoopskiggy.