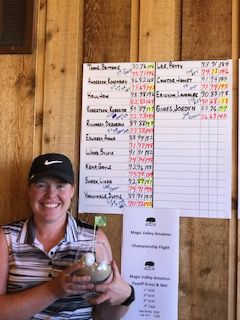 July 24-25 at Gooding Golf Course
CHAMPIONSHIP FLIGHT: 1st gross and overall champion-Brittanie Toone, Gooding, 156; 2nd gross-Jordyn Gines, 159; 3rd gross-Deb Richards/Roberta Robertson, 177; 1st net-Lauralee Ericson, 138; 2nd gross-Rosemary Anderson/Dustie VanWinkle, 142; 4th gross-Janet Cantor, 145; lap gross-Linda Shark; lap net-Patty Lee.
1ST FLIGHT: 1st gross-Rhonda Etchart, 184; 2nd gross-Deb Peterson, 193; 3rd gross-America Brodeen, 194; 4th gross-Joleen Toone/Susan Schmidt, 200; 1st net-Sherri Powell, 136; 2nd net-Dawn Anderson, 143; 3rd net-Bobbie Edwards, 145; 4th net-Jean Hanson, 150; lap gross-Delfie Brower/Angie Jones; lap net-Cindy Barlome.
2ND FLIGHT: 1st gross-Patricia Handres/Tamara Yost, 203; 3rd gross-Nancy Hughbanks, 219; 4th gross-Chrys Stephenson/Dixie Fleischman, 220; 1st net-Cathi Pierson, 145; 2nd net-Jenny Koski, 150, 3rd net-Norie Sterett, 154; 4th net-Charlene Bartlome, 163; lap gross-Marilyn Butler; lap net-Billie Mason.
Be the first to know
Get local news delivered to your inbox!