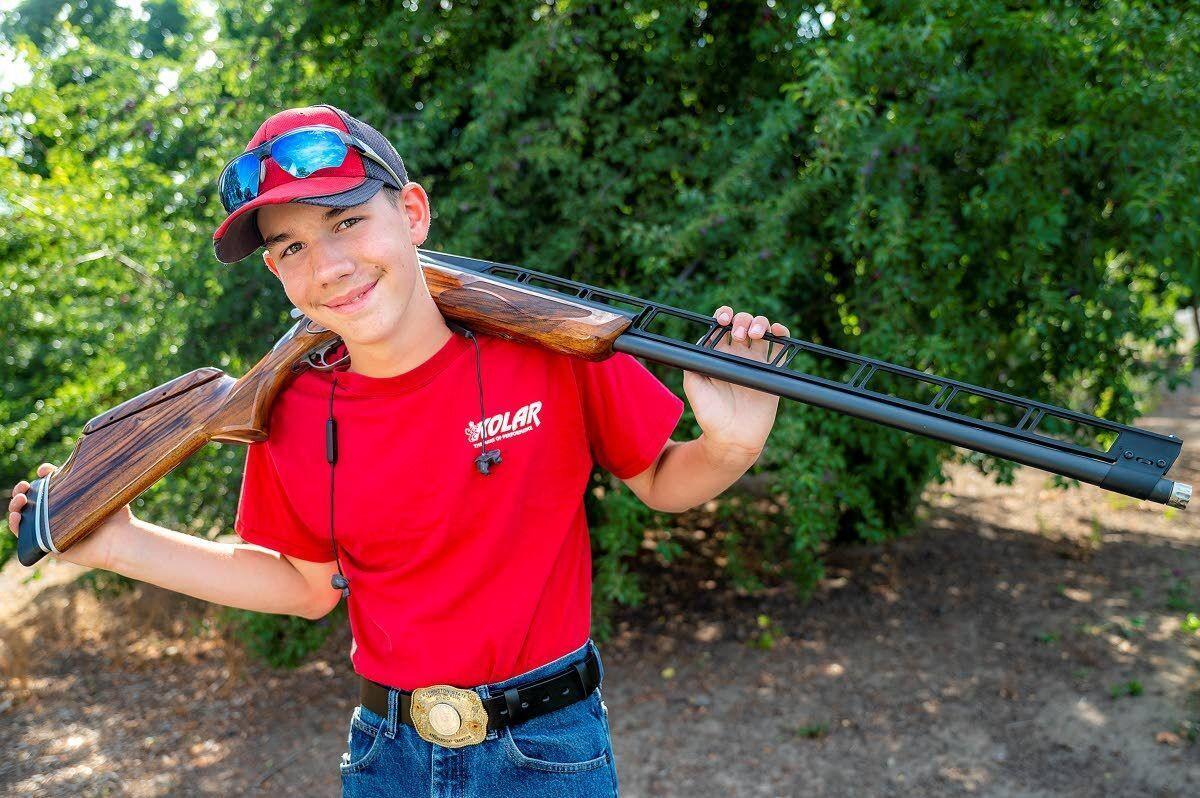 It took Bruce Bradley of Orofino a mere three years of competitive trapshooting to break a record that had stood for 42.
The 13-year-old became the youngest overall singles champion in the history of the Idaho State Trapshooting Association tournament in May in Pocatello. No one below 17 previously had won the event.
Bruce's father, Levi, works for Nightforce Optics, a Georgia-based company with a factory in Orofino that manufactures gun-related equipment such as scopes and mounts. Levi has himself been active in trapshooting for many years, and still shoots at the Orofino Pierce Gun Club along with his wife Tess — who owns and operates Bark Avenue pet grooming salon — and their son. Levi introduced a 10-year-old Bruce to trapshooting in 2018.
"(The gun club) was offering a free box of shells and free round of trap for kids, for sub-juniors and juniors," Levi said. "I told my wife, 'Let's take him up there and see if he likes it.'"
Like it he did. Bruce, who said he has "always loved shooting guns," finds the experience of a trapshooting event to be relaxing at times, with ample downtime to meet new people and observe and learn from other shooters. He entered his first registered shoot in Colton within months of taking up the sport, and was winning trophies on a regular basis within a year.
"By the time he was 11, he was making scores that were 98, 99 (projectile targets hit out of 100)," Levi said.
Bruce now has amassed more than 100 trophies in his short career, including some in parent-child divisions with his father; most recently, the two combined for a first-place score of 194 at the Nezperce Gun Club's Father's Day Shoot. Bruce shot 199-for-200 en route to his state singles title, and now has his sights set on achieving a rare 200-for-200 showing.
Away from the gun club, Bruce — who lives on a 40-acre property — partakes in further outdoorsmanship such as riding motorcycles, hunting and fishing.
"He's amazing at archery — I mean, everything," Levi said.
Even as many sports have moved toward domination by older athletes in recent years, trapshooting (a game of timing and judgment more than raw athleticism) has seen something of a renaissance for young stars. The current Amateur Trapshooting Association record for youngest national doubles champion was set by then-15-year-old Dillon Tosh in 2015, while 14-year-old RJ Gropp won the Champion of Champions event last year at the Grand American World Trapshooting tournament. Bruce, who still is young enough to one-up Gropp, has his own berth to the 2021 Grand American event, Aug. 4-14 in Sparta, Ill.
"My goal is to win at least my class in the singles championship, and possibly better," Bruce said of the Grand American, which is known as the world's premier trapshooting event.
Bruce, who often practices from morning until evening at the range, has long-term ambitions to shoot in college, compete for the U.S. Army trapshooting team and use his career as a springboard to travel and adventure.
"I would like to be able to go to different countries — go all over the world," he said.
"The colleges are looking for him already," Levi said. "The Army's already contacted us. We've got several colleges. He would like to just pursue a shooting career; possibly go to the Olympics."