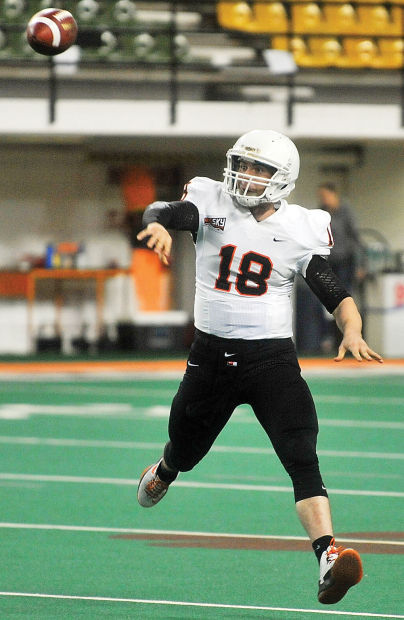 POCATELLO — For the last two years Justin Arias has waited his turn to take over quarterback duties at Idaho State. The junior appeared in eight games back in 2011, backing up Kevin Yost, then redshirted last season. 
Now he is "the man" to lead the Bengals high powered air attack. But how is he developing after almost two years without game experience?
"I'm a lot more comfortable now then I was two years ago," Arias said. "The game has slowed down. Before, it was like I'd break the huddle and start looking at the defense; what alignment is their line, where is the strong side linebacker, where are the safeties? I didn't even have time to think about the play I was supposed to be running. Now things are at a better pace for me."
Yost was a record setting quarterback in head coach Mike Kramer's offense that, despite the overall team record, put up some impressive numbers. Yost often threw 60 times a game, and that gave Arias plenty of time to go to school on his predecessor.
"I learned about how sometimes you have to throw the ball away," Arias said. "You have to get positive yardage as often as you can and there are times you just can't take a sack. You can't put yourself in a position where it's 3rd down and 18 yards very often. "
Kramer — who has had standout quarterbacks at Eastern Washington, Montana State and Idaho State — has already gone on record as saying that Arias is the smartest quarterback he's ever had.
"To hear that Coach said that about me makes me feel awesome. To know that he has that kind of confidence in me just brings up my level of confidence," he said.
Naturally, there are issues when a new quarterback takes over, a key one being timing with receivers. Idaho State has a strong, deep group of wide-outs, led by Cam Richmond and Luke Austin.
But they played with Yost for two years; they were used to him and he knew what they were going to do. But Arias is making sure that's not a season-long issue.
"I'd have to say at least 100 throws to them starting in practice, and until the games actually start you just don't really know what guys will do in certain situations," Arias said when asked about how long it takes to nail down timing with receivers. "But I'm sure that won't be a problem. We've got guys who are good athletes and fast catching the football."
As good as the Bengal passing attack has been over the past few years, the running game has been the polar opposite. Idaho State hasn't averaged 100 rushing yards per game in a season since 2007, and it hasn't had a back gain 100 yards on the ground in a game against a NCAA Division I opponent since 2009.
That will be key to making the pass-happy offense more effective.
"I think you'll see a difference this year," said Arias. "We've got bigger guys on the offensive line, for one thing. Running the ball probably isn't going to be our primary option, but there are times you do have to run, and we are working on some things this year to make that happen."
Playing the first two games at home against smaller division opponents should help the transition period for Arias and the Bengals, before they play at Washington, then start the Big Sky season.
Be the first to know
Get local news delivered to your inbox!