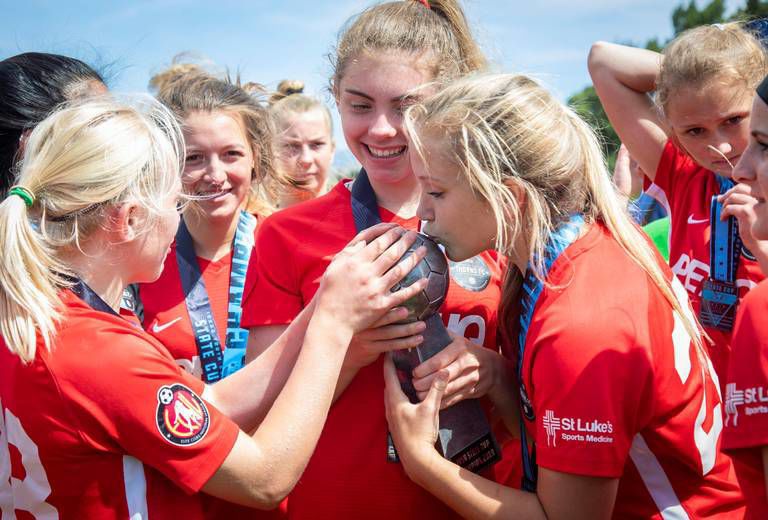 BOISE — Ada County's surge in new COVID-19 cases forced the Idaho Youth Soccer Association to finally cancel its annual State Cup championships Tuesday.
The IYSA rescheduled the youth soccer state tournament twice, waiting for the coronavirus to recede. But Boise Parks and Recreation canceled all sports tournaments on city property Tuesday after Ada County moved backward into Stage 3 of Idaho's reopening plan.
The county reported 138 new cases Monday, a new high that more than doubled the record set Saturday (68).
"It's frustrating," said Skyler Bell, the state technical director for IYSA. "But everybody is doing the best they can. It's unprecedented. There's not a handbook for this."
The restrictions on tournaments remain in place until further notice, according to an email Parks and Rec sent to the state soccer association.
The State Cup tournament draws more than 2,000 youth soccer players every year to Boise. It crowns the state champions in boys and girls soccer from the 13-and-under to 19-and-under age groups, pulling in 130 club teams from around the state.
The size of the tournament made it a nonstarter. Ada County gatherings are now limited to no more than 50 people under Stage 3 of Idaho's reopening plan.
Central District Health announced Ada County would retreat into Stage 3 on Monday. It will reevaluate in two weeks, potentially leaving enough time for the area to return to Stage 4 before the tournament's scheduled July 10 start.
But Bell said the uncertainty led 30 to 40 teams around the state to drop out of the tournament Monday night.
"It's one thing if it's just Ada County that's playing in State Cup," Bell said. "But you've got people booking flights — the few flights there are — or booking hotels or rental cars, etc."
The local IYSA league also played the final games of an abbreviated season Monday night, Bell said. It planned to wrap up its season this week. But no leagues can use city-owned facilities until July 10.
Boise also planned to host the Far West Regional championships this summer at East Boise's Simplot Sports Complex, drawing state champions from around the Western United States.
U.S. Soccer canceled those tournaments earlier this summer but named Boise a host for next summer and 2022.
Be the first to know
Get local news delivered to your inbox!