POCATELLO — Four years ago, Ezekial Williamson never would have imagined standing atop a podium in Holt Arena, accepting a state championship medal for the fourth straight season.
Yet, there he was on Saturday.
Williamson, along with seniors Jakob Murillo and Fernando Luna, clinched state titles and helped push the Tigers to a third place finish in the state, capping off their careers in the best possible way.
"We've had a core group of those boys for three years now," Jerome head coach Josh Wright said. "It's kinda bittersweet...They're a great group of young men and I'm so proud of them."
With his 16-3 major decision over Twin Falls freshman Jake Humphrey at 152 pounds, Williamson became just the fourth wrestler in the history of the 4A classification to win four state titles, and the first from the Magic Valley at that level.
He only found out he'd be a part of that select group on Saturday morning, hours before his semifinal victory that got him to the championship bout with Humphrey. Wright said that, knowing nothing was given to Williamson and he earned the opportunity to do what he did, was gratifying for him as a coach.
The moment was equally special for the grappler himself.
"It's awesome to say I was one of the first guys to do it," Williamson said. "First guy to do it for my school, so that's a big deal. It's big stuff. It's cool."
Jerome's Ezekial Williamson becomes a four-time state champion with a major over Twin Falls freshman Jake Humphrey in the 4A 152-pound class. He's Jerome's first grappler to accomplish the feat. #idpreps pic.twitter.com/oP7ZE6k430

— Sean Whooley (@swhooley27) February 24, 2019
The Tigers also received those big wins from Murillo at 145 pounds and Luna at 220 pounds. Both championships were the first for the two seniors.
Murillo beat top-seeded Ryan Quimby of Lakeland, 9-2, in the championship to end his Jerome career with a state championship.
Wright said he had tears of joy, knowing the effort put forth by Murillo to get to this point.
"So many years, I worked so hard," Murillo said. "A lot of time training in the room...It's been a grind and I'm so happy to finally win it."
Luna's victory capped off Jerome's tournament, as he was the final Tiger to hit the mat, and his decisive 3-2 win over Pocatello's Brian Jackson had more to it than just a state title for the senior.
Twice during the regular season, Luna had defeated Jackson. However, at last week's district tournament, Jackson got the better of him. Wright said they changed their strategy ahead of their final meeting, and it worked out for Luna.
"It's great to know that I could do this," Luna said. "Still come back and get after him and come out on top this time."
The Tigers also had sophomores Gabriel Taboa and Remington Winmill reach the finals at 120 and 182 pounds, respectively, but both had to settle for second. Senior Peyton Ringling (160) and juniors Jose Treyes and Adrian Mendez (both 113) were semifinalists for the Tigers.
Ringling and Treyes took third, while Mendez took fifth overall after their semifinal losses.
You have free articles remaining.
For the three senior winners, along with Ringling, a standard has been set for the Jerome wrestling program moving forward, as the graduating group had a great final weekend of their careers.
"It's a great way to go out," Luna said. "Knowing other people that I grew up with can have the same type of success? It's perfect."
Twin Falls followed Jerome as the next-best local team in the final rankings, as the Bruins placed eighth overall, with two state champions.
Junior Kase Mauger topped Taboa in the 120-pound finals with a 4-2 decision. It was the second straight state championship for Mauger, who hardly celebrated after the final whistle.
"You gotta be humble," Mauger said.
His head coach, Dusty Skidmore, said that was the type of kid Mauger is.
"He is a humble kid," Skidmore said. "He works hard, he's committed. He's easy to coach because he does all the right things. I'm proud of him for that. Winning that was just another match, but I'm proud of him for a lot of the other stuff that makes him capable of doing that."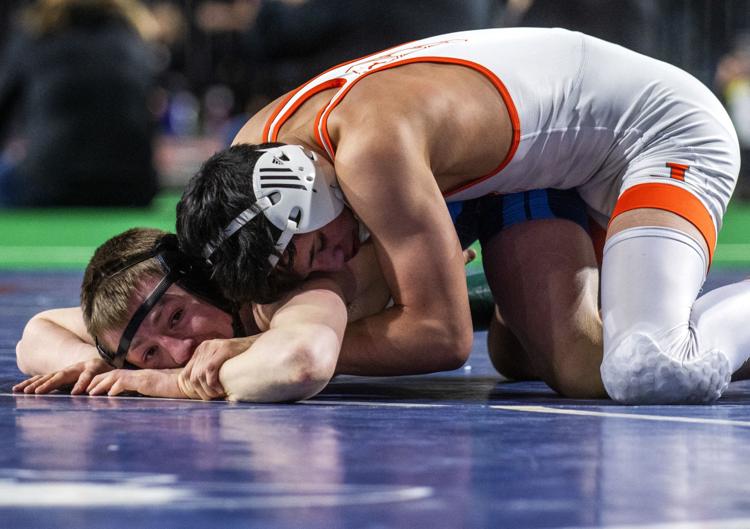 The Bruins' most emotional win of the day came through senior 132-pounder Anthony Maldonado.
Maldonado recently lost his grandfather and, after running through the district tournament to a title as the No. 3 seed, he had the same rank at state, and it didn't deter him.
With a takedown in the final 30 seconds of the match, Maldonado took the lead and held on for the win, pointing to the sky after it was official.
"I went with what I do best," Maldonado said. "Attacking and never giving up. I love this sport."
Skidmore was emotional, given the doubt faced by Maldonado entering the postseason this year, and the way he's taken on the challenge in the face of adversity.
"Nobody expects that guy to be here," Skidmore said. "Nobody outworks that boy. Nobody can stop that boy...He believes in himself and nobody can stop that boy because of how hard he works."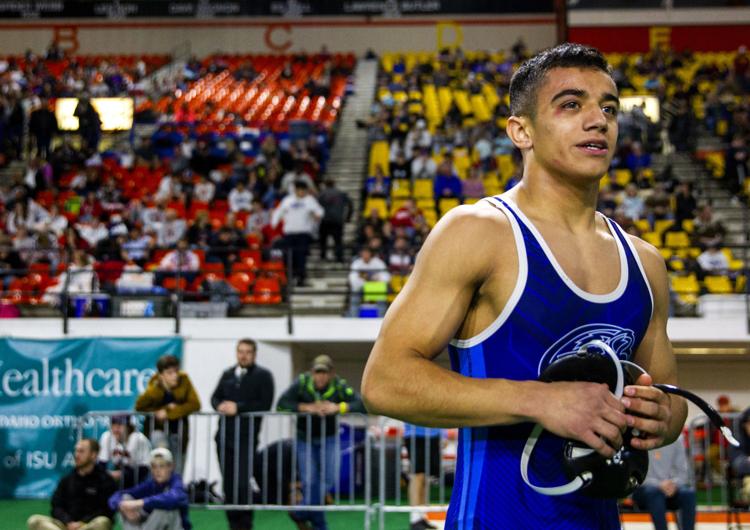 A takedown with about 30 seconds to go gets Twin Falls' Anthony Maldonado an 8-7 4A state title win at 132 pounds. He lost his grandfather earlier this week, and pointed to the sky in his honor. Really special moment. #idpreps pic.twitter.com/aQ59QLSK98

— Sean Whooley (@swhooley27) February 24, 2019
Defending 170-pound state champion Tazyn Twiss was defending 4A state champion Minico's only finalist, and he fell to Kuna's Cedar Miller, 3-2, as the Spartans went on to finish in 12th.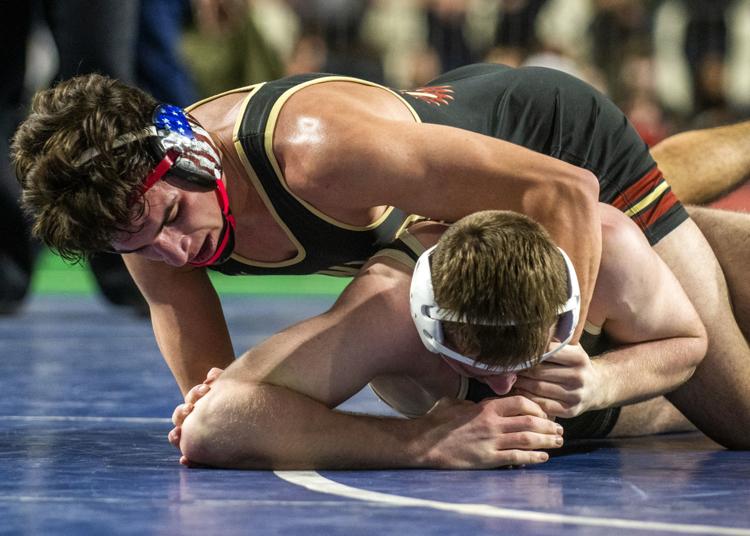 Burley took 24th, as junior Jayden Paul reached the 195-pound semifinals. Canyon Ridge took 25th and Wood River took 28th.