Boys athlete of the week: Jace Whiting, Burley
In the first three games of his junior season, Whiting averaged 23.3 points and 12.7 rebounds per game.
He scored 21 and grabbed 13 boards in a win against Canyon Ridge, notched 23 and 12 in a loss to Bishop Kelly and, on Saturday, put up 25 and 13 in a loss to Kuna.
Whiting was a key piece on the Burley team that made a 4A state championship appearance last season, and he looks to be one of the important pieces of this year's edition of the Bobcats boys basketball team.
Girls athlete of the week: Grace Parker, Gooding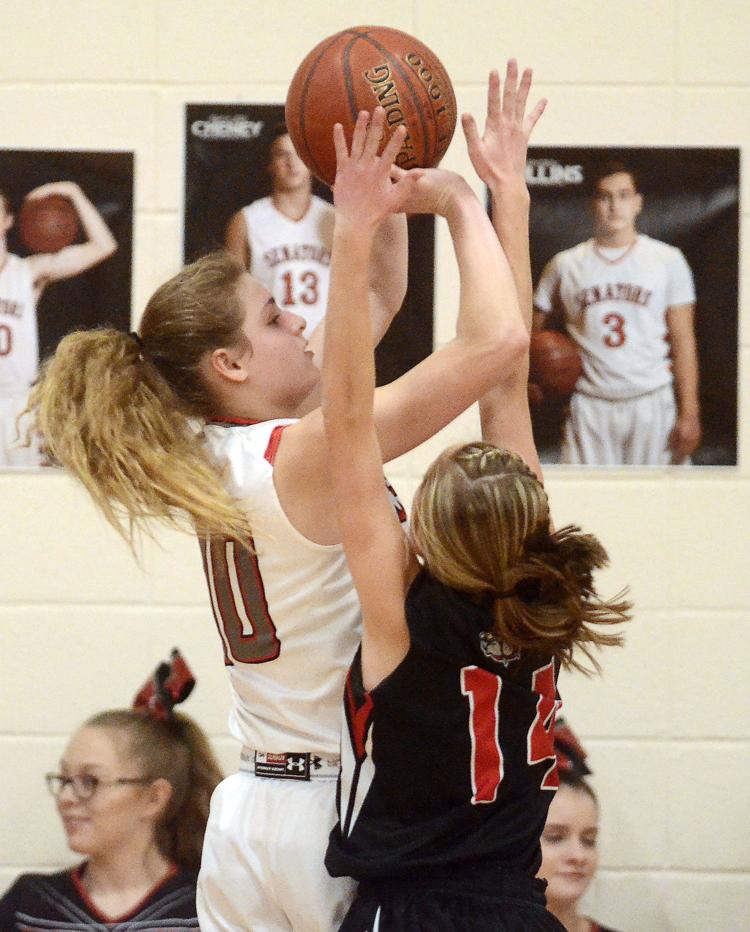 In the three games the Gooding girls basketball team played last week, Parker scored more than half the Senators' points in two.
You have free articles remaining.
The only one in which she didn't do so was a win against Buhl, when she was one point shy of the halfway mark.
Parker posted 23 points against the Indians, 25 points in a 46-42 loss to Kimberly and 17 points in a 57-28 loss to Parma.
Other boys AOTW candidates:
Ryan Ball, Twin Falls basketball (15 points in win over Middleton, 18 points in win over Vallivue)
Kasen Carpenter, Minico basketball (27 points, including a dunk, in win over Pocatello, 10 points in win over Kuna, 12 points in win over Bishop Kelly)
Rylan Chandler, Minico basketball (13 points in win over Pocatello, 13 points in win over Kuna, 14 points, including late game-tying 3-pointer in win over Bishop Kelly)
Gannon Critchfield, Oakley basketball (24 points in win over Butte County, 13 points in win over Riverstone)
Dawson Cummins, Kimberly basketball (11 points in win over Wood River, 15 points in win over Jerome, 13 points in loss to Sugar-Salem)
Kody Henslee, Glenns Ferry basketball (27 points in win over Rimrock)
Carter Kelsey, Buhl basketball (15 points in loss to Jerome)
David Lloyd, Jerome basketball (17 points in win over Buhl, 10 points in loss to Caldwell)
Peyton Lookingbill, Lighthouse Christian basketball (23 points, including five 3-pointers in win over Hagerman)
Kobe Matsen, Minico basketball (21 points in win over Pocatello, 13 points, including a dunk, in win over Kuna, 8 points in win over Bishop Kelly)
Tyler Munsee, Lighthouse Christian basketball (28 points in win over Camas County, 24 points in win over Hagerman)
Zane Mussmann, Valley basketball (22 points in win over Gooding, 24 points in win over Mackay, 13 points in loss to Challis)
Brigham Parke, Carey basketball (16 points; 17 rebounds in win over Butte County, 28 points in loss to Mackay)
Steven Rubio, Shoshone basketball (24 points in win over Hansen)
Carter Schilder, Castleford basketball (21 points in win over Richfield, 22 points in win over Twin Falls Christian Academy)
James Slone, Jerome basketball (17 points in win over Buhl, 15 points in loss to Kimberly)
Rylee Spencer, Raft River basketball (19 points on four 3-pointers in win over Richfield)
Jacob Whitesell, Richfield basketball (22 points in loss to Castleford)
Wacey Williams, Glenns Ferry basketball (27 points in win over Rimrock, 14 points in win over Liberty Charter)
Gio Zavala, Murtaugh basketball (27 points in win over Hansen, 21 points in win over Horseshoe Bend)
Kyra Azevedo, Buhl basketball (19 points in loss to Gooding, 15 points in loss to Filer)
Mercedes Bell, Jerome basketball (21 points in win over Wood River)
Matigan Bingham, Dietrich basketball (14 points in win over Castleford)
Bailey Black, Minico basketball (22 points on 4-for-5 3-point shooting in win over Pocatello)
Ashly Botz, Camas County basketball (19 points in win over Lighthouse Christian)
Shelby Buckner, Richfield basketball (9 points; 13 rebounds in win over Castleford)
Alana Floyd, Hagerman basketball (20 points in win against Wendell, 19 points in win over Wilder, 25 points; 9 rebounds; 5 assists; 4 blocks in 2OT win over Horseshoe Bend)
Lauren Gomez, Lighthouse Christian basketball (31 points in OT loss to Camas County)
Cierra Hennings, Shoshone basketball (15 points; 5 assists in win over Valley, 9 points; 5 assists in win over Raft River)
Katie Johnson, Valley basketball (17 points in win over Mackay)
Abbie Nedrow, Twin Falls Christian Academy basketball (10 points; 11 rebounds in loss to Richfield, 16 points; 10 rebounds in win over Castleford)
Bailee Owens, Shoshone basketball (9 points in win over Valley, 14 points; 7 rebounds in win over Raft River)
Kamri Ottley, Raft River basketball (19 points in win over Lighthouse Christian)
Ashlynn Whittle, Camas County basketball (16 points; 10 rebounds; 7 steals in win over Lighthouse Christian)
Kylie Wood, Carey basketball (22 points in win over Challis, 20 points in win over Valley)
Elly Yore, Hagerman basketball (16 points in win over Wilder, 16 points; 18 rebounds in 2OT win over Horseshoe Bend)