BURLEY — Last year, Brogan Uscola considered quitting bowling.
After transitioning to online learning full-time, Uscola wasn't sure if he should compete with the high school team. He said it was nothing against Minico High School, where he would be a senior, but traditional learning at a public school just wasn't effective for him.
Uscola's current 3.5 GPA shows he made the right choice with his education.
When his coach, Wally Studer, reached out and asked him to be a substitute at an Adult Juniors tournament, Uscola reconsidered his stance on joining the Minico bowling team.
"I bowled a 299 after not bowling for six months," he said. "It was then that I was like, OK, I've really got to get back into this."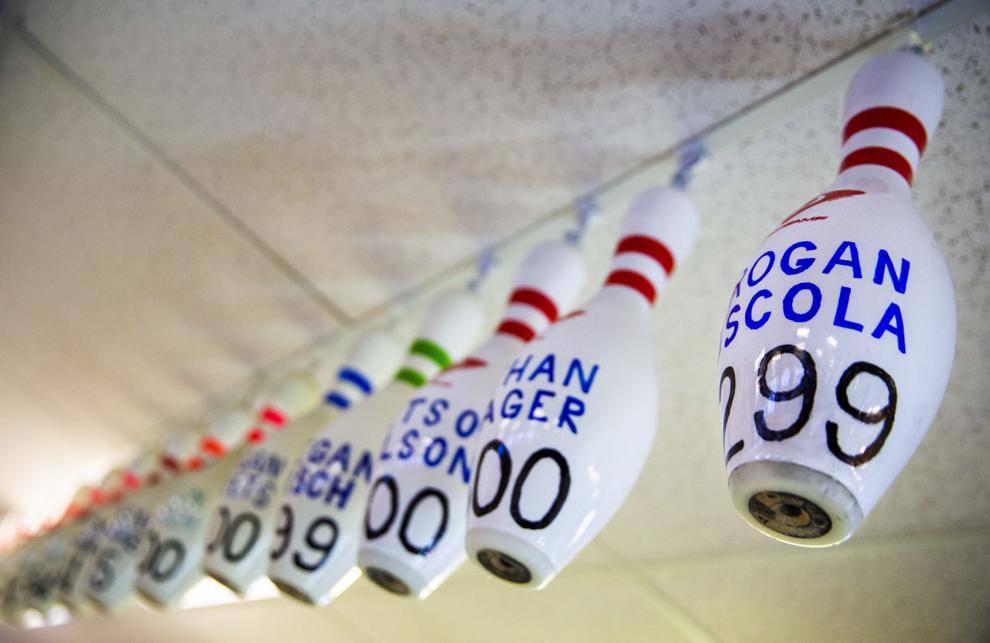 For those who don't know, a "perfect game" in bowling is 300 points.
So when his senior season began, Uscola opted to join. It is a decision he's glad he made.
"This was my last year, and it was the best year of being on the high school team," he said.
Uscola feels like he improved a lot over this past season. From becoming more consistent with his ball placement to focusing on smaller details like slowing his feet, reading the lanes and understanding the different oil patterns, he's benefitted from being on the team.
But what he will carry with him moving forward is not the skills he's improved on, it's the connections made with teammates and opponents alike.
"I've met some really cool people — amazing people actually — over the past couple of years," he said. "One of my best friends — he's on the Twin Falls bowling team."
One of Uscola's favorite memories this year happened during a tournament in Lewiston. Being the middle of winter, the ground was covered in snow. One of his teammates — "Shorty" to her friends — packed only sandals to wear outside of the bowling alley.
"She didn't want to get her socks wet, so I carried her from our hotel to everywhere we went," Uscola said.
Wally Studer, head coach of the Minico bowling team, said Uscola's desire to help his teammates can be both a blessing and a curse.
"He cares about everything that is going on," Studer said. "Sometimes, worrying about everybody else and what they're doing distracts from his own."
But it is these traits that have made Uscola a leader on the team. Whether bowlers are on varsity or junior varsity, boys or girls, he's always eager to lend a helping hand.
While at the Idaho State High School Invitational, his need to support those around him almost got in the way of his championship win.
By repeatedly throwing the ball in the same spot, competitors are able to create a line in the lane. Basically, they build a groove in the oil that their ball can follow each time. This allows them to be more consistent with their rolls.
If another bowler crosses your line, the ball smears oil across it, essentially ruining the groove.
At state, this is exactly what Uscola was forced to do to one of his teammates in order to realign his shot.
"I feel bad about it, but it helped me win," he said. "When you're doing singles tournaments, it's on you. Everybody is your opponent at that moment."
When the announcement came that Uscola was the 4A Boys singles champion, he was overjoyed. This was his first time winning state as a member of the high school team.
"I never thought I could push myself that hard to actually accomplish winning state," he said.
His only disappointment was that his grandmother wasn't at the tournament to celebrate with him.
Since he was old enough to pick up a bowling ball, Uscola has had a passion for the sport. His grandmother is the one who taught him how to bowl and has stood on the sidelines cheering at every tournament.
"She's always been my bowling buddy," he said.
Due to recent health complications with his grandfather, Uscola's grandmother can no longer attend his tournaments in person. Still, that hasn't stopped her from staying up-to-date on his performance.
"She called me every day while we were traveling to see how we were bowling," he said with a smile.
Looking toward the future, Uscola isn't sure where the road might lead. He hasn't put much thought into college, unsure if continuing his education after high school is the right fit for him.
Whatever he chooses to do, he knows bowling will always be a part of his life.
Studer is confident Uscola could compete at the college level if he chose to, but understands that may not be what Uscola wants.
"For a small guy, he generates an extreme amount of power with a little amount of effort, which means he can do it consistently," Studer said. "Most of the people that have his power have to force it, so they're not as accurate."
Even without competing in college, Uscola could still join the professional league. Doing so requires a considerable amount of money and traveling, but it's a dream he'd definitely like to pursue.
"If the chance comes, I'm going to take it," he said.
Studer knows Uscola has the skill to compete at the next level. He just has to be willing to focus and believe in himself.