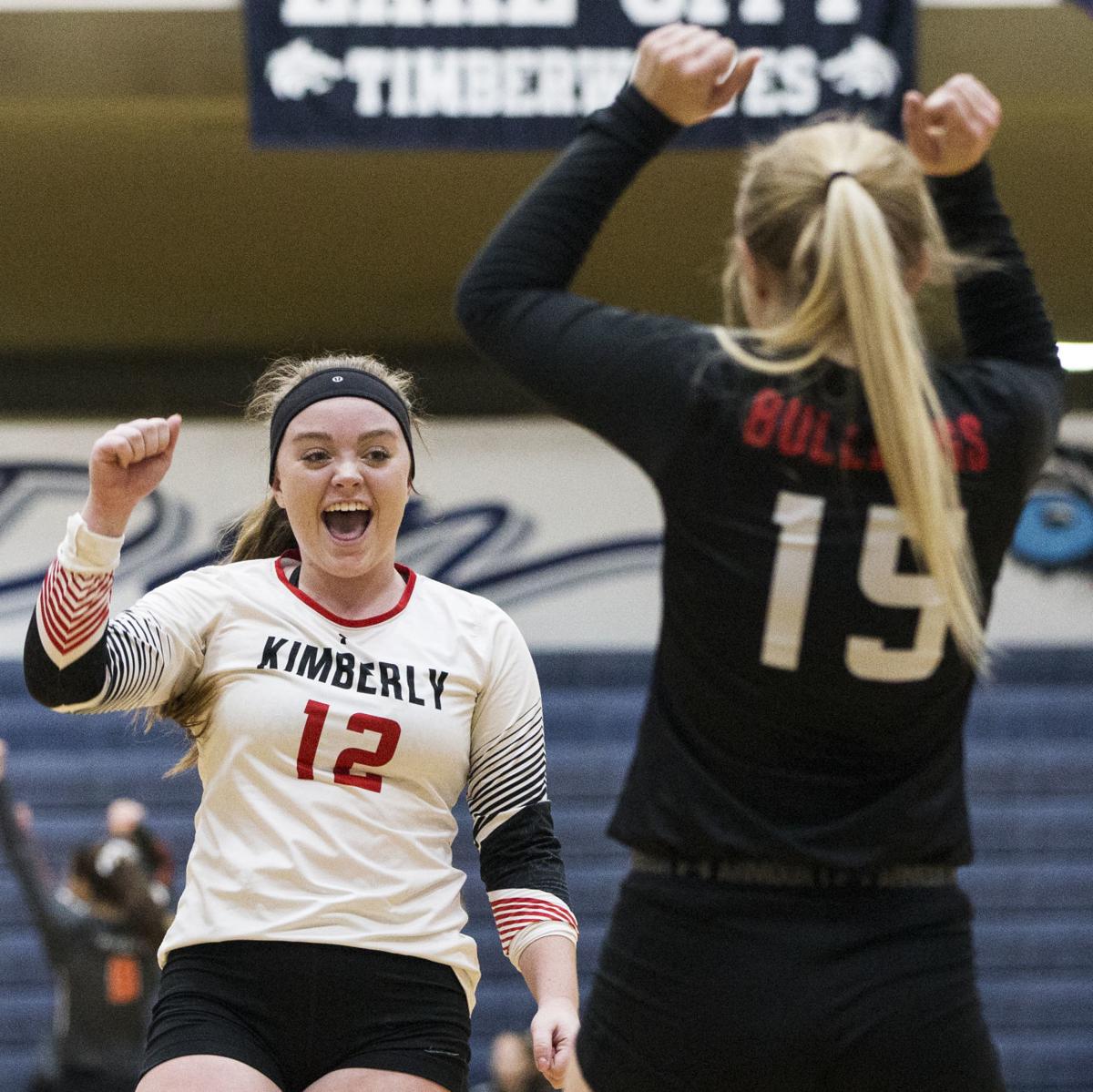 4A state tournament
Twin Falls 3, Middleton 0; Twin Falls 3, Moscow 0
POST FALLS — The Bruins advanced to the 4A state semifinals with a pair of sweeps on Friday at Post Falls High School.
Twin Falls beat Middleton 25-20, 25-17, 25-16, then cruised past Moscow 25-13, 25-8, 25-17.
The Bruins (36-6) will face defending 4A state champion, Skyview (19-0), at 12 p.m. Mountain Time on Saturday.
Skyview 3, Burley 0; Burley 3, Bishop Kelly 0; Burley 3, Moscow 1
POST FALLS — The Bobcats stayed alive in the 4A state tournament with a loss sandwiched by two wins.
Burley lost to Skyview 16-25, 15-25, 19-25.
Against Bishop Kelly, the Bobcats won 25-14, 25-22, 25-16. Kennedee Tracy had 12 kills and eight aces, and Hallie Cook had five kills and three blocks.
Burley lost the first set to Moscow but rallied for a 26-28, 25-17, 25-13, 25-20 victory. Tracy had 29 kills and 15 digs, Alex Hutchinson had 17 digs, Ashley Shirley had 16 digs and nine kills, Makayla Tolman had 15 kills, Cook had five blocks and Jayli Searle had 55 assists.
The Bobcats will take on Middleton at 10 a.m. in a loser-out match. The winner has will earn third place, at worst, and the loser will be fourth.
3A state tournament
Kimberly 3, Timberlake 0; South Fremont 3, Kimberly 1; Kimberly 3, Fruitland 0
COEUR D'ALENE — Kimberly survived Friday play in the 3A volleyball state tournament at Lake City High School with two wins and a loss.
In the first meeting between the Bulldogs and White Tigers on Friday morning, Kimberly won the match 25-18, 25-20, 25-20. Zoey Brown pounded 18 kills for Kimberly followed by setter Desi Overacre recording a double-double of 12 kills and 25 set assists. Paydon Morrissey had four blocks, and Demee Rosenkrance picked up 24 digs for the defense.
The Bulldogs' first win was followed by a loss to the South Fremont Cougars, 25-20, 25-17, 8-25, 25-20. Brown again smashed 18 kills, followed by Overacre with another double-double, 12 kills and 28 assists. Rosenkrance once again led the Kimberly defense with 26 digs, followed by Aspen Askew with 23.
Kimberly had to beat Fruitland to stay alive, and it accomplished the deal beating the Grizzlies 25-20, 25-18, 25-15. Overacre led the offensive charge with her third double-double of the day, with 16 kills and 17 assists. Brown ended with 11 kills, and senior Ivy Burgess added four. Setter Marleigh Geer added 18 assists. Rosenkrance, Askew and senior Kirie Taylor totaled 48 digs.
Kimberly will play Timberlake a second time in a loser-out game at 10 a.m. Saturday. The winner will earn third place, at worst.
1A Division I state tournament
Ambrose 3, Oakley 2; Oakley 3, Liberty Charter 2; Challis 3, Oakley 1
LEWISTON — Oakley's season ended after a five-set loss, a five-set win and a four-set loss in the 1A Division I state tournament. No other details were available.
The Hornets finished the season with a 18-3 record.
Correction: The original version of this story had incorrect results. Those have been fixed.
Horseshoe Bend 3, Shoshone 0; Genesee 3, Shoshone 0
LEWISTON — Shoshone was eliminated by Genesee 25-14, 25-12, 25-22 after losing to the Horseshoe Bend Mustangs, 25-16, 25-12, 26-24 in the opening match of the 1A-D1 volleyball state tournament at Lewis-Clark State College.
Against Horseshoe Bend, senior Monce Rivas had a team-high seven kills, followed by Bailee Owens and Cierra Hennings with five. Owens and Patti Fitzgerald combined for 18 assists.
1A Division II state tournament
Lighthouse Christian 3, Council 0; Watersprings 3, Lighthouse Christian 1; Lighthouse Christian 3, Logos 0
LEWISTON — The defending state champions remained in the running for at least a top four finish in the 1A-DII volleyball state tournament at Lewiston High School.
The Lions opened the tournament with a win over Council 25-16, 25-21, 25-12. Senior Haylee Grossman finished with 11 kills, and Gracie Cover added nine. Senior setter Sabrina De Jong dished out 22 assists, and senior Chloe Gomez had six service aces, while De Jong and Sarah Reineke each had four. Maycee Holloway led the defense with 13 digs and Gomez and Lauren Gomez each had eight.
Following the win over Council, the Lions won the opening set against Watersprings but lost the following three sets and were defeated by the Warriors 21-25, 25-20, 25-17, 25-19, 25-19. It was Lighthouse's first loss of the season. Grossman and Cover each ended with 11 kills and De Jong had 27 set assists. Holloway picked up 22 digs, and Chloe Gomez had 13. Grossman also had three blocks.
The Lions had to have another win against Fruitland to continue in the state tournament, which the Lions accomplished with the 25-23, 25-21, 25-5 match win over the Grizzlies. Gracie Gomez slammed 13 kills, and Grossman added nine. De Jong passed out 23 assists. For the Lions defense, Holloway pulled up a team-high 12 digs.
The Lions (21-1) will face Salmon River at 10 a.m. Saturday morning in a loser-out match. The winner will, at worst, get a third-place trophy.
Salmon River 3, Dietrich 0; Logos 3, Dietrich 1
LEWISTON — The Blue Devils were eliminated from the 1A-DII state tournament by the Logos Knights. The Blue Devils were handed a 25-11, 25-16, 25-14 loss in their opening match by Salmon River.
Get in the game with our Prep Sports Newsletter
Sent weekly directly to your inbox!