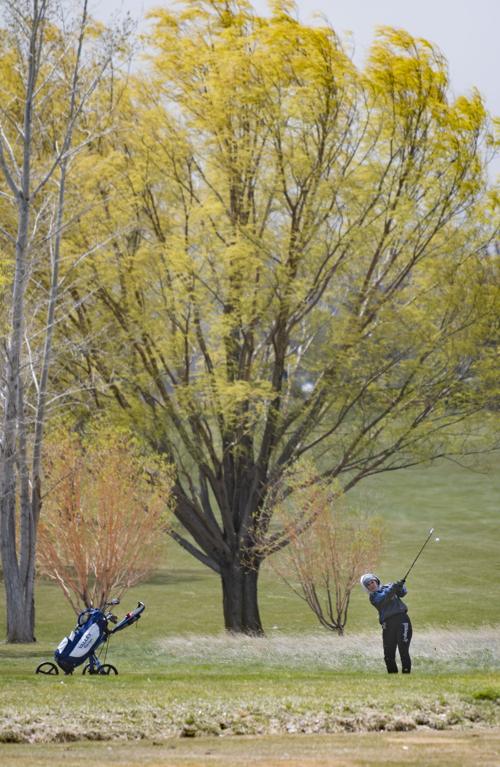 Monday, April 19
Kimberly 11, Filer 0 Game 1
Kimberly 9, Filer 3 Game 2
FILER – Winning Kimberly pitcher Jackson Cummins lasted five innings giving up no runs on one hit with nine strikeouts and no walks in game one. The visiting Bulldogs scored first in second inning followed by eight in the third on six hits and five Filer errors. Losing Filer pitcher Wyatt Phillips surrendered 11 runs on six hits with two strikeouts in five innings. For Kimberly, Dylan Holmes was 2-for-3 with a double and one RBI and Jordan Flameling 1-for-2 with two RBIs. Chase Rose had the one hit for Filer. In game two, Kimberly scored early with eight runs in the first three innings and adda single run in the fourth. The Wildcats scored two in the third and one in the sixth in the loss. Brennen Chappell started for the Bulldogs and went three innings allowing two runs on three hits and five strikeouts. Eli Drake led off on the mound for Filer and surrendered nine runs on six hits in four innings with four strikeouts. Luke Schlund followed in relief. Filer was led at the plate by Chase Rose going 4-for-4 with two doubles with one RBI. For Kimberly, Holmes was 2-for-3, and Logan McMurdie was 2-for-4 with one RBI including a double
GOODING – The Senators scored 10 runs on seven hits and two errors and Reagan Sermon shut down the Trojans allowing four hits in five innings with seven strikeouts and no walks. Alex Hirai took the loss for Wendell lasting three innings allowing two hits and three runs with one strikeout. At the plate for Gooding, Gavin Martin was 2-for-2 with two RBIs and a double and Ethan Kulhanek was 2-for 3 with one RBI and a double. Alex Hirai, Joey Ward, John Smith, Zack Woodward and Flex Low each had a hit for the Trojans.
DECLO –The Pilots scored two in the first and six in the second and the Hornets scored five in the first and two in the third and trailed 8-7 until Declo added four in the fifth and two in the sixth for the win. Katelyn Koyle earned the win for Declo and went five innings allowing no runs on three hits with five strikeouts and one walk. Macie Larsen started for the Hornets and allowed five hits and eight runs over one and two-thirds innings with three strikeouts. Madi Fink took the loss for Glenns Ferry in six innings allowing 15 hits and 13 runs with six strikeouts. Elle Brase was 3-for-3 with a double, Katie Bott with a double, Kadence Spencer, Lucie Schulthies with a triple and five RBIs, and Larsen with a double each had two hits for Declo. For the Pilots, Leabeth Hance was 3-for-4 including a double with one RBI and Aubrey Gibbons 2-for-4 with two RBIs.
Gooding 15, Wendell 0 three innings
GOODING – Maelyn Durham tossed a three-inning no-hitter as the host Senators jumped on the Trojans with 15 runs on 12 hits ending the run-ruled game. Durham finished with two strikeouts and one walk. Alx Roe led Gooding going 3-for-3 including two double and three RBIs, Morgan Durham 2-for-2 including a double with two RBIs, Reece Fleming 2-for-2 with one RBI, and Makaya Boyer 2-for-2 with one RBI. Wendell pitcher Ainsley Clark took the loss giving up 15 runs on 12 hits (12 ER) with six walks.
FILER – Combining two walks, a couple of stolen bases, a pair of wild pitches, a single and three errors and the Wildcats had posted the first four runs of the game in the home half of the first inning all before the Bulldogs could get the first out in game one. The Wildcats added two more runs in the second. Kimberly got back in the game scoring four runs in the fourth with errors committed by Filer and an RBI double by Kiana Bishop and RBI single by Journee Stewart and tacked on two in the seventh. But the Wildcats added two in the fourth, one in the fifth and sixth and two in the sixth for the win. Winner Filer pitcher Sami Taylor threw seven innings giving up six runs on four hits with 12 strikeouts and three walks. At the plate for Filer, McCarty Stoddard was 2-for-3 including a double and Jasmine Earl 2-for-4 with two RBIs. The two teams committed 14 errors, Kimberly made eight and Filer had six. Kimberly pitcher Presley Lyman took the loss in six innings allowing 11 runs with eight hits four strikeouts and eight walks Kiana Bishop was 1-for-3 with a double and one RBI, Journee Stewart 1-for-3 with one RBI and Emily Hanchey 2-for-4 for the Bulldogs.The Wildcats scored 15 runs on 11 hits with three errors and the Bulldogs were shutout with one hit and committed eight errors in game two. Filer pitcher McCarty Stoddard threw a shutout in the win over the Bulldogs in four innings with seven strikeouts. Demi Vega suffered the loss for Kimberly surrendering 11 runs on 10 hits in three innings with three strikeouts and one walk. Taylor, Stoddard, Gracie Brooks, and Kamrin Barnes each had two hits for Filer. Kiana Bishop had the lone Bulldog hit.
1. Declo, 367; 2. Gooding, 393; 3. Wendell, 401.
1. Jett Shaw, Dietrich, 83; 2. Braden Brown, Gooding, 89; 3. Cooper Pavkov, Gooding, 90.
1. Valley, 439; 2. Declo, 468; 3. Hagerman, 585.
1. Jocee Buschhorn, Valley, 99; 2. Jaeli Garrard, Declo, 100; 3. Madyn Black, Valley, 103.