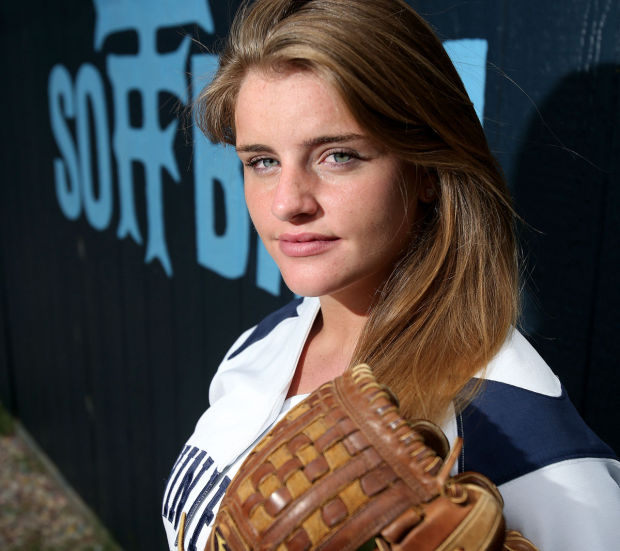 TWIN FALLS • After a strong sophomore season, one Times-News Softball Player of the Year Rainey Dyreson, a self-proclaimed perfectionist, called merely "OK," the Twin Falls pitcher passed up the chance to play high school ball as a junior, instead driving 30 hours a weekend with her dad to California in hopes of getting recruited at a clinic.
"I was late in the recruiting process in Idaho and it's hard to get recruited to big schools," Dyreson said. "I had to do something if I wanted to play Division I softball; I needed to do something drastic."
Going up against some of the best high school softball players in the country, Dyreson was good enough to earn a scholarship offer from Oregon State, one she accepted.
By the time Dyreson had returned and began preparing for her senior season with the Bruins — a team just one piece away from state title contention — her stuff had become virtually unhittable.
In order to keep some of the country's elite batters off-balance, she added a dropball to her devastating riseball, and more deception to her change-up.
Once getting home, she took no mercy. Dyreson finished with a 1.33 ERA, striking out nearly two batters per inning in 2014.
"She worked her butt off all season and she knew what she wanted to do," Twin Falls coach Jessica Pistole said. "She bettered herself, it just got better and better. She could have coasted and still won and dominated, but she wanted to get better and be the best."
Said Dyreson: "I was never trying to throw down to a certain level. I was always throwing like it was against California kids."
By the end of the season, on championship day when she allowed just one combined hit in a little less than two games against the second-best 4A team in Idaho, Dyreson had become such a powerful force — Pistole, a former pitcher, saying she was full of "swag" — that her bravado and dominance became contagious, players said afterward.
"You have to have that swag to compete against high level batters and to get your batters to compete and score runs, it takes a unique pitcher and that's what she is," Pistole said.
Dyreson used to have anger problems on the mound.
"I would cry, stomp my feet and people would tell me that I can't pitch and didn't have the mental capacity for it," she said. "I went to a sports psychiatrist when I was 11."
At the state tournament, Dyreson was a picture of emotional channeling, blowing away batters seemingly for the fun of it, adding extra zip when the strikezone shrunk.
But she was also lauded by Pistole for her leadership and team-friendly approach, encouraging fellow pitcher and last year's Times-News Player of the Year Megan Hinojos when she started the championship game against Bishop Kelly after she had dominated it hours earlier.
"So many of the girls deserved (Player of the Year)," Dyreson said. "We knew this team had a really good chance, because of the chemistry and talent that was on it. It was a special group. I have played on tons and tons of teams, have played all over country to play top level competition, and of all the teams I have played for this was the most special."
Get in the game with our Prep Sports Newsletter
Sent weekly directly to your inbox!