One spring day, when Gooding's Shane Jennings — now an accomplished senior quarterback with lofty statistics, accolades and college offers to his name — was just a sixth grader who was turning heads at one of the school's football practices.
Back then, before the all-state honors he would earn, before all of the games he'd help his team win, and before he caught the attention of high-level programs like Stanford, Utah State and Eastern Washington, he was just a kid who the coaches referred to as "Squeak" because of his high, squeaky voice.
The team was putting in plays for its upcoming summer team camp, and there were a couple of newly-hired assistant coaches there. They asked Head Coach Cameron Andersen what the best way to learn the team's playbook was.
"I told them, 'Just go stand by that little kid right there and he'll teach you," Andersen said. "And they started laughing. And I'm like, just trust me...'Hey Squeak, come talk to these guys about our offense.'"
Andersen called the play for his team to run. It was a complex mix of words and numbers that, like all football plays, is its own distinct language. The play was called Ace Gold 836 Y Bengal Halo.
"One of the coaches kind of jokingly leaned over (to Shane) and said, 'What does that mean?" Andersen said.
The middle-schooler had a precise answer prepared.
"Well, we're going to read the advantage post to see if we can hit it on a three-step, and if we can't we're going hitch high-low to the middle Bengal to the outside," the boy known as Squeak replied without missing a beat.
The new coaches were shocked that this kid knew everything the quarterback was supposed to do on the play, from how many steps he was supposed to take in his drop-back to which receivers he was supposed to look at, and the order in which he was expected to do it all.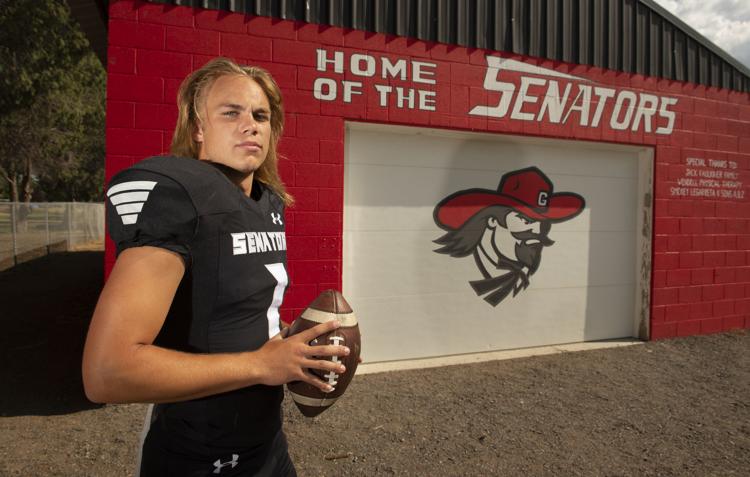 But that's the kind of athlete Jennings has always been, according to Andersen.
"He's always had it up here," the coach said, pointing to his head.
A tradition to follow
In a region that doesn't consistently produce Division I football talent, Jennings has made a name for himself. He's a two-time all-state player who has compiled 6,853 yards of offense and 90 total touchdowns over the past two seasons.
A true dual-threat quarterback who can throw, run and make plays out of difficult situations, he's received three Division I offers: Idaho, Idaho State and Utah State.
But beyond that, he's received interest from powerhouse programs Eastern Washington and Stanford, a true testament to his athletic abilities.
Andersen, who is entering his 10th season as head coach of the Senators, has long seen how special a player Jennings is.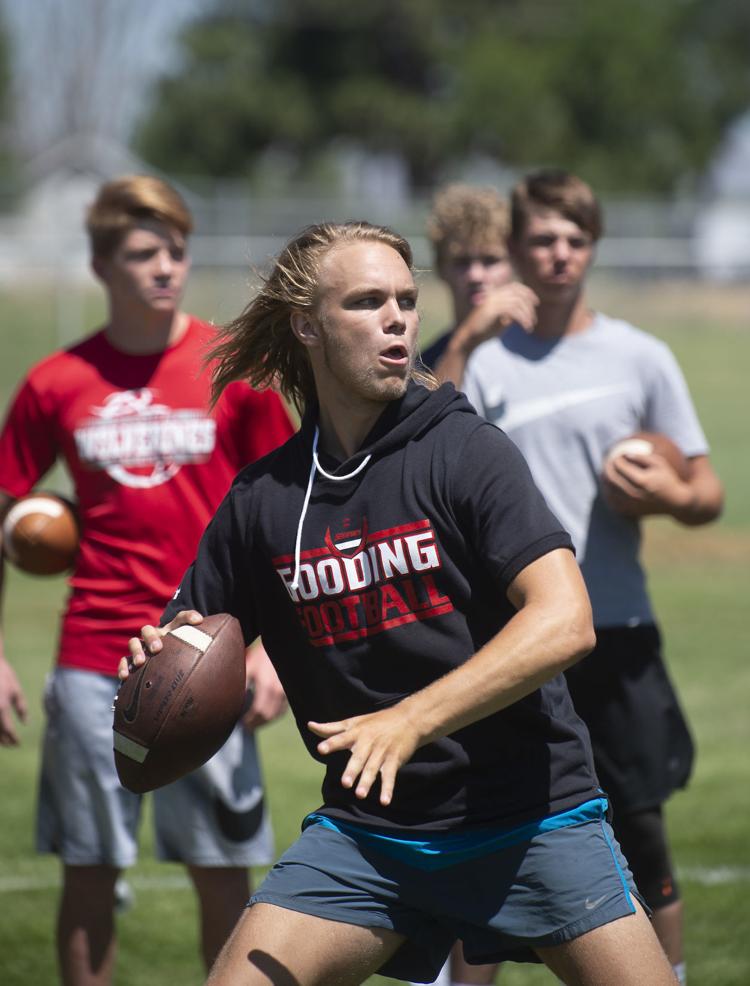 Gooding has a spring football league for younger players, and Andersen started coaching Jennings in fourth grade. He positioned the boy as a receiver to begin with, but Jennings didn't stay there for long.
"When I came to Gooding for spring football, I started playing wide receiver first, and then we were messing around and Andersen was like, come get in quarterback drills," Jennings said. "I started throwing and kept throwing more and more, and good things have happened."
Jennings demonstrated that an ability to make all of the split-second decisions necessary to operate Gooding's offense. He was immersed in the system from a young age.
"We run a college-style scheme, and it takes timing and rhythm, Andersen said. "For our guys, by the time they play varsity quarterback, they've played it for a long time."
When Jennings took over as starting quarterback for his sophomore season, he followed in the footsteps of the school's last two great quarterbacks — Wyatt Williams and Tyler Visser. The team's previous two starters were both all-state players. Jennings had a lot to live up to.
But he didn't disappoint when he finally took the field on Friday nights. He passed for 2,173 yards and 29 touchdowns and rushed for 1,080 yards and 14 more touchdowns.
The College of Idaho took notice and offered him a scholarship in the spring. But that offer was only the beginning.
Rodeo and football
So what goes into creating an all-state quarterback who can consistently make the right decisions and lead the team?
"I think there are always natural abilities with people, but I've always maintained that, because I've seen so many kids, that they're generally a reflection of their parents," Andersen said.
Both of Jennings' parents were in the military — his father, Kelly, was in the Army and his mother, Karen, was in the Navy. 
Kelly Jennings was on the PBR circuit as a bullfighter and is a two-time Wrangler National Finals bullfighter. As Jennings' coach, Andersen has witnessed the discipline and work ethic of his star quarterback and attributes much of it to how he was raised.
"As far as work ethic, you can't look like he looks without working really, really hard," Andersen said. "He's as strong in the weight room as our linemen."
Kelly Jennings is also on Gooding's coaching staff. Jennings is a two-way player and plays free safety for his dad's unit of the team. On every play, he's responsible for relaying the coverage his father calls to the rest of the defensive backs, and he has the freedom to change the call if he sees something before the play begins.
Shane Jennings said if he wasn't going to play football at the next level, the sport he would choose would be rodeo. He grew up around it, following his dad to PBR events.
Even though football took over as his number one passion, he still helps his father out by running cattle with him.
"We run about 600 cows," he said. "If I'm not on the field throwing, I'm on the back of a horse."
But the ranch isn't the only place where the young athlete's talent shines through — when he's on the field throwing a football, his skills show. He would prove that during his junior season.
Big-time offers
In his second season as a starter, Jennings played even better than in his first. He passed for 2,593 yards and 32 touchdowns and rushed for 1,007 yards and 15 more touchdowns. He threw only four interceptions on 234 pass attempts.
But the season ended earlier than the Senators had hoped. They fell 41-21 to Homedale in the first round of the Class 3A playoffs. 
When winter set in, Jennings switched his focus to the basketball court. A football coach from Utah State showed up to one of his games and approached him afterward to tell him the team was interested in recruiting him.
Jennings threw passes to the coach in the school's commons area after the game. He made enough of an impression that the school offered him a scholarship the next day.
It was an unexpected jump in the level of programs giving him attention. His first Division I offer was from a school coming off of an 11-2 season, one that finished the year ranked as one of the top 25 teams in the country.
Then the spring brought a whirlwind of interested coaches representing teams to Gooding.
"It was to the point where about every two days out of the week, there would be another college coming and wanting me to throw for them," Jennings said. "So me and Andersen would get two wide receivers and go to the gym. I threw for Oregon State, BYU, Boise State, Eastern Washington and a bunch of other schools."
The most prominent school to give him attention was Stanford, known both for its strong football program and its world-class academics. Jennings was surprised when Lance Anderson, the team's defensive coordinator, came to Gooding to visit him several times. He also went to California to see the school on an unofficial visit.
While there, he got to meet Indianapolis Colts quarterback and Stanford alum Andrew Luck, who was working out during the offseason. Jennings said it was a surreal moment to visit with one of the best football players in the world.
"I asked him a few questions, like what does it take to get from Division I to the next level, and he said it's a lot of hard work," Jennings said. "You have to be dedicated. Quarterback is not just a position — it's a lifestyle."
Weighing the choices
The University of Idaho and Idaho State also offered Jennings scholarships in the spring, and he went on several other college visits, including to Washington State, another top-notch program, one that runs an offense similar to Gooding's.
Jennings has no shortage of options to choose from for where to play college football. He even has the added benefit of having an experienced head coach who has been through the recruiting process with players over the years and knows what to look out for.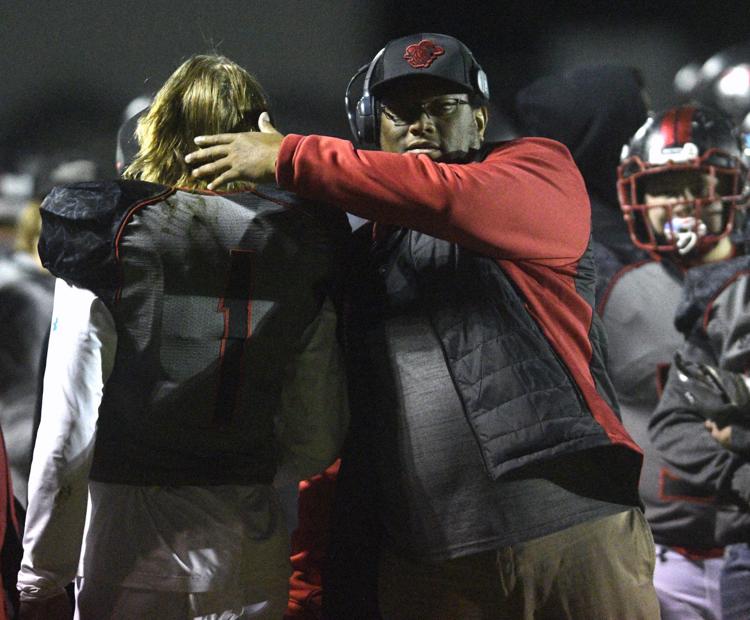 Andersen said he doesn't try to steer Jennings toward any particular school, but reminds him that finding the program that's right for him is more important than choosing the biggest school.
"Do you like the coaches? Can you see yourself at the university? Those are the big messages," Andersen said.
But before Jennings suits up for any college program, he has one more year at Gooding. Andersen said his quarterback hasn't let all of the attention he's received change his attitude. 
"As a person, he's a really good dude, and I think that so many times a guy that gets the publicity that Shane gets, you think he would get cocky and arrogant," he said. "But Shane is pretty level-headed through the whole deal."
"I can 100 percent confirm that his teammates come first, and he wants to be a Gooding Senator before he's a Utah State Aggie or an Eastern Washington Eagle," Andersen added. "Before any of those things, he wants to be a Gooding Senator and do things well there first."
Jennings made it clear that he's trying take a team-first attitude. He said his first goal, above any personal accolades or achievements, is to win a state championship. Gooding has lost in the playoffs each of the past two seasons, including in the state semifinals in 2017.
He also said he's tried to keep his work in the offseason team-based and keep everyone together. The senior class is smaller than usual, so he said it's going to take more of an all-around effort to be successful, including getting contributions from younger players.
Despite having accomplished so much already and having a potentially even brighter future, Jennings is trying to remain down-to-earth. His lifelong dream of playing college football is right around the corner, but he is looking forward to one more season in the system he grew up in — where he was once just a little kid who everyone called Squeak.
"I asked him a few questions, like what does it take to get from Division I to the next level, and he said it's a lot of hard work. You have to be dedicated. Quarterback is not just a position — it's a lifestyle."

Gooding quarterback Shane Jennings
Get in the game with our Prep Sports Newsletter
Sent weekly directly to your inbox!