JEROME — Sean Impomeni entered Friday's game aiming to simplify, to get his Canyon Ridge football team back to its roots.
The Riverhawks needed to run the ball if they wanted to exit Jerome with a win.
Canyon Ridge had scored 42 points all season entering Friday's Great Basin Conference matchup. The Riverhawks more than doubled that total in a commanding 46-28 win over the Tigers.
"Mentally, we wanted to break them down a little bit up front," said Impomeni, the Riverhawks' head coach. "As the game went on, you could tell we were going to score points by running the ball because we were playing a physical game."
Canyon Ridge was ready for Friday's game for multiple reasons. First off, it was a conference matchup that will likely determine a playoff berth. Secondly, the Riverhawks had just come off a 29-14 loss to rival Twin Falls. They needed a win to rinse away the foul aftertaste.
Against the Bruins last week, Impomeni wanted to kick off to begin the game. His hope was to attempt an onside kick, recover it and set a Service Bowl win in motion.
Instead, Twin Falls kicked off, and the rest was painful history for the Riverhawks.
But Impomeni kept that onside bullet in the chamber. Canyon Ridge kicked off to start Friday's game, and Impomeni called for an onside kick. The Riverhawks recovered.
"We just needed something to kinda get us, I don't know if excited is the word, but on the same page," Impomeni said. "And that was it."
Canyon Ridge promptly marched down the field with its power inside run game. Several sets included a running back at quarterback, or a "sniffer", as Impomeni phrased it.
The Riverhawks' game-opening touchdown was answered by a 50-yard scoring run from senior running back Colten Craig.
One big punch was countered with another. Canyon Ridge junior MJ Brooks returned the ensuing kickoff deep into Jerome territory.
"That's when started really hammering them," Brooks said.
Again, Canyon Ridge pulverized Jerome with its run game, and junior quarterback Johnny Eastman capped the drive with a 1-yard touchdown run.
The Riverhawks never lost the lead after that.
Jerome cut it 21-14 in the second quarter, but Canyon Ridge entered halftime up 32-14.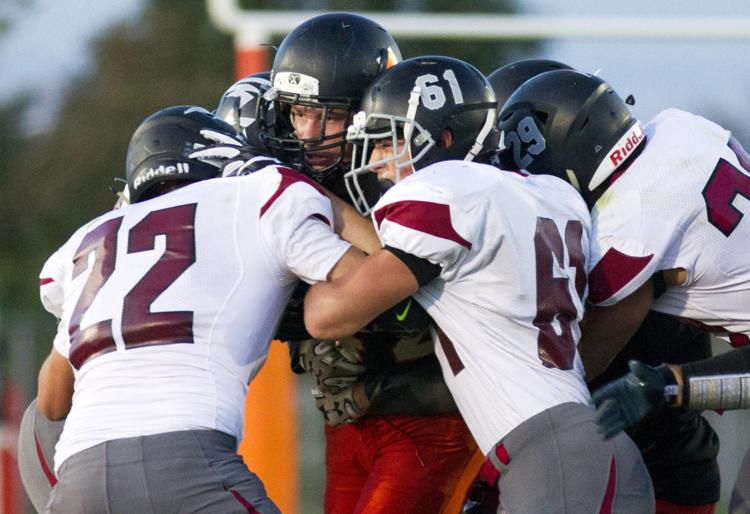 Brooks played a huge role in the first half dominance. After the long return, he set up Canyon Ridge's third TD with a 32-yard diving catch. He put the Riverhawks up 29-14 with a 6-yard TD catch. His 45-yard catch, on a perfect throw from Eastman, set up a field goal right before the first half ended.
Jerome opened the second half with a touchdown, but Canyon Ridge's run game again came through to put the game away.
"It feels great to finally get back on track to where we should be," Brooks said. "Now we've got a chance for the playoffs."
Canyon Ridge and Jerome are now both 2-3 overall and 1-1 in conference play. The Riverhawks hosts Minico next Friday, and the Tigers host 3A nonconference foe Sugar-Salem the same day.
MORE HIGHLIGHTS
You have free articles remaining.
Canyon Ridge 46, Jerome 28
Canyon Ridge 21 11 7 7 — 46
CR — Reilly Dahlquist 1-yard run (Jared March kick) 7:33
J — Colten Craig 50-yard run (Jack Howard kick) 6:30
CR — Johnny Eastman 1-yard run (March kick) 4:00
CR — Dahlquist 11-yard run (March kick) 1:09
J — Austin Bell 15-yard pass from Jordin Myers (Howard kick) 6:13
CR — MJ Brooks 6-yard pass from Eastman (Dahlquist run) 2:21
CR — March 33-yard kick 0:05
J — Bell 25-yard pass from Myers (Howard kick) 8:41
CR — Aaron Barnes 5-yard run (March kick) 3:05
CR — Kyler Allen 40-yard run (March kick) 11:47
J — Craig 3-yard run (Howard kick) 9:21