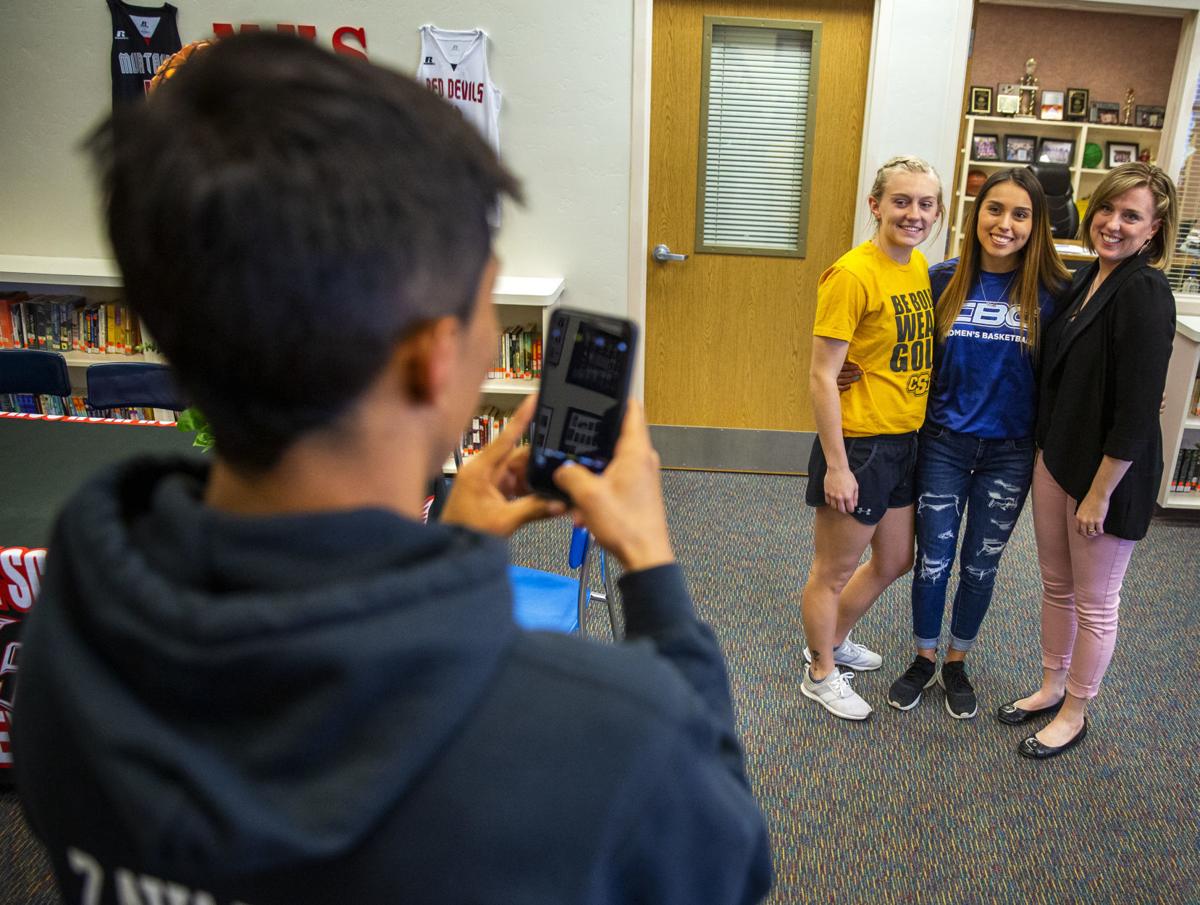 MURTAUGH — Wednesday was a huge day for Murtaugh High School — the first time in at least 25 years a graduating senior has signed to play collegiate girls basketball.
Jenna Benites, 18, signed a letter of intent Wednesday to play basketball at Columbia Basin College in Pasco, Wash.
More than 30 students and school employees gathered in Murtaugh High's library for the signing. Jenna sat at the table with her father, a Murtuagh coach and two coaches from Columbia Basin College.
Murtaugh High principal Adam Johnson told the crowd it's the first signing for women's basketball in more than 25 years at the school, which has 91 students enrolled. He asked the crowd to give Jenna a round of applause.
Johnson told Jenna: "You'll have a lot of fans next year watching and cheering for you. We're proud of you."
Athletic director and head girls basketball coach Todd Jensen handed Jenna a fancy pen to use to sign her letter of intent. Jenna smiled as people took photos. "You guys are making me red," she said, as she blushed.
When it came time to sign her letter of intent, several of Jenna's classmates pulled out their cellphones to take pictures. And many took pictures with Jenna afterward.
Murtaugh assistant girls basketball coach Anita McClure told the crowd Jenna is evidence that it doesn't matter where you come from or live — if you put in the time and effort, you can move on to the collegiate level.
Two women's basketball coaches from Columbia Basin College made a seven-hour drive from Pasco to Murtaugh on Wednesday morning.
"This young lady ... will be one of the top players in the league," head women's basketball coach Zach Wilde told the crowd about Jenna.
Jenna's father, Magdaleno Benites, said he's excited for her daughter, and there have been many late nights "chasing her around for 18 years."
As for her accomplishment of moving on to play college basketball, he said: "When she puts her mind set to do something, she'll do it."
Benites said he hopes Jenna will be successful in her life, and be an example for the rest of the Murtaugh student body about the importance of doing well in sports and their studies. Jenna pushed herself — sometimes, beyond her limits, he said.
In addition to playing basketball, Jenna plans to study nursing at Columbia Basin College.
As a basketball player, Jenna is known for her three-pointers, with 53 this season.
Jenna told the Times-News the girls basketball team her freshman year struggled. "We weren't that good at basketball," she said, adding she barely touched the ball her first couple of years of high school.
But things changed — particularly, during her junior and senior years. "It took a lot of hard work," Jenna said.
She said she became deeply invested in basketball and started staying an hour after practices. "I really grew to love playing."
Get in the game with our Prep Sports Newsletter
Sent weekly directly to your inbox!