Nothing can keep Tim Perrigot and the Minico High School football team down after possibly the biggest upset of the year.
Last Friday, the Spartans beat top-ranked Skyview 29-28 in their 4A semifinal matchup at home to advance to their first state title game in program history.
Two days after the win, Minico head coach Tim Perrigot and his son John (Minico's quarterback) went to Denver for the Broncos' game against the New England Patriots. Even watching his beloved Broncos get crushed couldn't bring him down.
"I could've cared less, which is crazy because I'm one of the biggest Bronco fans in the United States," he said on this week's Magic Valley Sports Podcast. "But I'm just on a high right now, just feeling so good."
However, the Spartans will have to defeat the reigning 4A state champion, Skyline, at Holt Arena on Friday night if they want to earn their first state title as a program.
Perrigot wouldn't have it any other way.
"Who else would you want to play?" he said. "If you're going to win the prize fight, you've got to go through No. 1 and No. 2."
Against strong teams like Skyview, Minico's rushing game has been tough to handle. Each of the three offensive touchdowns last week were rushed in by different running backs: junior Colter May, junior Kasen Jones and senior Tim Miller, who also punched in the game-winning two-point conversion with 2:17 left in the game.
Junior running back Larry Vega didn't score in the semifinal game but rushed for 147 yards, including 50 on the game-winning drive. Perrigot said Vega is one of the hardest Minico running backs to bring down.
"If you don't put a hand on him, he's going to put a spin move on," Perrigot said. "He's got every tool I can think of to escape out of a tackle, and I think that's what makes him deadly."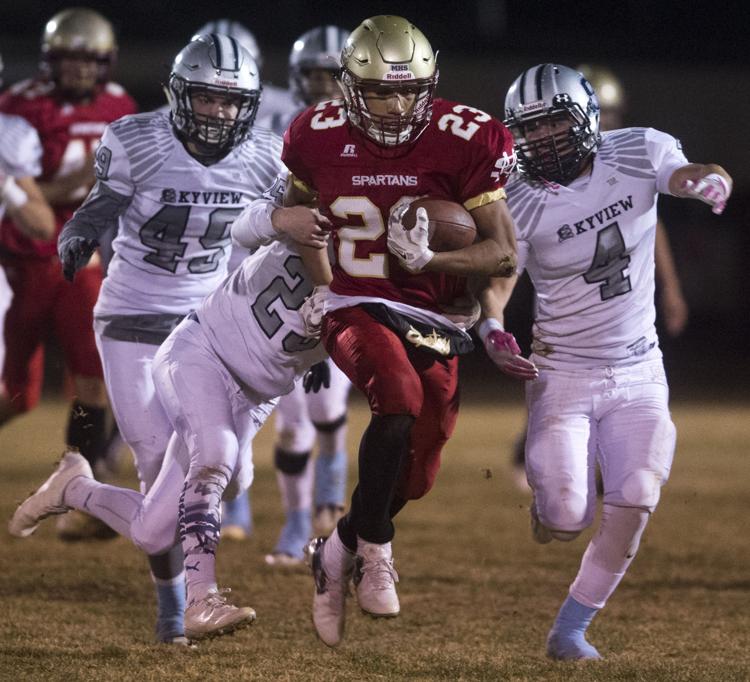 In the playoffs, the Spartans have chipped away with more short-yardage plays than long touchdown rushes compared to earlier in the season. But trading big plays for short, successful ones has been a blessing in disguise, Perrigot said.
"That's keeping other offenses off the field," he said.
May said that his job as a running back has gotten easier as the offensive line has stepped up even more in the playoffs, especially in the Skyview game.
"It all starts up front with the big boys," he said. "They did a good job of sustaining their blocks the entire game."
Friday's game may be the toughest ask for the Minico rushing corps, as Skyline has one of the strongest rush defenses in 4A. The Grizzlies held Middleton to 57 yards in their 21-13 semifinal win, per the Post Register, and they haven't allowed more than 14 points in any of the past six games.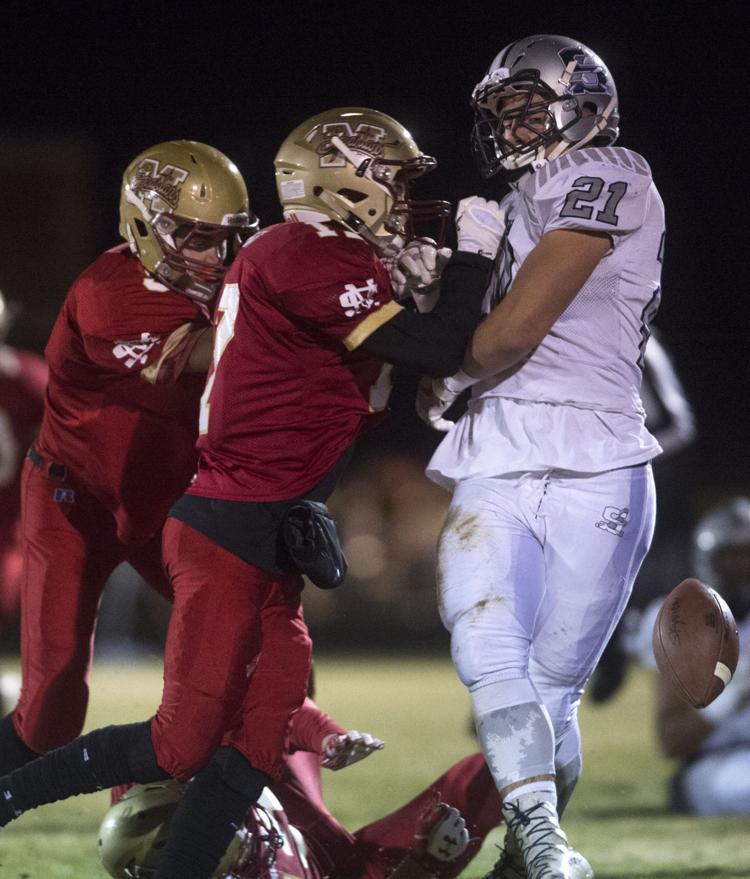 Minico's defense has been strong in the past few games, too. The Spartans slowed down a Skyview offense that averaged 42.1 points per game going into last Friday, and they found ways to get the ball back. They scored a touchdown at the end of the first half following a fumble recovery on a punt return, and Aidan VanTassell forced a fumble and scored on the opening kickoff of the second half.
Skyline has a consistent quarterback in Dylan Bialas, who completed 80 percent of his passes for 177 yards against Middleton. Running back Kyler Morgan carries the bulk of the workload for Skyline's running game, and he averaged more than five yards a carry against Middleton.
Both teams are on hot streaks, but Perrigot knows that Skyline's resume, including a 5-0 conference record and a 40-14 state quarterfinal victory over perennial powerhouse Bishop Kelly, puts Minico in the underdog role.
"We're going to have find another stone to sling and take down the Goliath," Perrigot said. "We'll see what happens this weekend."
When May reflects on how far the team has gotten this year, he thinks about all the players and coaches who helped the team reach this point, and it helps him focus on the task at hand.
"You're not just playing for yourself, he said. "You're playing for Minico and all the players who have touched the field for the team in the past. It's indescribable."