POCATELLO — The Minico High School football team made history this year in reaching its first ever state title game, but it couldn't bring home the blue trophy.
The Spartans fell 40-14 to the defending 4A champion Skyline Grizzlies Friday night at Holt Arena.
Early on, the Spartans were making downfield moves. Larry Vega earned a handful of yards per attempt in his early rushes of the first quarter, but the holes began to disappear. Then screens began to get taken away. Skyline took a 14-0 lead in the first quarter on touchdowns by running back Kyler Morgan.
Special teams gave Minico great field position early in the second quarter with a blocked punt near midfield. A pass from quarterback John Perrigot to wide receiver Nicky Caldera put the Spartans in the red zone, and a few hard rushes later, Perrigot ran a keeper for a 1-yard touchdown.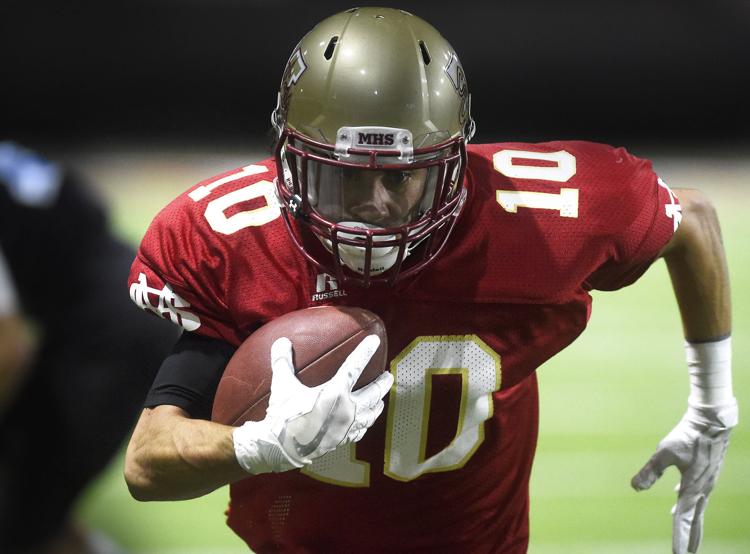 An offsides penalty allowed Minico a good shot at two points, and running back Colter May capitalized by running it in to cut the Skyline lead to 14-8.
Special teams also haunted Minico. On the next play, Cruz Taylor ran back a kickoff for a new 4A state record return of 99 yards. Morgan would follow with his third touchdown of the half, a 24-yarder in which he escaped a pile of Spartan defenders.
In the final seconds of the half, Minico marched downfield as the clock winded down to halftime. Working off a 22-yard reception by May and a 16-yard rush by Larry Vega, the Spartans gave themselves four chances to score from four yards out.
But Minico would only gain one yard in three tries, and Vega was stopped a yard shy of the goal line that made the halftime score of 27-8 in favor of Skyline.
Out of halftime, Minico didn't move the ball well and gave up a fourth down touchdown pass to Easton Taylor with 4:57 left in the quarter, but two minutes later, Minico capitalized on a special teams mistake by Skyline, as the Grizzlies fumbled a punt reception. Larry Vega rushed down the sideline for about 16 yards to set up the 1-yard punch in by running back Tim Miller to make it 33-14.
The fourth quarter belonged to Skyline, which scored the only touchdown of the half on a 2-yard reception by Caleb Mayes.
An interception with 3:09 left would seal it for the Grizzlies.
For the group of Spartan seniors, reaching the first state title game with a team they've fought beside for years was special, Vega said.
"I'm so glad I got to do it with this group of guys," Vega said. "No one believed in us, but we believed in each other. I'd love to get first, but second place is still great."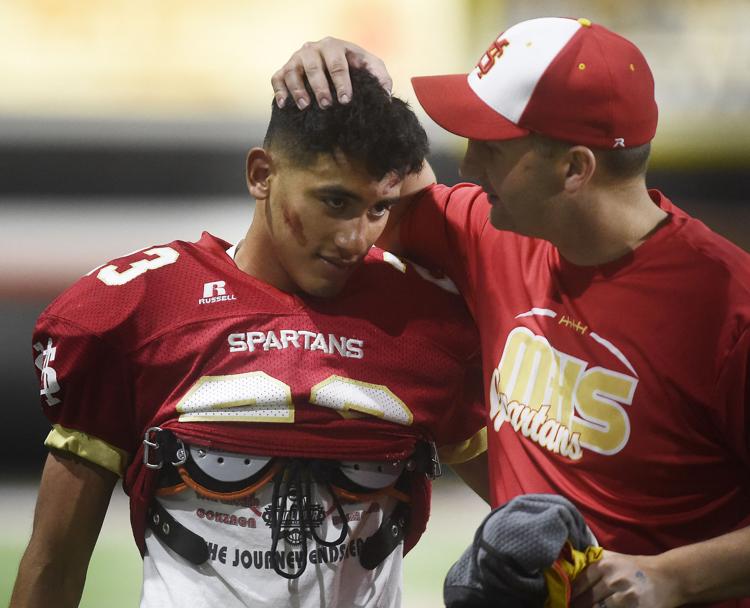 Perrigot said he knew this team could give a hard fight in the playoffs like they did this season.
"This was the goal from the beginning of the season," he said. "We just didn't get it done, and that's OK. They were the better team."
As teammates mulled around in the end zone after the game, with many of their faces mixed with tears and sweat, Perrigot went around and told each one of them how much he loves them and went by to thank the fans congregated by the grandstand railing.
"I love this group of guys," he said. "And this community loves football, and they're the best community we could ask for. I can't thank them enough."
For head coach Tim Perrigot, who has coached the Spartans for more than two decades but never reached a title game before Friday, he told his team in the postgame huddle that Minico won't forget this effort for a long time.
"This is a great moment in history," he said. "Remember that."
Tim doesn't plan on this being his last visit.
"I hope we'll be more ready the next time we're here," he said. "I can't wait for the future with these young Spartans."
S—Kyler Morgan 6-yard rush (XP no good) 7:49
S—Morgan 13-yard rush (2 pt good) 0:17
M—Perrigot 1-yard rush (2 pt good) 8:57
S—Cruz Taylor 99-yard kickoff return (XP good) 8:44
S—Morgan 24-yard rush (2 pt no good)
S—Easton Taylor 14-yard pass from Dylan Bialas (2 pt no good) 4:57
M—Tim Miller 1-yard rush (2 pt no good) 2:11
S—Caleb Mayes 2-yard pass from Bialas (7:08)