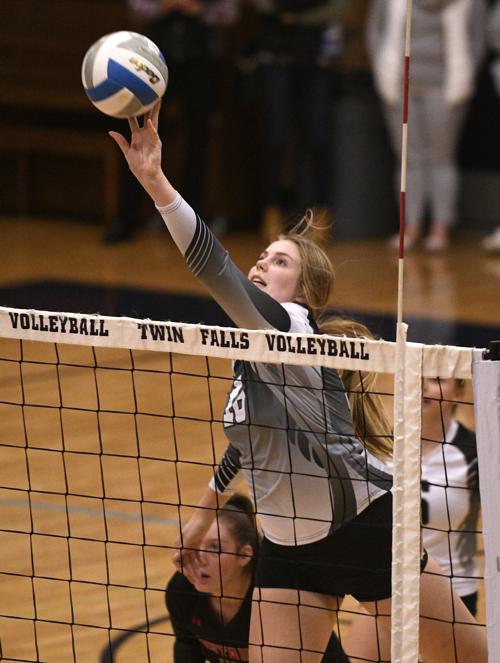 BURLEY — On Nov. 13, when Makayla Tolman signed her letter of intent to play volleyball at Brigham Young University, athletic directory Randy Winn shared his firsthand experience of Tolman's ability.
The Bobcats were playing at Minico earlier in the season, and Winn was having a conversation with Minico athletic director Brady Trenkle when a shot from Tolman came right at them.
"I was watching our student section, and she hit a heat-guided laser toward us. It hit Brady in his arm, and it still hurts to this day," Winn told the gathered crowd with a laugh.
Tolman hit her share of lasers in her time at Burley. She hit so many, in fact, that she earned the honor of Times-News volleyball player of the year for 2018, then earned it again this season.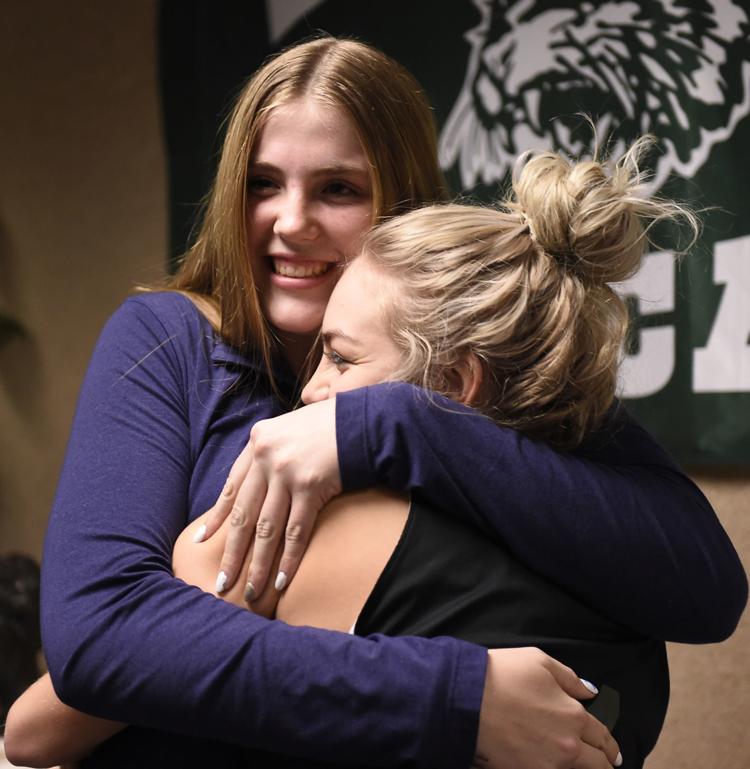 She was named player of the year in the Great Basin Conference in both her junior and senior seasons, but she was a co-winner with Century's Zoe Thiros in 2018. In 2019, she had the honor all to herself.
Tolman, a 6-foot-3-inch left-hander, has always had a prominent presence on the volleyball court. She was on varsity as a freshman.
But she said something changed by the time she finished her high school career.
"I was very tall but now I'm so much more confident in everything," Tolman said. "I was very quiet and didn't say much, and through the years I felt like I grew into more of a leader."
Her leadership included playing multiple positions and roles for the Bobcats. The team made it to the state tournament all four years she played.
This year, Tolman came up especially big in the state play-in game against Bishop Kelly. Burley finished third in the Great Basin after the district tournament and needed to win an elimination game just to make it into the tournament field. She had 33 kills, 23 digs and four blocks in the 3-1 win over Bishop Kelly.
The Bobcats eventually went 1-2 in the state tournament before being eliminated.
"We made it to state again, which was one of our biggest goals," Tolman said. "I'm just really grateful for all of us working. I think there's always more that you want to accomplish, but what we did accomplish was really great."
One product of Tolman's work is where she is going to play college volleyball. BYU is one of the top programs in the country.
But when she visited the campus during her sophomore year, Tolman said she did not feel intimidated at all.
"I was touring campus, and there were girls with me and it felt so normal and I felt comfortable," she said. "The coaches were great and I just felt included even though they didn't have any idea who I was."
She committed early on in high school and officially signed in November. She said playing for a winning program was an important part of her decision.
"That was a big deal for me, because I wanted to go somewhere where we could hopefully win a national championship," Tolman said.
Get in the game with our Prep Sports Newsletter
Sent weekly directly to your inbox!