Friday, Oct. 1
Mountain Home 6, Gooding 3: GOODING—Gooding got goals from junior Andrew Gonzalez, senior Breken Clarke and freshman Estevan Garcia on the loss.
Gooding is at Wendell on Tuesday.
Butte County 40, Dietrich 8: ARCO—Butte County started the scoring with a 20-yard touchdown run in the first quarter. The Blue Devils put eight points on the board in the second quarter at 9:16 mark on a 1-yard run by Dietrich junior quarterback Cody Power followed by the two-point conversion, Dietrich 8-6. The Pirates took the 14-8 lead following a 75-yard punt return with 1:50 remaining in the half, Butte County ahead 14-8 at the break.
The Pirates scored first in third quarter on a 20-yard run and added the two-point conversion followed by another touchdown on a 10-yard run but missed the point after, Butte County 28, Dietrich 8 at end of quarter. In the fourth quarter, the Pirates added a 5-yard run with a missed conversion and added another score on a 6-yard run with 9:30 left.
Dietrich (4-2,1-1) after an off week hosts Camas County on Oct. 15.
Kimberly 48, Filer 6: FILER – The Bulldogs won the road Sawtooth Central Idaho Conference game over the Wildcats. Kimberly had 327 total yards (238 passing and 89 rushing) and held Filer to 153 yards (82 passing and 71 rushing).
Kimberly senior quarterback Heath Owens finished 17-of-24 for 238 yards with touchdown completions to sophomore Gatlin Bair for 24, 20 and 11-yards and senior Jordan Flameling 15-yards. Owens also scored on a 1-yard run. Senior Race Widmier gained 84 yards on 11 rushes including a 1-yard touchdown run. Bair totaled 149 yards receiving on nine catches and also had a 75-yard punt return. The Filer score came on a 3-yard pass play.
For the Kimberly defense, sophomore Michael Goff finished with 11 solo tackles and Widmier had five.
Raft River 48, Glenns Ferry 6: GLENNS FERRY – The Trojans won on the road with the Snake River victory over the Pilots. Raft River junior quarterback Tate Whitaker went 6-for-18 for 117 yards and four touchdown passes and also rushed for 15 yards and a 2-point conversion.
Junior Alex Murrillo had 84 yards rushing and a touchdown and senior Seth Tracy had 64 yards receiving and two scores. Senior Tegan Whitaker had 91 yards of special teams. Senior Thaine Loughmiller led the Raft River defense with nine tackles and one sack, followed by senior Seth Tracy and Murrillo with five tackles.
Minico 43, Canyon Ridge 12
RUPERT – Minico had 346 yards rushing and 120 passing in the Great Basin win over Canyon Ridge. Junior Jephy Bendele had two rushing touchdowns and gained 167 yards on 20 attempts, junior Joe Terry had one rushing touchdown, junior JT Garza one receiving score, and senior Angel Najera had one interception and one touchdown.
The defense allowed 94 rushing and 67 passing by the Riverhawks with four interceptions.
Twin Falls 41, Wood River 0
TWIN FALLS – The Bruins had 422 total yards (283 passing and 139 passing) in the Great Basin win over the Wolverines who ended with 193 yards (121 passing and 72 rushing).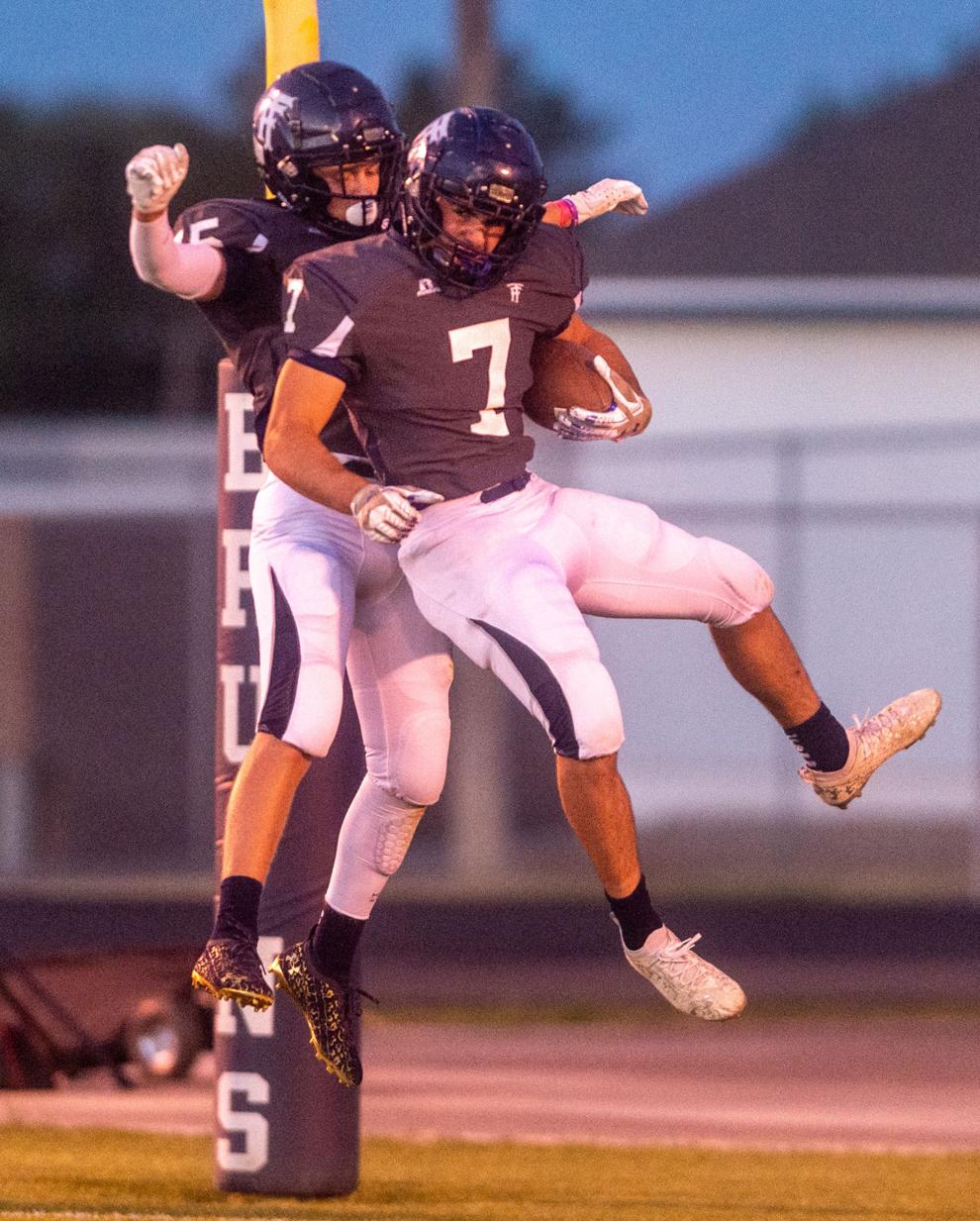 Twin Falls senior quarterback Andy Geilman finished 14-of-17 for 193 yards completing an 18-yard toss to senior Jace Mahlke. Mahlke gained 73 yards on five attempts and scored on a 67-yard run. Junior James Noorlander picked up 53 yards on sixteen rushes including a 14-yard touchdown run.
Sophomore Wyatt Solosabal scored on a 3-yard run and gained 13 yards on four rushes. Senior Will Botch added a 23-yard field goal and sophomore Austin Crum added the last points for the Bruins on a 1-yard scoring run.
Murtaugh 74, Lighthouse Christian 52
MURTAUGH—Jr Benties had 280 rushing yards and four touchdowns and finished with 61 yards receiving and one score in the Red Devils Snake River win over the Lions. Cesar Aburto had 203 rush yard including two touchdowns, Ashton Anderson had 38 yards rushing and three touchdowns with 86 yards passing with one touchdown.
Mountain Home 14, Jerome 13
Castleford 38, Camas County 0
PRESTON – The Bobcats lost on the road to the Thunder. Efrain Cardenas scored Burley's only goal. Burley hosts Shelley on Saturday at 11:00 a.m. on the football field for senior day.
DECLO – The Indian picked-up a High Desert road win over the Hornets. Buhl hosts Filer at 4:00 p.m. and Declo hosts Bliss at 4:00 p.m. on Tuesday.
BLISS – The Bulldogs won on the road beating the Bears in the High Desert match. Bliss is at Sun Valley Community School on Saturday at 1:00 p.m. Kimberly hosts Sun Valley Community School on Tuesday at 4:00 p.m.
FILER – The Wildcat and Trojans battled to the 0-0 tie in the High Desert match. Wendell hosts Gooding and Filer is at Buhl on Tuesday at 4:00 p.m.
Wood River 3, Canyon Ridge 0
TWIN FALLS – The Wolverines won the Great Basin match over the Riverhawks, 25-23, 25-23, 25-19. Senior Willa Laski led Wood River with three aces, 11 kills, and two blocks.
Junior Jette Ward had four aces, junior Sidney Wilson added nine kills and three blocks and junior Samantha Chambers had 35 assists, three kills and two aces. Senior Charlotte Loomis led the defense with 12 digs and also added two aces.
"Strong performance as a team. Getting better and better every match and learning a lot about ourselves while we grow and compete," said Wood River coach Kristyn Rutland.
Lighthouse Christian 3, Raft River 0
TWIN FALLS—The Lions shutout the host Trojans, 25-20, 25-18, 25-19 in the Sawtooth Conference match. Senior Aleia Blakeslee led the Lions with 10 kills and sophomore Ella De Jong added seven kills and sophomore Maddy Shetler finished with 16 assists.
For the Lighthouse Christian defense, senior Tilly Monroe had five digs. Junior Madison Morton, Monroe and De Jong each had four service aces. Lighthouse Christian is at Glenns Ferry and Raft River hosts Shoshone on Tuesday.
Schedule
Twin Falls @ Preston 11 a.m.
SVCS vs Bliss @ Sagewillow 11 a.m.
Gooding @ Marsh Valley 11:00 a.m.
Preston vs Twin Falls @ Sunway Soccer 11 a.m.
SVCS vs Bliss @ Sagewillow 1:00 p.m.
Gooding @ American Falls 4:00 p.m.