Friday, Sept 24
Sun Valley Community School 3, Gooding 0: SUN VALLEY – The Cutthroats defeated the visiting Senators with goals made by sophomore Mia Hansmeyer, senior Tatum Minor and junior Gretel Huss. Hansmeyer also had an assist.
SVCS (10-3. 9-1-0) hosts Bliss on Saturday, Oct. 2 at 11 a.m.
Sun Valley Community School 6, Gooding 0: SUN VALLEY – The Cutthroats got goals from senior Braden Buchanan, junior Nils Galloway, junior Auggie Rose, junior Russell Stumph, sophomore Campbell spoor and junior Lachlan McFarland in the home win over the Senators.
SVCS (12-1, 11-0) is at Bliss on Saturday, Oct. 2 at 1 p.m..
Minico 30, Burley 15: BURLEY – Minico improved to 5-0 and 2-0 in the in the Great Basin Conference with the strong defensive win over Burley (3-2, 1-2). The Spartans led 10-8 at the half and extended the lead to 20-8 at the end of three quarters.
Burley had a 12-yard touchdown run by senior Preston Ramos in the fourth quarter and Minico added 10 more points in the fourth quarter win over the Bobcats. Burley scored on a flea-flicker pass from Burley junior quarterback Cale Loveland to junior Jacob Williams in the first quarter. Minico senior Angel Navarrete kicked three field goals, 41, 42 and 31 yards. The Spartans had scoring runs by junior Joseph Terry (63-yards) and junior Jafeth Bendele (55-yards).
Minico hosts Canyon Ridge and Burley hosts Pocatello on Friday.
Kimberly 49, Mountain Home 28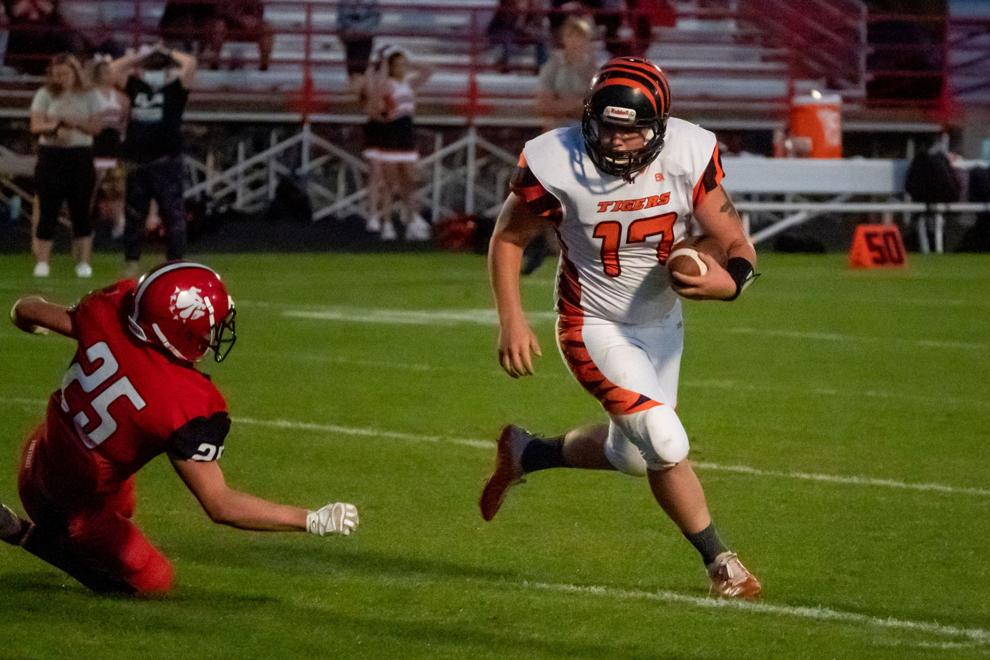 : KIMBERLY – The Bulldogs held a 35-0 lead at the half and extended the lead to 42-6 after three quarters.
Mountain Home put up a good fourth quarter with 22 points. The Bulldogs had 299 yards on offense (239 passing and 60 rushing) and the Tigers had 254 yards (149 passing and 105 rushing). Kimberly junior Race Widmier had 35 yards on the ground on 11 runs and caught a 20-yard pass from junior quarterback Heath Owens who finished 9-of-21 for 239 yards and five touchdowns.
Sophomore Gailin Bair had four receptions for 159 yards and three touchdowns (12, 24 and 80 yards). Widmier had six tackles to lead the defense.
Dietrich 48, Glenns Ferry 0: DIETRICH – The Blue Devils held a 40-0 lead at the half over the Pilots and went on to win the non-conference game. Dietrich junior quarterback Cody Power had 218 yards passing, three touchdowns, 47 yards rushing with one touchdown. Senior Jett Shaw had five receptions for 79 yards and one touchdown. Senior T-bo Hendrix had one touchdown catch for 70 yards. For the defense, senior Ashton Van Tassell had eight tackles. Dietrich is at Butte County on Friday.
"The Dietrich Blue Devils defense was outstanding," said Dietrich coach Rick Astle.
Oakley 56, Murtaugh 0: OAKLEY – Oakley held a 48-0 at the half in the Snake River Conference win over the Red Devils. Oakley junior quarterback Payton Beck was 6-for-11 for 85 yards and three touchdowns, senior Dace Jones had four catches for 67 yards with a score, sophomore Ethan Toribau picked up 73 yards on 10 carries and sophomore Bry Severe had seven carries for 45 yards.
Gooding 36, Declo 6: DECLO – The Senators defeated the host Hornets. Declo is at Valley on Friday and Gooding has an off week.
"Gooding is big and physical. They are tough," said Declo coach Josh Stewart.
Twin Falls 45, Century 10
Raft River 72, Lighthouse Christian 26
Jerome 28, Canyon Ridge 22
Notus 54, Camas County 12
Nampa Christian 76, Valley 0
Hagerman 3, Richfield 0: HAGERMAN – The Pirates hosted the Tigers and won in three sets, 25-16, 26-24, 25-17. Hagerman is 7-5 and will play at Rimrock on Monday.
Thursday, Sept 23
Twin Falls 3, Canyon Ridge 0 (25-22, 25-16, 25-15)
Richfield , Camas County 0 (25-18, 25-12, 25-11)
Saturday schedule
Wood River @ Jerome 11 a.m.
American Falls @ Buhl 11 a.m.
Jerome @ Wood River 11 a.m..
Buhl @ American Falls 11 a.m.
Buhl vs Snake River @ American Falls 1 p.m.
Filer vs Snake River @ American Falls 11 a.m.
Filer @ American Falls 1 p.m.
Buhl vs Parma @ Kimberly 11 a.m.
Buhl vs Homedale @ Kimberly 1 p.m.
American Falls @ Gooding 4 p.m.
Homedale @ Kimberly 12 p.m.
Hillcrest Invite Hillcrest High School
@ Twin Falls Poll 9:30 to 11 a.m.