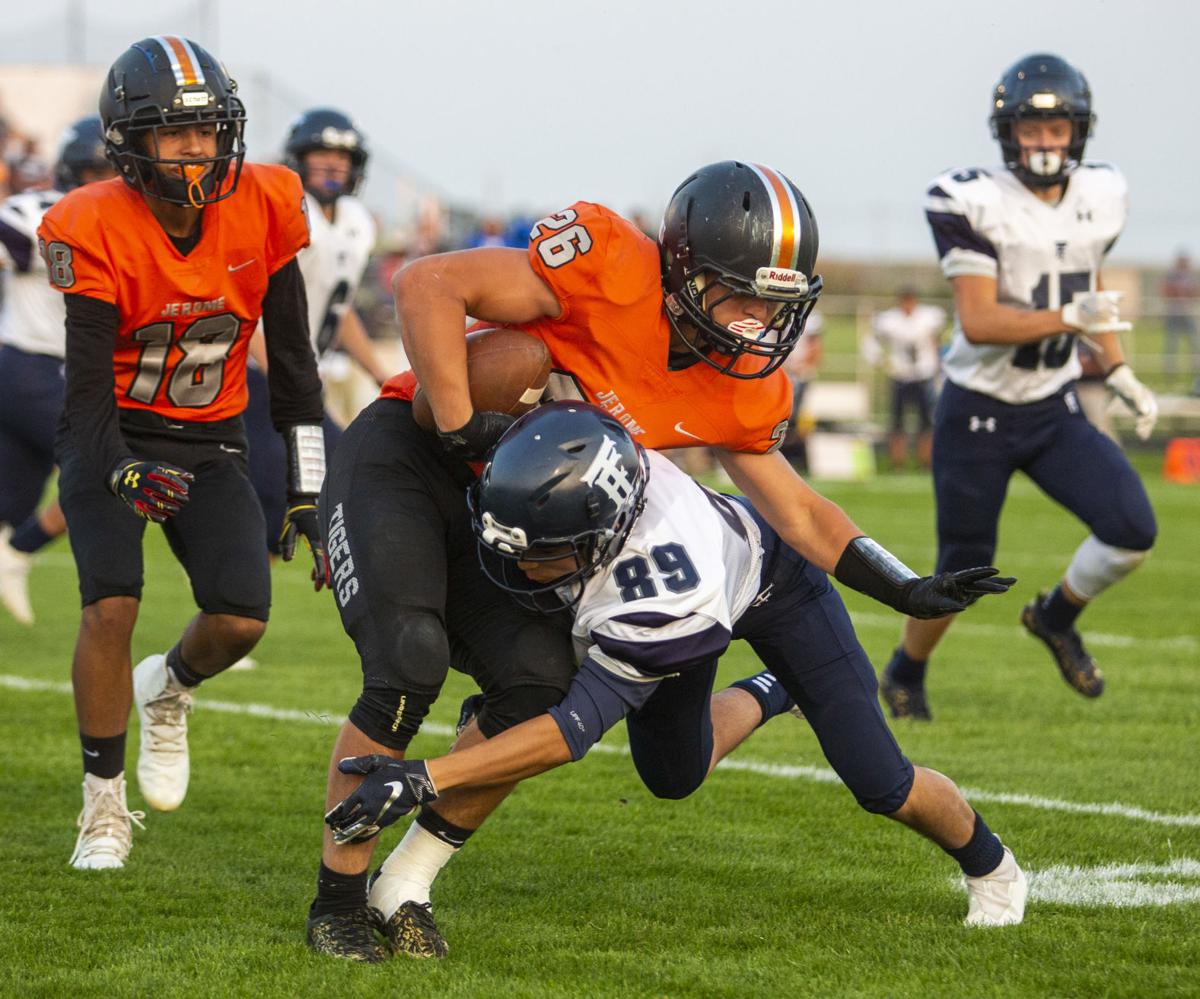 Thursday Sept 16 Football


JEROME – Twin Falls defeated host Jerome in the Great Basin Conference game. The Bruins held a 21-7 lead at the half game. Both teams had three turn-overs in the first half.
The Bruins finished with 236 total yards (120 passing /116 rushing) and the Tigers 216 total yards (127 passing /89 rushing). Twin Falls sophomore Wyatt Solosabal finished with six carries for 49 yards and scored on a 2-yard run and junior James Noorlander had 14 rushes for 55 yards and also scored on a 2-yard run. Twin Falls senior quarterback Andy Geilman was 10-for-14 and 123 yards with a score on a 28-yard toss to senior Teagen Severe.
Senior Jace Mahlke also added a 1-yard score. For Jerome, senior Johnathan Ram-sey had two running touchdowns for 3 and 1 yard and finished with 78 yards on 17 attempts. Jerome sophomore quarterback Zander Bingham was 16-for-24 and 127 yards.
Twin Falls is at Century and Jerome is at Canyon Ridge on Friday.
KIMBERLY – The Bulldogs held the 21-17 lead at the half and the Bobcats took its first lead 23-21 with 3:14 remaining in the third quarter. The Bulldogs finished with 385 total yards (273 passing /112 rushing) and the Bobcats 366 total yards (87 passing/279 rushing).
Kimberly quarterback Heath Owens completed 18-of-34 for 273 yards and four touchdowns and Burley quarterback Cale Loveland was 7-of-16 for 87 yards and one touchdown. Kimberly receiver sophomore Gatlin Bair had eight receptions for 115 yards and one touchdown and senior Race Widmier had three catches and 44 yards and two scores.
For the Bobcats, senior Prestyn Ramos finished with 85 yards on 12 rushes and one score and junior Ryan Jensen had 84 yards on 15 rushes. Burley junior Jacob Williams had five catches for 70 yards and three rushes for 37 yards. For the Bulldog defense, Kimberly sophomore Michael Goff recorded 11 solo tackles and Williams had nine for Burley.
Burley (3-1) hosts Minico and Kimberly hosts Mountain Home on Friday.
CAREY – Connor Simpson had 170 yards rushing with four touchdowns, Carsn Perkes caught a 60-yard touchdown pass from Chase Bennion who had 65 yards rushing and threw five touchdown passes for 200 yards in the Carey home win over Challis. For the defense, Marcus Rihcreek recorded 15 tackles.
Carey has an open date on Friday.
Camas County 72, Shoshone 26
FAIRFIELD – The Mushers had touchdowns scored by Troy Smith (2), Marcus Staley (2), Dawson Kramer (2), Emmett Palan (2), Sage Patton (1) and Xyler Neihay (1) in the home win over Shoshone. Palan and Dawson also ran in two extra points and Smith and Tristen Smith each had one.
Camas County hosts Notus on Friday at 4 p.m.
DIETRICH – The Dietrich Blue Devils beat the Hansen Huskies 74-34. Dietrich junior Cody Power threw for 164 yards and four touchdowns, and rushed for another 95 yards. Junior Payten Sneddon rushed for 141 yards and two touchdowns, senior Jett Shaw had 141 yards receiving and three touchdowns.
"T-Bo Hendrix had a phenomenal game offensively and led the blocking for us," Dietrich coach Rick Astle said. "He also rushed for 83 yards and one touchdown. On the defensive side of the ball, Ashton VanTassell led with nine total tackles and Michael VonBerndt had seven."
Hansen hosts Castleford and Dietrich hosts Glenns Ferry on Friday.
FILER – Filer senior Jonah De Leon had one rushing touchdown and senior Joe Bertao had an interception returned for score in the Wildcats win over the Wolverines.
Wood River hosts Buhl and Filer is at Wendell on Friday.
Castleford 52, Murtaugh 22
MURTAUGH – The Wolves defeated the home Red Devils. Murtaugh senior Cesar Aburto finished with 11 rushes for 125 yards and two touchdowns and sophomore JR Benites had 22 rushes for 101 yards and one touchdown.
Castleford is at Hansen and Murtaugh is at Oakley on Friday.
Declo hosts Gooding and Buhl is at Wood River on Friday.
Minico 25, Mountain Home 0
Minico is at Burley and Mountain Home is at Kimberly on Friday.
Valley is at Nampa Christian on Friday.
Raft River 46, Butte County 28
Raft River is at Lighthouse Christian on Friday
North Gem 44, Lighthouse Christian 36
Lighthouse Christian hosts Raft River on Friday.
Wendell hosts Filer on Friday.
Twin Falls Christian Academy 4, Jackpot 1
TWIN FALLS—Twin Falls Christian Academy beat Jackpot, 26-24, 25-14, 24-26, 25-17. Senior Grace Bolyard led TFCA with 13 assists followed by five kills. Senior Annie Novinger and freshman Taylor Gartner led the Warriors from the serving line with seven aces each and Novinger added a team high six kills and seven digs. Senior Sofia Villegas added 10 assists and five kills.
The Twin Falls Boys finished in first place at the Canyon Ridge Invitational with 43 points. All seven runners finished in the top 22 with junior Stockton Stevens "turbo" winning the race with a time of 16:51. Sopho-more Russell Frampton had a season best time of 17:46 (8th) Tony Botch 18:07 (9th), James "machine" Wright 18:12 (10th), Trevor Walter 18:33 (16th), Jacob Stevens 18:49 (20th) and Zach Zaugg 18:52 PR (22nd).
The JV boys won their race with 29 points as they had 4 in the top 6 with Andrew Romanchenko 1st (18:51) Collin Rasmussen 2nd (19:05) Matthew Quiroz 4th (19:22) and William Kendall 6th (19:39).
The freshman boys won their race with 40 points as they were led by Preston Dopp 3rd overall 19:19, Adam Wright 7th 20:02 and Wyatt Rasmussen 8th 20:06.
The Twin Falls Girls also finished in first place at the Canyon Ridge Invitational with 25 points. The Lady Bruins were led by senior Abigail Robinson who had a great finish to win the race with a time of 20:26. Her fellow teammates performed extremely well sticking together. Freshman Nolan Dickerson was 6th overall at 21:20, Brittany Garling 10th at 21:37, Caysja Roberts 11th at 21:35, Jenna Bingham 12th at 21: 40, Meisha Bingham 14th at 22:14 and McKenna Dobbs 27th at 23:26.
The JV girls finished first as Olivia Oler won with a time of 23:12. The Lady Bru-ins clinched 4th-7th places with Skyla Bingham (23:53) Emma Frampton (23:54), Summer Garling (24:07) and Mya Richardson 24:34). Remi Pederson was 10th (24:49) and Jenna Tureman 15th (25:46).
Thursday Sept 16
GOODING – Bliss scored first in the Gooding win over Bliss on a penalty shot at the line. Ten minutes later after a shuffle in the box, sophomore Mia Murillo poked the ball in for the Senators first goal. Before half, senior Laura Thompson blasted a shot in from the edge of the box for the second Gooding goal.
TWIN FALLS – Canyon Ridge sophomore Maddie Bland and freshman Jordan Noorlander each had six kills in the Riverhawks 26-24, 17-25, 15-7 win over the Indians.
TWIN FALLS – Canyon Ridge sophomore Maddie Bland finished with 14 kills and sophomore Abby McClain added 11 in the Riverhawks 25-14, 25-13, 25-21 Great Basin win over the Tigers.
Saturday, Sept. 18
Jerome vs Twin Falls @ Sunway Soccer 11 a.m.
Wood River @ Sun Valley Community School 1 p.m.