If anybody was hungry, Julie Breshears would pack an extra lunch for them.
If anybody was hurting, Julie Breshears had ibuprofen at the ready.
Whatever Declo High School football players needed, Julie Breshears had it, or was willing to go out of her way to get it for them. She was not just the mother to McKay Breshears, the team's star quarterback and linebacker, but she was another mother to every player on the Hornets.
"Julie would do anything for anybody," said senior Tyson Matthews, one of McKay's best friends. "She was just one of those people. It didn't matter what it was. She was gonna help you out. She was just my second mom."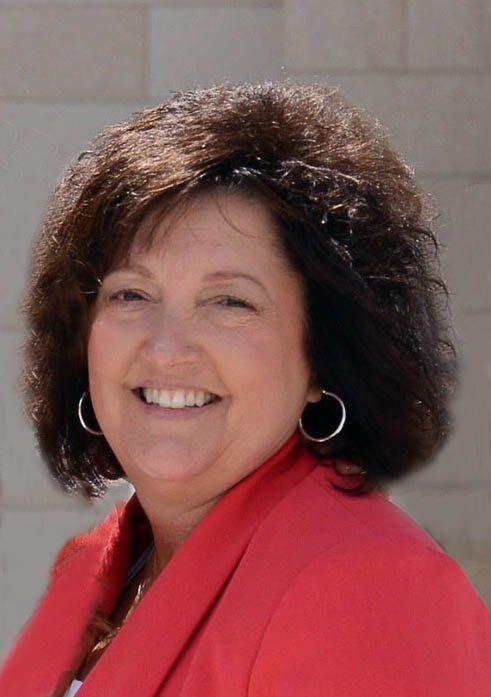 On Feb. 23, Julie Breshears passed away. Declo was without its team mother, and McKay was without his biggest fan. It's been eight months since she died, and the football-crazed town of Declo is missing one of the biggest supporters of its beloved high school team. Yet, the fans have still found a way to cheer.
McKay has already been to two 2A state football championships and won one. He hasn't lost a game in two years as Declo's starting quarterback. The senior is two wins away from leading his team to its second straight state title.
For McKay, teammates, his family and the Declo community, this one could mean even more.
"My dad has always said to me, after this, that I've got to play with a chip on my shoulder," McKay said. "I've really taken that to heart, that I need to play my best for my mom because I know she's watching."
On Sunday, Feb. 18, Julie Breshears was teaching a class at the Springdale 2nd Ward of the Church of Jesus Christ of Latter Day Saints. McKay was in another class in the same building when he was alerted that something was wrong with his mother.
McKay remembers feeling shock as his mother was flown into Twin Falls. It was snowing that day, and flights were grounded, so, from Twin Falls, she was transported to Boise in an ambulance. McKay called Matthews and another best friend, Declo senior Keegan Duncan, told them the news and asked for their prayers.
"I remember my heart just sank," Duncan said. "It made me sick. ... She was like our second mom. I remember getting off the phone with him and I just broke down crying."
Julie suffered a severe brain aneurysm that caused blood to enter into her brain, McKay said. There were no warnings or signs, just shock.
"The doctors said, if they were there even 15 seconds after it happened, they really couldn't do anything," McKay said. "It was just really unexpected. Nothing they could have done."
For a while, McKay wasn't really in touch with the outside world as he focused on his mom. But, when he eventually checked his phone and saw love and support via text message, Instagram and other means, he realized the entire community was there for him.
The Declo boys basketball team had a game the day after Julie suffered her aneurysm. Duncan said the players bought Mickey Mouse shirts to wear that night, because Julie loved Disney. He said it was difficult to play that night, with all the emotions felt by everyone in Declo.
After the game that night, Duncan, Matthews and another friend got in a car and drove to Boise.
"It was horrible, to see one of my best friends at such a low time like that," Duncan said. "It was really hard for me and Tyson to go through because she was our second mom, but I think harder watching him."
Duncan and Matthews did all they could to help their friend. They took him out of the hospital to stay with them and stayed up all night talking, then returned to the hospital the following day and swapped stories of their favorite memories with McKay's mom.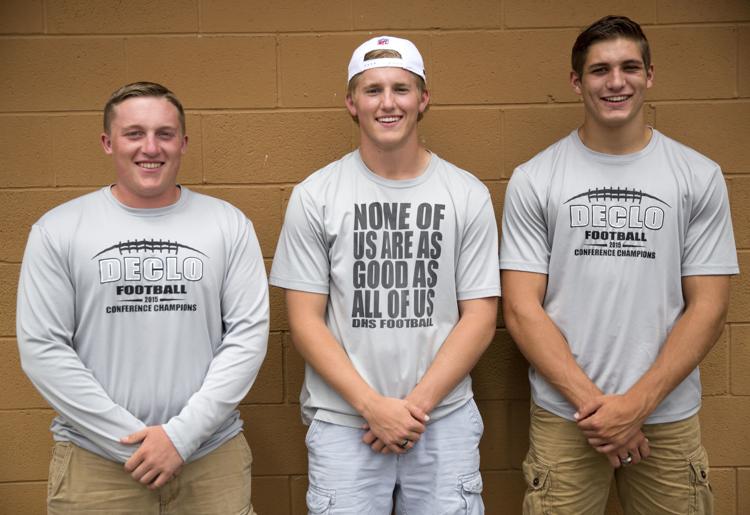 When Julie died that Friday, the Breshears family, the Declo football program and the entire town of Declo suffered a huge blow. But, no matter what, they were there for McKay.
"My phone, I remember, was blowing up," McKay said. "Just the community, close friends and family, asking what they could do. ... Even after she passed away, the next couple months, they were awesome, and they're still doing stuff today."
McKay Breshears had missed all of basketball season and most of baseball season after undergoing ankle surgery. He played in the 2A state baseball tournament in the spring, but his return to football proved the most poignant.
"His mom, she loved Declo football," Duncan said. "More than that, she loved watching her son play on Declo's team."
Declo's season-opener against Sugar-Salem on Aug. 24 was the first time McKay and the Hornets played without Julie physically being there. Before she died, McKay could usually spot his mother in attendance 30 minutes prior to every game.
"Football's just a huge part of my life," McKay said. "It was a little different not seeing her up in the stands during warm-ups. It was a little emotional, but it was good. I know she was there watching me and helping me."
Declo trailed 7-0 at halftime that night, and, on the first play of the second half, Duncan, the team's star running back/linebacker/defensive back, suffered an injury and was taken to the hospital. McKay faced the monumental task of mounting a comeback without his team's most potent weapon.
McKay ran for a touchdown to give Declo an 8-7 lead. When Sugar-Salem struck back, McKay led the game-winning drive, dropping a perfect pass into the hands of senior Ben Puentes for a 36-yard touchdown.
To take the lead, McKay punched in the two-point conversion himself, commencing pandemonium in Declo. The 16-14 victory was the second-best game he's ever been a part of, he said, behind his state championship win last year.
In the scrum of players, families and fans on the field after the game, McKay was mobbed by everyone. They weren't just celebrating his performance, but celebrating the driving force behind it.
"He kinda put the team on his shoulders and said, 'We're not gonna lose this thing. We've come too far,'" said Bruce Breshears, McKay's father. "He took that leadership role. After the game, to see the community and all the support we've gotten... It was just pretty special."
Duncan watched a stream of the game from one of his parents' phones while having his injury tended to in the hospital. In awe of what McKay did that night, Duncan said that, if he had to go back to the moment he picked up his injury, he'd do it again to see his best friend will the team to victory.
"It was amazing to watch him do what he did," Duncan said. "He stepped up. I think everything that night happened for a reason. ... I believe his mom was there that night."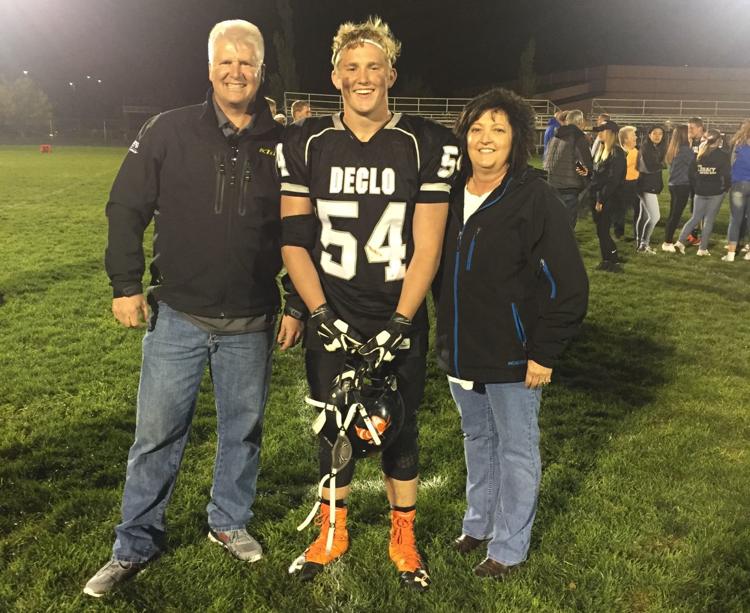 Three weeks later, Declo hosted Buhl. It was like any other game, and the Hornets took a big lead into halftime. When they returned for the second half, though, several families stood at one end of the field.
Duncan said the team wasn't completely expecting what came next. The public address announcer recognized each family as members of the Declo football community that lost a loved one in the past year. The players lined up and shook the hands or hugged the families, one by one.
At the very end stood McKay Breshears and his family.
"My mom would have really liked it," McKay said. "It was really cool to have the team supporting me, and the community, which was great, and also just to be with my family out there on the field."
The players filed through, sharing their love with McKay and his family. Matthews and Duncan were near the end of the line, and took the longest as they embraced McKay. Duncan called it a special feeling that sat with him during that ceremony, one that was difficult to describe.
The outpouring of love and support truly resonated with McKay and his family.
"That night, his team came through, and their emotions and their love for each other, it's unbelievable just to see that and feel that support," Bruce Breshears said. "These young men, they're pretty remarkable. As they go through challenges in life, no matter what it is, they bond together and support and love each other."
Duncan said he felt the presence of Julie Breshears that night, and it seemed like most of the Declo crowd did, too. After all the emotion, though, a full half of football remained.
The players returned to the sidelines and started warming up, but there was a somber feeling in the air. Duncan felt like he just wanted to be done. Before putting his helmet back on, Matthews had to wipe tears from his eyes.
As players still tried to steady their emotions, there was one player who was ready to get back on the field.
"McKay, he's always been strong," Duncan said. "He was able to look at us and say, 'Let's get back to work.' He's very good at flipping that switch."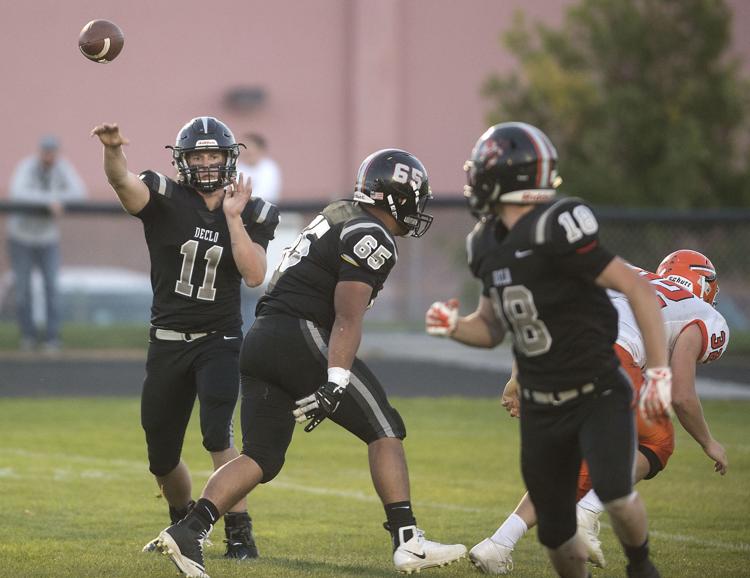 McKay and his teammates have been forced to flip that switch all season. Matthews said the idea that, no matter what, the team has to get back on that field and play, has been the theme of the season.
Having to finish that game against Buhl was a microcosm of the roller coaster season Declo has had with all the team has gone through, but it's made the unit as strong as ever.
"It's extremely huge to know that I have brothers on that team," Matthews said. "If I ever need anything or ever go through anything, I have them to talk to and they can lift me up whenever I need them to. In times of tragedy, we can all come together."
McKay Breshears has had to grow up a lot in the past nine months, his father said. Bruce Breshears was prepared to watch his son enjoy the "absolute wonderful things" that come with a senior year of high school, he said, but some of that has been taken away from McKay.
Plenty of struggles have come McKay's way, and he's had to cope with them. One thing his father is grateful for, though, is that his son isn't alone in doing that.
"Not too long ago, McKay was telling me, 'Dad, don't worry. Now I have 50 mothers instead of just one,'" Bruce said. "That's pretty reassuring for a father, to know that it doesn't matter who it is in the community. ... Those people are watching out for McKay and being his mother. It's a pretty special community to be able to do that."
McKay writes his mom's name on his cleats and, before every game, he writes the phrase "Play for Mom" on his left forearm. Again, he's not alone — Matthews and Duncan have also written the phrase on their arms during the season.
"I know he looks down at that every play," Duncan said. "That gives him that drive to perform the best he can every single play. We can definitely see that."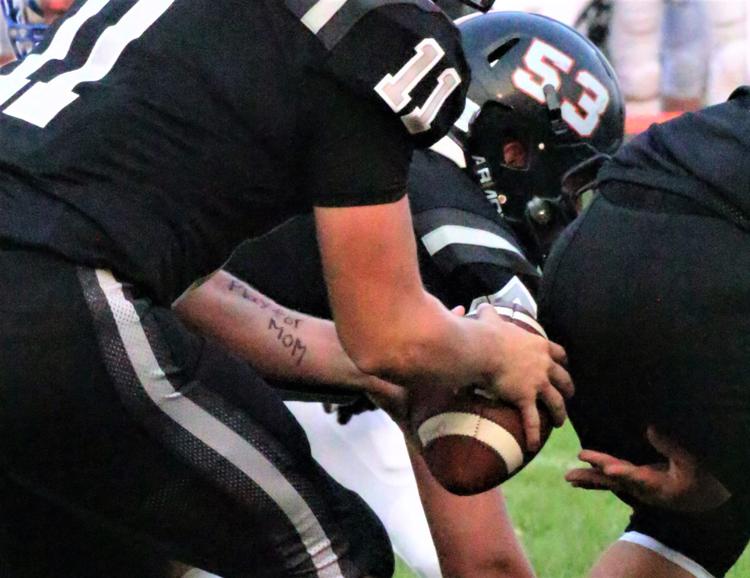 Before games, Declo head coach Kelly Kidd says, "We gotta do this for Julie," Duncan said. Along with Matthews, Duncan has said all year that the Hornets have to win the state championship for McKay and for Julie, above all else.
McKay could have suffered setbacks from his ankle surgery, but was ready to go for the start of the season. Midway through the campaign, he broke his throwing hand, had surgery, and continued to play. Nothing would stop him from finishing his senior season, especially not with the added inspiration this past year has given him.
McKay has one more thing left to do for his mother: win another state title. That quest will continue on Saturday at Holt Arena against West Side in the state semifinals.
"Starting the season, that was what I wanted to do, just win it all for her," McKay said. "That'd be an amazing goal and an amazing accomplishment."