TWIN FALLS — The Declo High School girls soccer team wasn't sure it should have even been at the 3A state tournament this weekend.
One year removed from the program's first ever playoff appearance, the Hornets were playing with an overhauled squad. Ten seniors, nine of which were starters, from that 2017 team were no longer around.
Still, the Hornets made a surprise run as the sixth seed in the High Desert Conference tournament and earned a state spot. Their quest for a state championship came to an end Thursday at the Sunway Soccer Complex against Marsh Valley, which took advantage of Declo's inexperience and won 9-0 in the first round.
"They worked so hard during our district season and our playoffs," Declo head coach Jeralee Jones said. "They worked hard to be here, and they deserved to be here. Then they kind of got a mental block and didn't think they were supposed to be here. That was not our team."
Declo (8-7-4) will return to Twin Falls on Friday to try to keep its season alive in the consolation bracket against Teton.
Marsh Valley (17-1-1) entered the contest having lost one game all season and going unbeaten in South East Idaho Conference play. Immediately, the Eagles showed why.
Sophomore Jaxyn Wheatley opened the scoring in the fifth minute. Declo junior Brooke Olsen said conceding a goal sucked the life out of the Hornets almost instantly.
Still, the Hornets held firm for the next 23 minutes. Senior goalkeeper Hadley Knudsen, who is in her first year of playing, Jones said, came up with some big saves. However, the floodgates soon opened.
"It was like after the first couple scores, they just really got down on themselves," Jones said.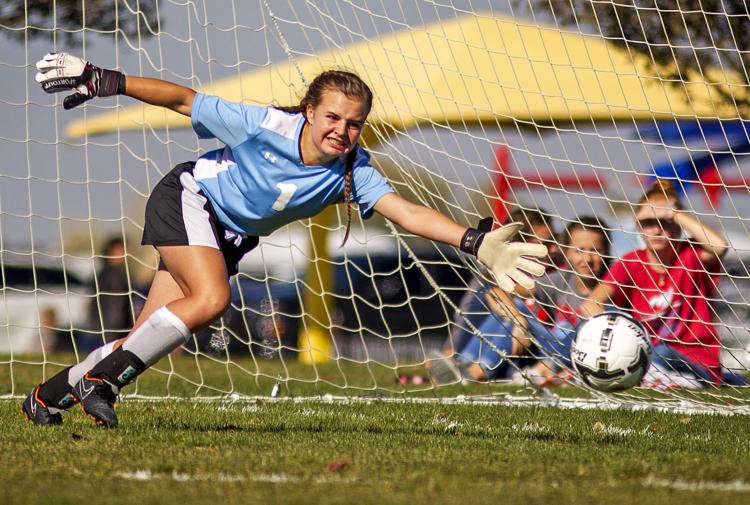 Marsh Valley forced Declo to spend the majority of the half in its own defensive third, continuously applying pressure until the goals came.
The Eagles scored three goals in a span of 10 minutes before the end of the first half. Meanwhile, the Hornets didn't register a single shot, failing to penetrate the Marsh Valley 18-yard box.
"They were a really good team, but we also didn't have the tempo that we normally have," Olsen said. "Normally, we can carry it up a little farther and get some solid shots."
The second half was hardly different. Knudsen kept making saves, but Declo's defense continued to succumb to the persistence of the Eagles' attack.
Two Marsh Valley players, Wheatley and junior Korbie Bowman, notched hat tricks. Declo finally got a shot off, but Olsen put it high and wide just shy of the final whistle. The Eagles put home five second-half scores to seal the blowout.
"Usually, we're a lot more aggressive," Olsen said, "having fun and playing as a team. This time, we kind of struggled with all of that."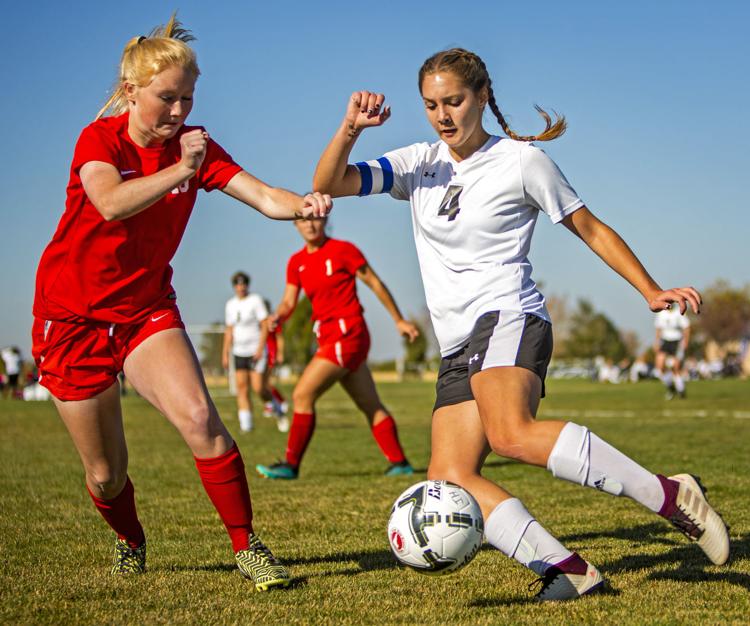 While Jones was surprised at how her team performed, saying that was not representative of how it had played all season. She believes there is still plenty to take pride in for this campaign.
After losing its core from last season, Declo lost twice to a seemingly playoff-bound Kimberly in the regular season. However, the Hornets took them down in the last game of the district tournament to earn a state bid.
Jones said the Hornets went into districts playing their best soccer, a level of play they had hoped would translate on Thursday. But it was nowhere to be found.
Olsen revealed the phrase "one team, one dream" written on her wrist, and said all of her teammates wrote it there for inspiration before Thursday's game. She hopes they can recapture that mindset when they face elimination on Friday.
"Hopefully, they pull their heads out and say, 'It is our time to play,'" Jones said. "'We can be here. We should be here.'"
Twin Falls 1, Middleton 1 (Twin Falls 4-2 PKs)
COEUR D'ALENE — Sidnee Naerebout helped the Bruins earn a nail-biting victory in the first round of the 4A state tournament.
"When you travel this far, knowing you're going to play on trophy day is a huge load off," Twin Falls coach Katie Kauffman said over the phone.
Both teams scored in the second half, with Madison Hicks knocking in Twin Falls' goal on an assist from Madison Bailey. The scoring stopped there until penalty kicks.
The Bruins (18-1) sank their first two shots of the shootout, while their junior goalkeeper, Naerebout, blocked Middleton's first two attempts. Twin Falls rolled from there to earn the win.
"It was huge," Kauffman said of Naerebout's performance. "Being in that position is a nerve-wracking thing, and she really rose to the occasion."
Hicks, Paige Beem, McKenna Todd and Kaylin Bailey made Twin Falls' PKs.
The Bruins' road to their first state title game since 2015 will only get harder on Friday. They will face Bishop Kelly, which is 20-0 this season and has won 62 straight games dating back to the beginning of the 2016 season, according to the Idaho Statesman. Friday's semifinal game will start at 2 p.m. at Lake City High School.
"There's some nervousness, but we're playing with nothing to lose," Kauffman said. "They're the ones with everything to lose."
Sun Valley Community School 2, Timberlake 0
TWIN FALLS — After losing in the first round last year, the Cutthroats returned to the 3A state semifinals for the second time in three years.
Lily Fitzgerald scored both of SVCS's goals with assists from Eliza Marks and Lily Pogue.
The Cutthroats (19-0) will face fellow unbeaten Sugar-Salem (17-0-1) on Friday at 2 p.m. back at the Sunway Soccer Complex. SVCS beat the Diggers 3-2 in a consolation game at last year's state tournament.