Six high school boys basketball teams that represent the Magic Valley remain standing at this point in the season, and they'll begin the final part of their quest for a blue trophy on Thursday when the state tournament gets underway.
Some of the teams dominated all season to get to this point, while others had to persevere through ups and downs to clinch a state tournament spot. Regardless, the district champions and runners up across five different classifications now have a clean slate and will look to put three wins together.
When it all kicks off on Thursday afternoon, here's what to look out for from each of the six teams representing the area:
Class 4A
Twin Falls Bruins (20-3, District 4-5 runner-up)
The Bruins came into this season with a hunger for more, following last season's consolation championship win. The team that beat them in the first round, Preston, got a taste of that when the Bruins beat them by 13 points early in the season.
Twin Falls hit a slight snag in the middle of the season, with back-to-back losses, each by only one point, but rebounded to make a run to the conference finals, where the Bruins had to face Preston again. That time, it went the Indians' way, but still got Twin Falls second place and a spot at state.
Led by senior big man Mitchell Brizee, who averages 15.7 points and 6.9 rebounds per game, the Bruins have the firepower to make a run. Senior guard Faust Ystueta pitches in 13.1 points, 5.0 rebounds and nearly three assists per game, while seniors Ryan Ball and Winston Duggan each average over nine points per game.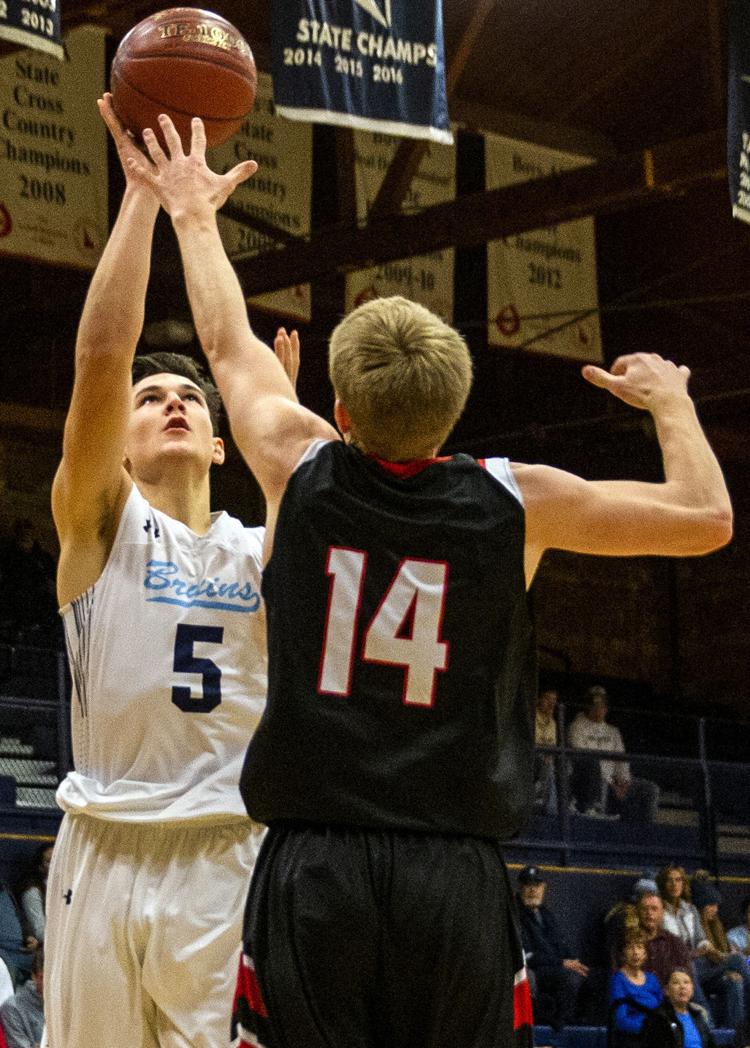 The Bruins were ranked at No. 3 in the first state media poll and, after bouncing around all season, finished the campaign in the No. 1 spot, ahead of the likes of Preston and Century, Twin Falls' conference rivals that could be met if the Bruins make the championship game.
Up first for Twin Falls is Idaho Falls, a team the Bruins defeated twice during the regular season. The Bruins will look for a third victory over the District 6 champs at 8 p.m. on Thursday at Borah High School.
Class 3A
Kimberly Bulldogs (19-3, District 4 champion)
Kimberly's season has picked up impressively after an early loss to Snake River and two losses to Sugar-Salem. The Bulldogs were unblemished against local opponents and knocked off Buhl to win the Sawtooth Central Idaho Conference tournament.
Despite the losses of some key seniors from last year's state runner-up squad, the Bulldogs have received big contributions from the likes of junior Dawson Cummins and senior Braxton Hammond all season. Head coach Daren Garey called junior Brant Etherington "lightning in a bottle" off the bench, while seniors Tristyn O'Donnell and Andrew Satterfield can also be called upon for a big impact.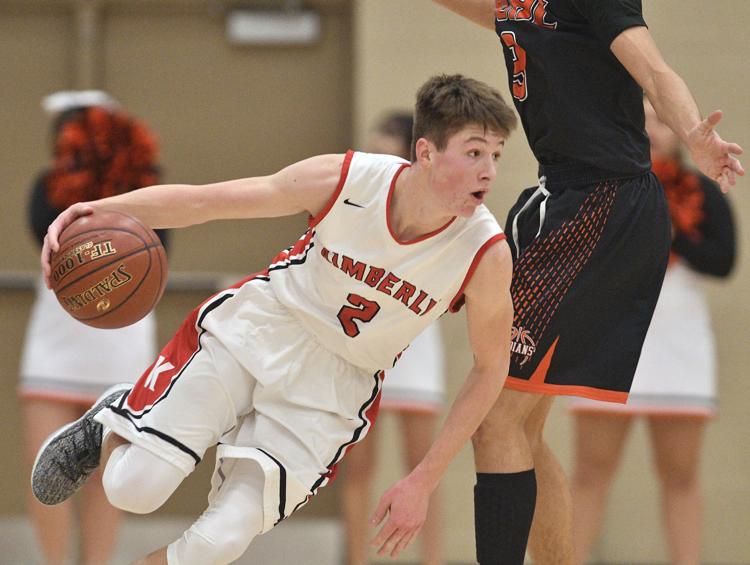 The Bulldogs are on a 13-game winning streak since their second loss to the Diggers, and averaged victories by double-digit margins over the course of the season, scoring nearly 60 points per game while allowing just over 48.
If Kimberly can turn that 13-game run into a 16-game spurt, the Bulldogs will be hoisting a blue trophy on Saturday. That's easier said than done, though, with the tournament slate ahead.
Kimberly opens on Thursday against Parma, the team with which it tied at No. 2 in the final state media poll of the year. That game will be played at Meridian High School on Thursday at 3 p.m.
Class 2A
Declo Hornets (16-7, District 4 champion)
After last season's tournament run ended with a third place finish, Declo returns to the state tournament with the hopes of making that championship game this time around.
The Hornets played a tough schedule all season, but mostly had their way with fellow 2A opposition, excluding defending champion Bear Lake, which beat Declo twice. Still, the Hornets have faced their share of tough teams and are primed to face more when the weekend rolls around.
Senior guard Ben Puentes has been among the top scorers on most nights for Declo, while junior Sam Mallory often puts in strong performances on the offensive end. The Hornets have a senior-heavy roster and will be able to rely on plenty of experience.
Declo's season had its ups and downs, but came to an end in impressive fashion, with six wins in the Hornets' final seven games, including a 67-16 drubbing of Wendell for the conference crown. The Hornets will hope to ride that momentum into a tough battle with North Fremont.
The teams may know each other well, as rosters full of members of the football teams that squared off in November's 2A state championship game will meet again. Declo won that round, and the Hornets will try to take another at 1:15 on Thursday at Capital High School in Boise.
Class 1A Division I
Valley Vikings (18-4, District 4 champion)
High hopes were there for Valley, having returned key pieces from last year's state runner-up team, but a 3-3 start perhaps caused a bit of doubt. The Vikings have since quelled any of that, winning 15 of their final 16 games, including their last nine, to enter the state tournament on a real hot streak.
Senior Zane Mussmann leads the way for Valley, averaging 17.7 points and 13.6 rebounds per game. Fellow senior Jason Hardy pitches in 12.3 points and 5.1 assists per game, creating a formidable duo that causes teams headaches. Seniors Alex Korom and Nic Anderson each average more than seven points per game, highlighting the experience of the senior-laden squad.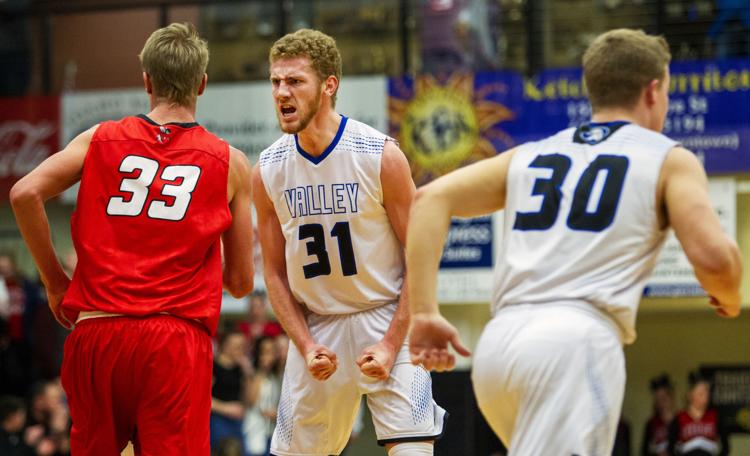 The Vikings' late-season run put them at No. 4 in the final state media poll, as Valley went on to complete an unbeaten season in conference play, topping Shoshone and Oakley to win the district before turning toward the state tournament.
The first test for Valley will come against Riverstone at Vallivue High School in Caldwell on Thursday at 1:15 p.m., as the Vikings begin their quest to one-up last season's run to the title game.
Class 1A Division II
Lighthouse Christian Lions (23-0, District 4 champion)
It's hard to imagine, given how dominant the Lions have been this year, but Thursday will mark the first time Lighthouse Christian will play in a boys basketball state tournament. In fact, the Lions played in and won their first ever district title last week. Now, they'll have their sights set on a state championship.
The Lions can pull a 20-point night out of just about anybody on the roster, but, consistently, juniors Tyler Munsee and Casper Block are doing the bulk of the work, often contributing double-doubles along the way. Sophomore point guard Collin Holloway is the distributor, while also contributing a decent chunk of scoring, and juniors Karsten Brandsma, Peyton Lookingbill, Logan Stephens and Alex Shetler are just as capable of filling it up.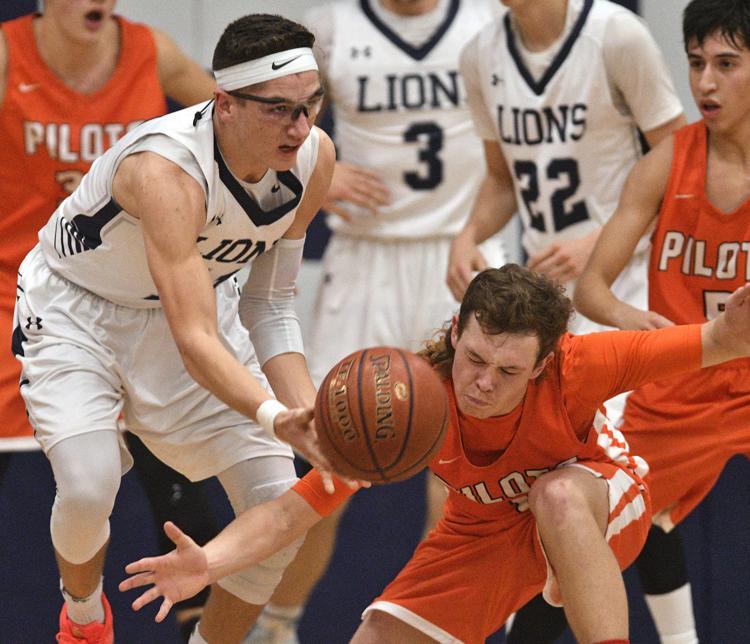 Lighthouse Christian is one of the most explosive offensive teams around, pouring in 69.43 points per game, the highest average in 1A Division II. The Lions eclipsed 90 points in a game twice and 80 points six times, while still doing the work on the defensive end. Only three games for the Lions have ended with margins of victory smaller than 10 all season. All that combined was good enough to leave Lighthouse Christian as the unanimous No. 1 team in the state in the final media poll.
With three wins, the Lions would be 26-0 and holding a state championship trophy. The first of those three would come if the Lions can get by Mackay at 8 p.m. on Thursday at Caldwell High School.
Carey Panthers (12-13, District 4 runner-up)
The Panthers appeared set to miss the state tournament for the first time after a 13-year run on the biggest stage. Last year's state runner-up didn't start the year too strong, and, even after picking things up, appeared on the outside looking in.
Well, when the tournament starts on Thursday, Carey will be there for the 14th time in as many years.
After opening the Sawtooth Conference tournament with a loss, Carey reeled off four straight wins to take second place in the district as the No. 5-seed. Despite losing some key leadership figures from last season, the Panthers, led by youngsters, are still in the hunt.
Junior Brigham Parke has been one of the go-to scorers for Carey, while sophomore Hunter Smith has come on as a strong 3-point shooter. Sophomore Dallin Parke runs the point for Carey and is capable of putting together solid scoring performances, too.
The Panthers may enter the tournament with a scoring margin of -3.16, as they allow 53.56 points and score 50.4 per game, but they'll still be looking to make a run with the chance they have. That'll start at 3 p.m. on Thursday, when the Panthers face Garden Valley at Caldwell High School.