HANSEN — A handful of athletes from Hansen High School committed on Saturday to play sports in college.
Mari Bjorneberg
Competing at the next level wasn't originally part of the plan for Mari Bjorneberg, but next year she will join the track and field team for College of Idaho in Caldwell.
The decision followed the cancellation of her senior season due to the COVID-19 pandemic, Bjorneberg said.
"I felt like I didn't get any closure on my season," she said. "I still have a lot of passion for it."
Bjorneberg will compete in the triple jump, long jump and 200 meter — events she had success in during her prep career. She went to state twice while at Hansen and broke multiple school records. She still holds the school's high mark for triple jump at 34 feet, 3.5 inches.
Bjorneberg said the closeness of her teammates at Hansen was a crucial part of her success and ability to reach the next level. She said she is especially grateful for her coach, Janae Gennette, who inspired her to work hard for her goals.
Cassie Gibson
Cassie Gibson will play basketball next year at Bethel College in North Newton, Kansas. Gibson said the coaching staff made her feel as if it would be a good fit. Her family is also familiar with area since her mother played volleyball at conference rival Tabor College.
Gibson said the defining highlight from her career at Hansen came during her junior year. With the clock winding down against rival Murtaugh High School, Gibson saw her teammate across the court and kicked out for a game-winning three-pointer.
Being a point guard helped her develop the court vision necessary to make the transition to college basketball, she said. It also helped her become a leader off the court.
"I learned a lot of things from Hansen," she said. "I learned about how to be a good teammate and how to impact the younger players."
Ramon Huerta-Sanchez
Ramon Huerta-Sanchez had a different route to college athletics than many athletes: he did not play on a high school team.
Hansen does not offer soccer as an official school sport. Instead, Huerta-Sanchez relied on camps and tryouts to showcase his talents for colleges and universities. That's where he caught the eye of the coaches at Treasure Valley Community College, where he plans to play striker next year.
Huerta-Sanchez said having to prove himself motivated him to work harder, even if it was often by himself. That drive to improve makes him a better teammate, and he wants to push others to get better around him.
He said he's excited to fulfill his dream of playing college soccer and take the step to the next level.
"I've been told I have a special talent and to use it," he said. "I guess I'll have to prove myself now."
Cruz Huizar
Cruz Huizar has attended rodeo events at College of Southern Idaho ever since grade school. Next year, he will compete on CSI's team.
Huizar said he's excited for the opportunity, especially after his senior season was canceled due to COVID-19.
"I thought 'I can't finish it like this so why not go on?'"
It wasn't always clear if Huizar would continue his career in bull riding. Two years ago, he had a performance at districts that wasn't good enough to qualify him for state. The experience was admittedly disappointing, he said.
But Huizar kept training and practicing as determined as ever, and shortly after won a competition in Oakley.
Playing basketball and football at Hansen helped Huizar to get in bull-riding shape, but it also helped develop the mentality to keep pushing forward no matter what. He said he plans to bring that attitude with him to CSI.
"I try to give everything I got in everything I do," he said. "I'm just excited to see how this goes."
Rakel Williams
Rakel Williams plans to bring her hard work and relentless spirit with her from high school to college basketball.
"I never give up or anything," she said.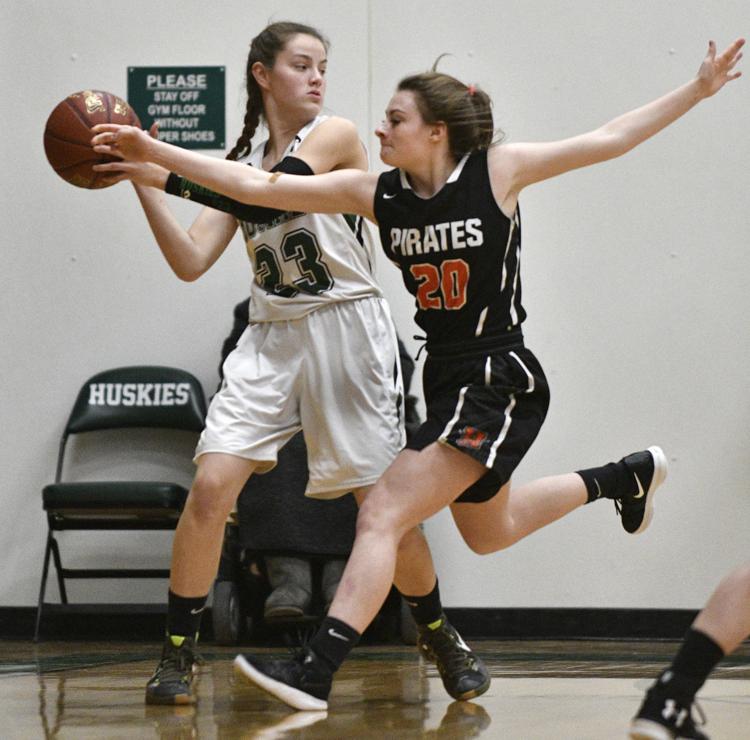 Speaking with the coaches at Southwestern Oregon Community College motivated Williams to continue her career in Coos Bay, Oregon. She said she liked the fairness and personal responsibility they offered.
"I'm a very 'work hard' type of person," she said. "Every time I talked to that coach, he said that it's not just a given every week and you really have to prove yourself."
Williams, who played center at Hansen, said she is willing to learn any position in college. That team-first mentality is something she developed during her prep career, and something she hopes to bring with her in college.
"Every time I stepped on the court, we just felt like a team," she said.
Get in the game with our Prep Sports Newsletter
Sent weekly directly to your inbox!