Tim Perrigot expected to spend one year in Rupert. Twenty-five years later, he's become a Minidoka County legend.
Prior to 1992, Perrigot had no connections to Idaho, unless you count a few pheasant hunting trips his father took to the southern part of the state. Perrigot grew up in Durango, Colorado, a mountain town with fewer than 17,000 residents. He played football for Western State College in Gunnison, Colorado, and his wife is from Colorado Springs.
A few years after college, Perrigot ached to get back into football. He was interested in a coaching job in Texas, and another in Rupert.
He chose the second option — teacher and assistant football coach at Minico High School. The Spartans' program was a mess at the time, with a losing tradition that spanned generations. 
That all changed once Perrigot arrived.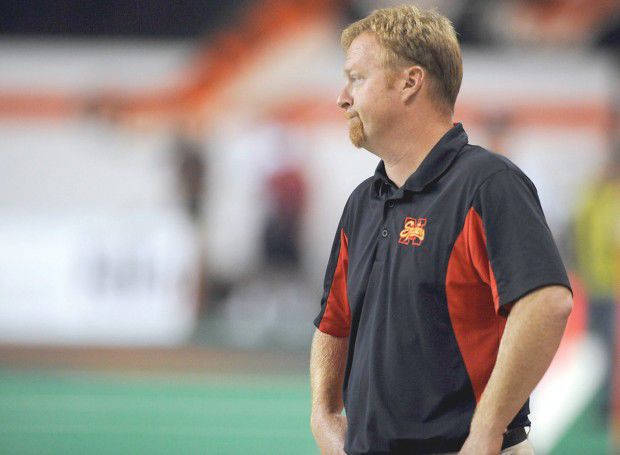 Perrigot, 48, has always possessed the coaching talent to turn a desolate program into a consistent contender. He also needed six seasons in Rupert to post a winning record.  
"We set our mind to the fact that it was gonna take baby steps," said Perrigot, who is beginning his 22nd season as Minico's head coach. "It wasn't going to happen overnight."
Every coach agrees that longevity fortifies on-field success, but the optimal length of time is unclear. And some coaches have inherent advantages — and breaks — that others can never obtain, no matter how much time they're allotted.
Time is on their side
Only four current District IV head football coaches have spent at least one decade at their respective schools. Perrigot has the longest tenure, followed by Declo's Kelly Kidd (21 years), Carey's Lane Kirkland (17) and Twin Falls' Allyn Reynolds (11).
Carey has won three 1A Division II state titles since 2006 and hasn't suffered a losing season under Kirkland's watch. He succeeded his father, Heber, after a 20-year run that netted the Panthers their first two state titles.
"It takes several generations to establish tradition," Kirkland said. "We've kept the train on the track."
In Kidd's 20 years as head coach, the Hornets have reached five 2A state championship games, with wins in 2012 and 2013, and have appeared in 10 semifinals with just one losing season.
Kidd established a modified Wing-T offense in his second season as head coach, and he hasn't deviated from it. Great athletes have, and will, come through Declo, but Kidd can't rely on a great talent pool every season. So he developed a sustainable system and ingrained it in the fabric of Declo football.
"Know what I can do, develop an offense that those kids can be successful in and coach the tar out of them," he said.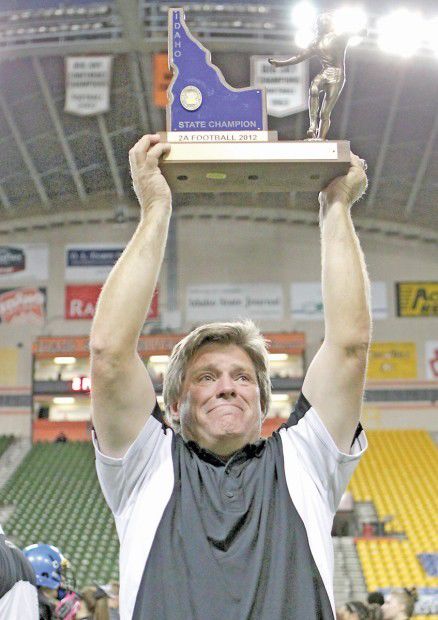 Kidd doesn't know how much time a coach needs to forge a winner, but the more, the better.
Kidd and his staff have focused on developing the junior high school football program, and that process needs time to work. The coaching continuity has created consistency through every level of Declo football. They practically speak their own language.
Kidd rarely hears a young offensive lineman say he wants to be a guard. Instead, they express their desire through Greek terms: Alpha (left guard) or a Beta (right guard). 
"Kids in the Declo program know what a Kelly Kidd team wants to do," Kidd said.
Minico and Twin Falls haven't won state titles under Perrigot and Reynolds, but they've been the most consistent winners in the Great Basin Conference this century. That's especially impressive for the Spartans, considering where they were pre-Perrigot.
After three years as a Minico assistant, Perrigot became Gooding's head coach in 1995. A year later, he returned to Minico as head coach, and the pressure was low. The Spartans had suffered one of the nation's longest losing streaks prior to his tenure, Perrigot said, and they hadn't experienced a winning season since 1982.
Perrigot didn't expect the Spartans to compete for conference titles right away. First, he wanted to achieve moral victories. Then, he focused on beating specific teams like rival Burley.
"We kept adding another goal every year, and the kids rallied around it," he said. "They wanted to one-up the class before them."
Minico went 2-8 in Perrigot's first year, including a thrilling win over Jerome that included two last-second heaves in the final 12 seconds. The Spartans went 4-5 in 1997, 2-7 in 1998, 3-6 in 1999 and 4-5 in 2000.
In 2001, they went 6-3 — their first winning record in 29 years. They've suffered three losing seasons in the 15 years since.
Minico's breakout 2001 season was aided by a drop from the 5A classification to 4A, but that does not fully explain the 16-year run of success.
Minico added a youth football program in the early 2000s, and the high school expanded from a three-year school to a four-year around the same time. Perrigot also had more than 10 integral assistant coaches, most of whom are still on staff today.
"The pieces all fell into place," Perrigot said.
Time is running out
Longevity does not just lead to familiarity and consistency. It builds excitement.
A new coach, no matter the first impression, comes with uncertainty. The community has no idea if he'll become another Perrigot or another failure, vaporized by the passage of time.
District IV has seven first-year coaches this season: Rick Astle (Dietrich), Tony Cade (Burley), Brian Lowry (Castleford), Cody Howerton (Wendell), Todd Jensen (Murtaugh) Jim Rife (Hansen) and Jake Shrum (Glenns Ferry).
Astle and Shrum are taking over playoff teams. The other five first-year coaches inherited teams that combined to win two games last season.
"The seniors have had a different coach every year," Howerton said. "What a huge disadvantage for those guys. Every coach is gonna have a different way of doing things."
Astle and Shrum aren't necessarily in easier situations than the other five new coaches. One win would be a step up for Wendell, Hansen and Murtaugh. Anything less than a playoff berth would be a disappointment for Dietrich and Glenns Ferry.
But the leash for coaches who take over losing programs only extends so far. Perrigot took six years to post a winning record, but he immediately made Minico respectable. Carey, Declo and Twin Falls have rarely struggled under their coaches. Communities, and the coaches themselves, often lose patience with a program that continues to lose.
"There's a trust issue when you go through three coaches in three years," Lowry said. "Coming in, when nobody knows you, nobody knows anything about you. I think it's tough to get kids to buy in."
Many of District IV's new coaches have sought advice from experienced ones. They understand the importance of junior high programs and offensive/defensive systems that fit the personnel.  
For their plans to work, coaches — and their bosses — must exercise patience.
"We're definitely not gonna come out and be winning every game right off the bat," Howerton said. "Wendell's really in a hole right now as an athletic program, and it's gonna take a while to turn it around."
Time is a flat circle
Time, of course, will never solve every program's problems.
Some coaches simply aren't good enough to turn a loser into a winner, no matter the length of their leash. Other coaches are phenoms, but for various reasons, they don't stick around long enough to maintain the momentum. And no coach can overcome a lack of talent or depth.
"There's an old coaching rule," Perrigot said. "If you win, the kids did a great job. If you lose, the coaches did a bad job."
Time in football can become a bit circular. Longevity is vital to winning, but few coaches can enjoy longevity if they don't win. 
A long coaching tenure would also not be possible without good timing.
In 1995, Perrigot was offered a general football assistant position at Boise State University. He wanted to take it, but his wife had just begun a new job of her own, and she talked him into staying in Rupert.
That situation wouldn't have happened if not for another crucial decision three years earlier.
Perrigot was on the fence, unsure if he wanted to move to Idaho or Texas. A visit to Rupert didn't make his decision much clearer.
On his drive back to Colorado, near Declo, three pheasants jumped onto the rain-soaked road in front of his truck. He was forced to stop, but he wasn't angry. The birds reminded him of his father, who grew to love Idaho and his pheasant hunting trips there. 
As he watched the pheasants, the sun peaked through the clouds, and a rainbow appeared.
"This," he thought, "is where I need to be."