JEROME — Midway through the fourth quarter with his team down seven points, Jerome's Garrett Elison picked up a bouncing fumble and looked up to see nothing but frozen grass in front of him. The senior was tired, but the end zone was in sight so he hit the gas. After breaking an ankle tackle along the sideline, Elison finished the 81-yard scoop and score.
It was his fifth touchdown of the game; a one-man firework show that lit up the chilly night. The Jerome faithful hadn't seen a home playoff game in more than two decades, but the town got its money's worth Friday night.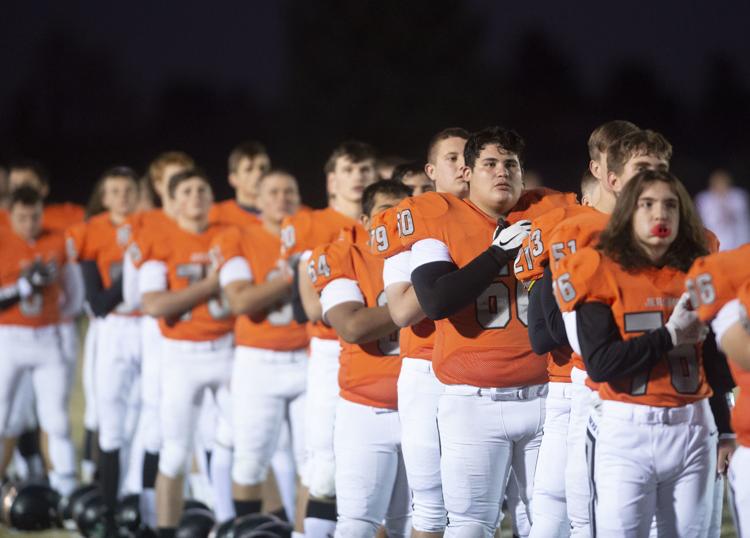 Elison's five touchdowns rallied a talented group of Tigers from 14 points down to defeat Hillcrest 41-34 in a 4A state playoff game Friday at Jerome High School. It was the Tigers' first home playoff game in 23 years.
"Everybody is so happy right now," Elison said. "I've never seen it like this before. I can't even describe how amazing it feels to win a playoff game."
The team's coach was happy, too.
"I'm happy for our seniors," said Jerome head coach Sid Gambles. "We knew we would have a good turnout and the crowd really put it on for the seniors."
Jerome got on the scoreboard first when senior quarterback Dalan Thompson hit Elison on a screen pass that went 25 yards for the touchdown. It was the first of four times the two connected for points on the evening.
Hillcrest responded in the second quarter when 6-foot-6 quarterback Seth Curtis crossed the goal line on a sneak. The Knights recovered a Jerome fumble on the ensuing kickoff and cashed it in the very next play with a Curtis to Ben Maxwell 22-yard touchdown pass.
The Knights had a chance to tack more on before the half, but Tiger senior Stockton Lott came up with an interception in the end zone. Jerome went into the locker room down 13-6, and its reaction to the deficit had Gambles questioning his team's resolve.
"Our guys had a look at halftime like they hoped things would go our way," he said.
But something clicked into place. Whatever was said in the locker room, the Tigers suddenly believed. It was their night. Even when Hillcrest scored on a 68-yard run up the middle on the first play of the third quarter, Jerome pushed all its chips to the middle of the table and went for broke.
"I said, 'I don't want to lose. I want to keep playing,'" Elison said. "The rest of the team just followed. It brought us back. It was awesome."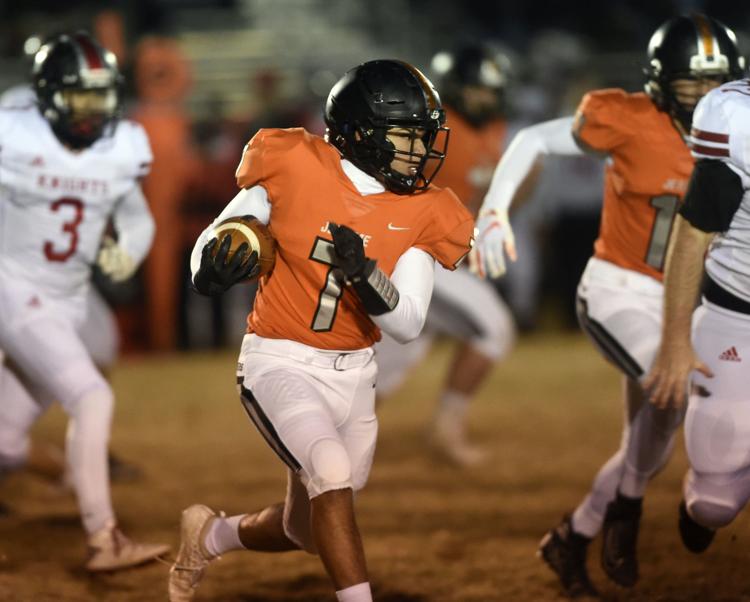 "We still had faith," Thompson said. "We came out strong and did what we knew we could do."
The Tigers responded with a drive that culminated in an 11-yard touchdown pass from Thompson to Elison that brought them back within one possession.
Curtis scored on another 1-yard sneak, but still Jerome refused to give up. Thompson hit Elison on a double move for a 68-yard touchdown. The Knights ran the kickoff back for a score, and the Tigers still believed. Thompson then connected with Elison for a TD from 28 yards out.
"We finally started connecting on those passes in the second half," Gambles said. "That was our game plan and we missed a few early, but it started to work."
All the Tigers needed was a spark, a ball to bounce their way, a chance. Something magical, something unbelievable.
The football gods provided. Elison's 81-yard scoop and score followed the last Jerome touchdown, and even after a failed fake PAT kick attempt the Tigers felt the game was theirs to lose.
Jerome forced a punt and capitalized a couple of minutes later when Thompson scrambled to his right and saw junior Shayler Bingham peel free from his defender toward the end zone. The senior gunslinger launched a high-arching pass 33 yards into the end zone and watched Bingham dive underneath it.
Touchdown Tigers. Just like that they led with time running low. Comeback complete.
"We have some really good players make some plays," Gambles said. "We kept coming back and they made a bunch of plays."
Jeffrey Ledezma sealed the win when he picked off Curtis along the sideline. Shouts of joy and shock erupted from the Jerome sideline as assistant coaches raced along the track in joint celebration with the crowd.
"We had a lot of things that didn't go our way," Gambles said. "But we got some breaks in the second half and made the most of them."
Jerome will hit the road in the next round of the playoffs against Middleton. The game time and location will be announced.
"This is a big boost for us," Thompson said. "We came in and beat the defending state champs. We are confident."
Gambles said he knows there is still work to be done, though.
"We will enjoy this one for about 12 hours, but then it's on to the next," Gambles said. "We will get back to work and get ready for next week."
Football - Hillcrest vs. Jerome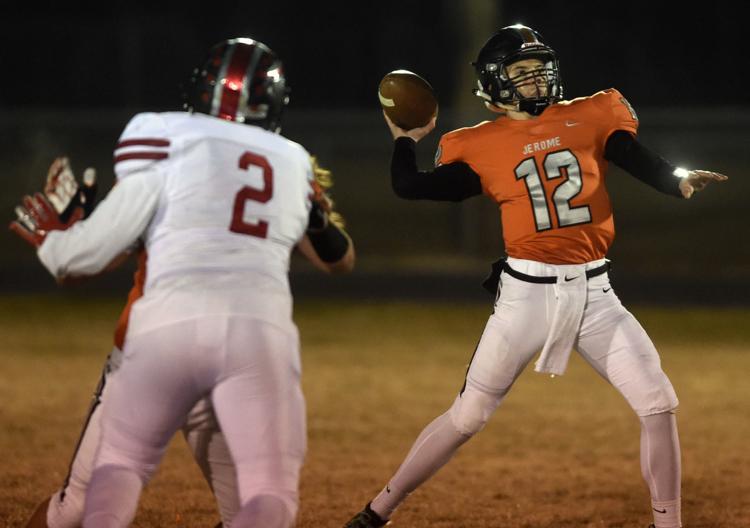 Football - Hillcrest vs. Jerome
Football - Hillcrest vs. Jerome
Football - Hillcrest vs. Jerome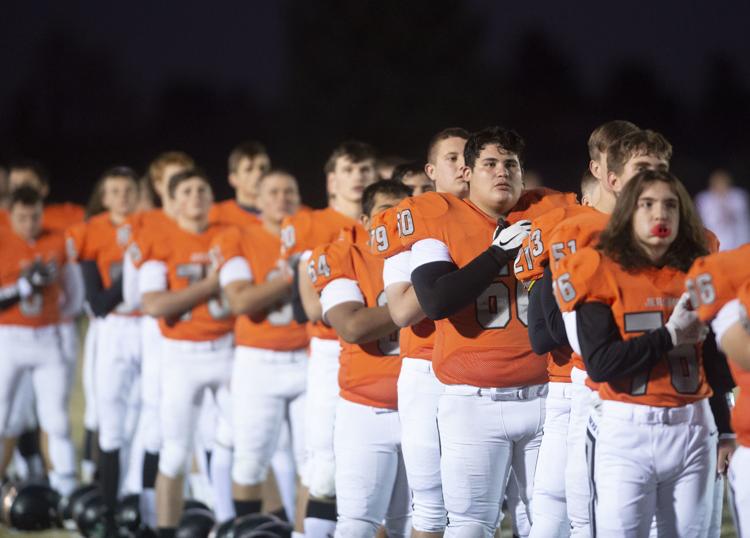 Football - Hillcrest vs. Jerome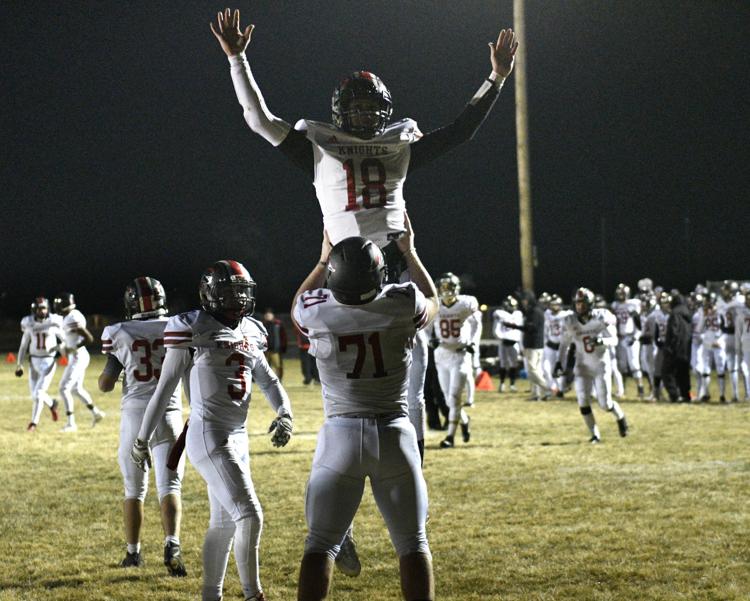 Football - Hillcrest vs. Jerome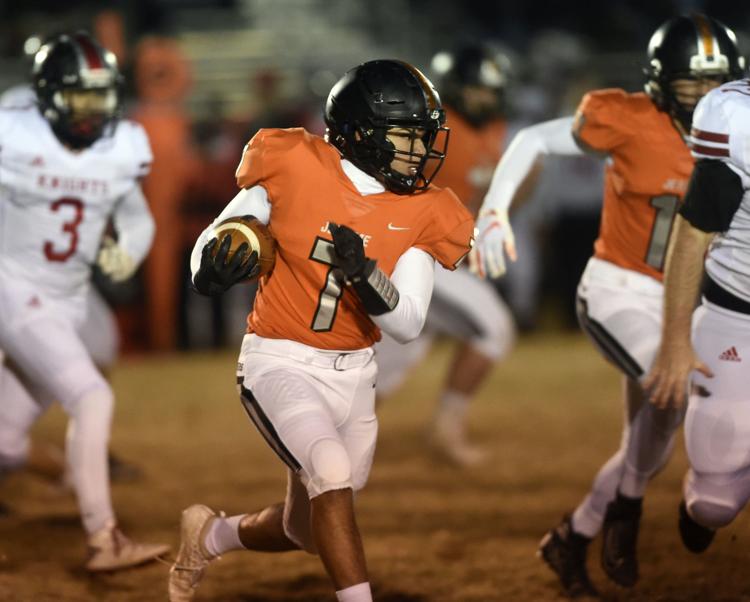 Football - Hillcrest vs. Jerome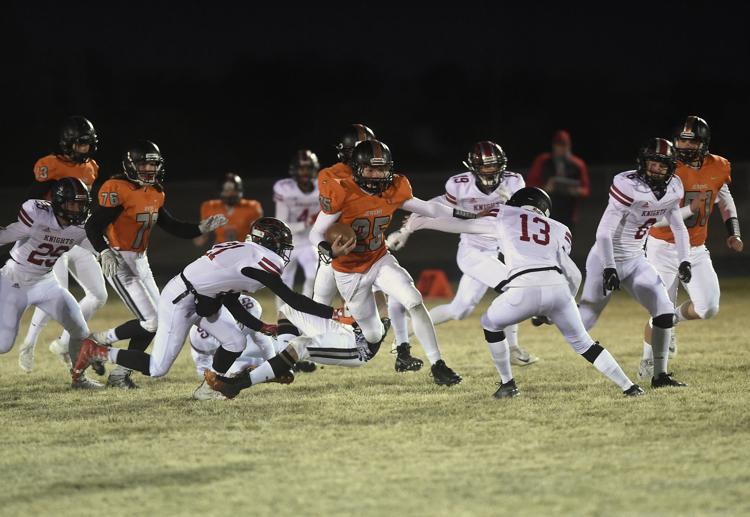 Football - Hillcrest vs. Jerome
Football - Hillcrest vs. Jerome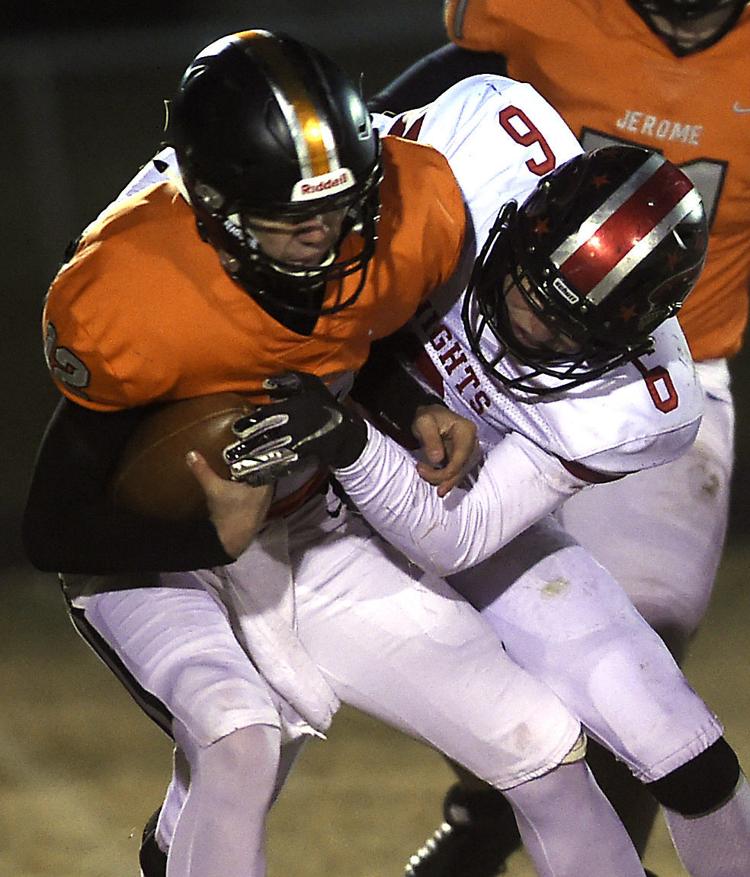 Football - Hillcrest vs. Jerome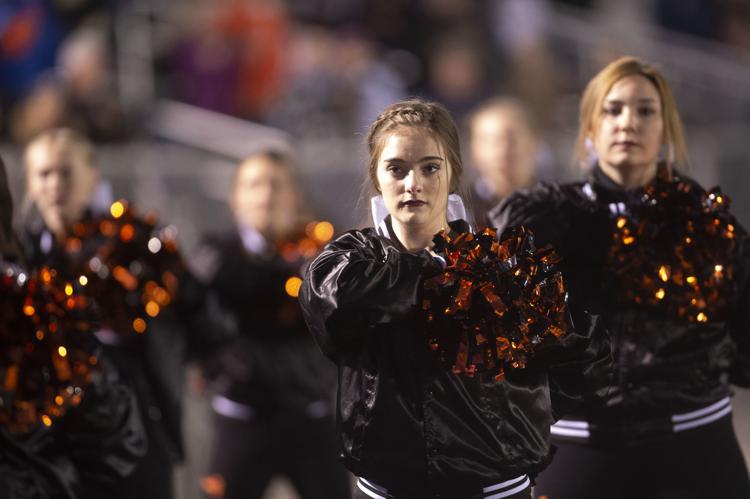 Football - Hillcrest Vs. Jerome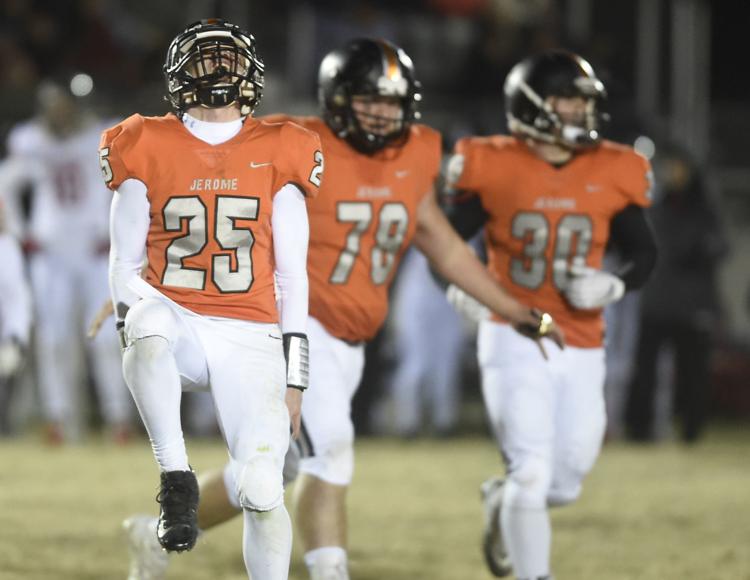 Football - Hillcrest vs. Jerome
Football - Hillcrest vs. Jerome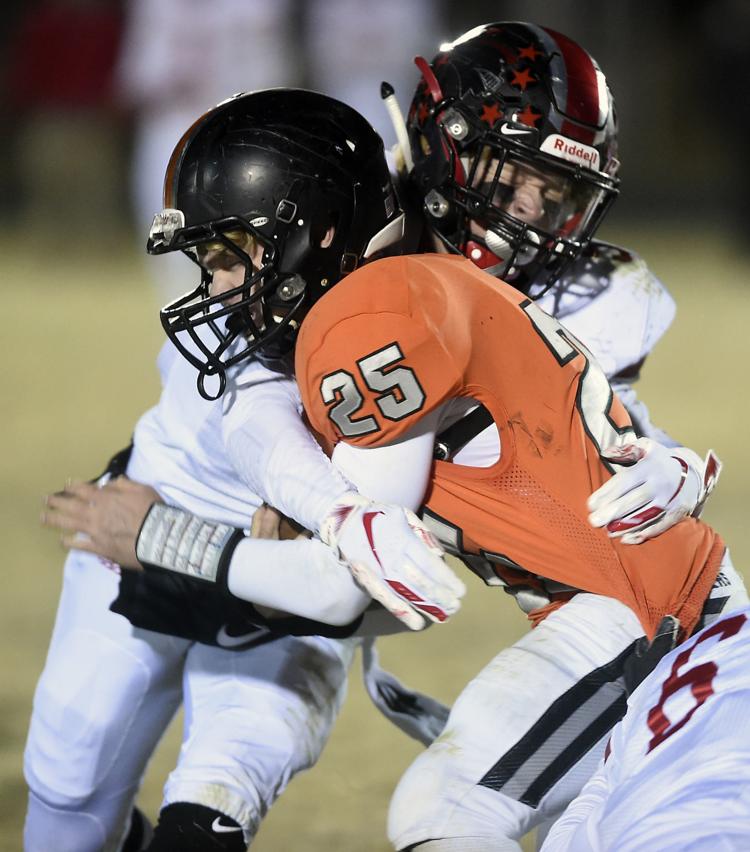 Get in the game with our Prep Sports Newsletter
Sent weekly directly to your inbox!