The Oakley High School football team's senior quarterback was on defense as Challis tried to piece together a game-winning drive in the final minutes of their game on Sept. 14. He moved to tackle a player who he thought would head out of bounds to stop the clock. When the player cut back infield, Cranney's right knee planted and he hit the player. That's when he felt it.
"I thought it was alright," Cranney said. "It was painful, don't get me wrong, but I didn't think it was anything serious."
The pop turned out to be a torn ACL, partially torn MCL and a slightly fractured femur. That moment proved to be the beginning of the end of Cranney's high school football career.
As disheartening as the past two months have been for him, Cranney has carved out a new role as the Hornets head into the postseason. Like he did on the field, Cranney is going to do his best to help his team succeed from the sidelines.
"Any way I can," Cranney said.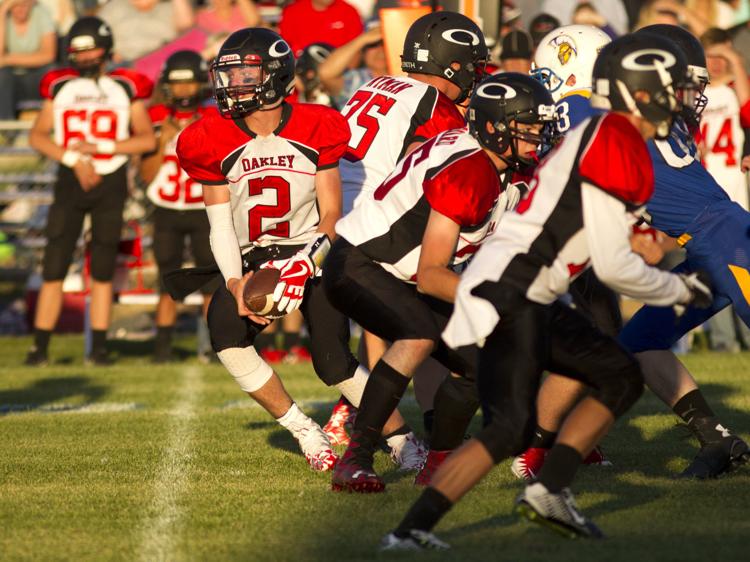 It looked like that just might be the case. Oakley opened this season as the top-ranked 1A-DI team in the state and won its first three games by a combined score of 180-56 with Cranney at the helm. He went 21-for-32 and threw seven touchdowns in the Hornets' first two games, and the Hornets tallied 420 yards of total offense in their third. Everything was clicking going into the Challis game. But, 11 months and one day after that first season-ending injury against Challis, it appeared Cranney was realizing the same fate.
He came off the field, had his leg straightened out and said it began to feel normal. He started warming up on the sidelines, preparing to go out and lead the Oakley offense if Challis scored and the Hornets needed one final drive. Oakley got the stop and Cranney was spared. The following morning, Cranney had his ACL and MCL tested. Initially, it seemed his ACL was fine, but his MCL had a tear. He got an MRI three days later, which showed Cranney actually had "no ACL whatsoever" and had a partial MCL tear, he said.
Oakley head coach Kade Craner deemed his season to be over, for the second straight year. Only this time, it meant his career was over.
"It was very discouraging," Cranney said. "My heart just really sunk and I couldn't quite grasp it. It was probably one of the hardest things that I've ever had to be told, yet again."
That feeling didn't last long.
Two days after learning his high school career was over, Cranney visited a specialist in Utah. The doctor gave him news that, while uplifting in the short-term, could have serious ramifications. He told Cranney that he'd "essentially have no knee left," Cranney said, and his leg might hold up for two plays or for as long as Oakley's season lasted. It was up to Cranney to make the call. Some people might have considered the future, the pain they'd endure, how effective they'd be and decide to stay off the field. Cranney is not like those people.
"I was relieved," Cranney said. "There was no doubt in my mind that I was going to at least try to strap up. As long as I could play and not be a hindrance to my team, I was definitely going for that."
Craner said Cranney got into rehab and, because he's not only tough but lost half his season the year before, wanted to make the most of it. If Cranney could handle the pain, he could play, Craner said. He knew what his senior quarterback would want to do.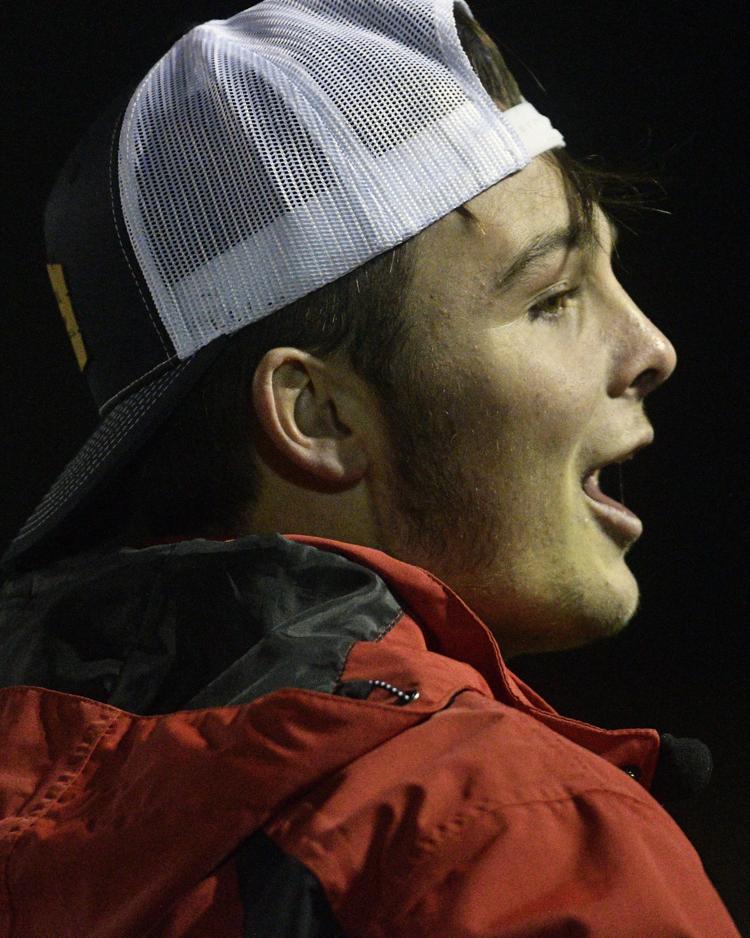 "He's a tough kid, and he's given everything to our program that you could possibly give," Craner said. "It's fun to coach kids like that."
"It was really rough to watch," Cranney said. "I just watched a bunch of my guys battle it out and play as hard as they could."
Less than one month after tearing his ACL and fracturing his femur, Tate Cranney took the field in Grace. He may have been wearing a protective brace on his knee, but not much else was different.
Cranney went 8-for-12 for 161 yards and four touchdowns in a 44-14 win.
Craner said his team had to do some things differently, but he felt it was rounding into form with Cranney back under center. Cranney said the pain was bearable, and he thought he had a grasp on handling it on the field.
One week after beating Grace, Oakley hosted Glenns Ferry, and Cranney started the game. He didn't finish it. Cranney felt another pop as he dropped back to "throw up a bomb" at the end of the first half, he said. He re-tore his MCL, tore his meniscus and tore a bunch of cartilage in his knee. Only a fool would completely rule Cranney out after all he's come back from in the past, but he said a return to the field is not looking likely, with a surgery date in sight.
"They decided my knee has been through enough," Cranney said. "I came back for as many games as I possibly could. I wish it could have lasted until the title game or as far as it would have allowed me to go, but it gave in."
After three injury-maligned seasons as Oakley's starting quarterback, Cranney's high school football career was over.
While he won't be taking any more snaps, he'll be contributing insight and motivation from the sidelines for the Hornets, who will play at Idaho City on Friday to begin their state playoff run.
Craner welcomes the added knowledge with open arms.
"I love that kid," Craner said. "He's a tough kid."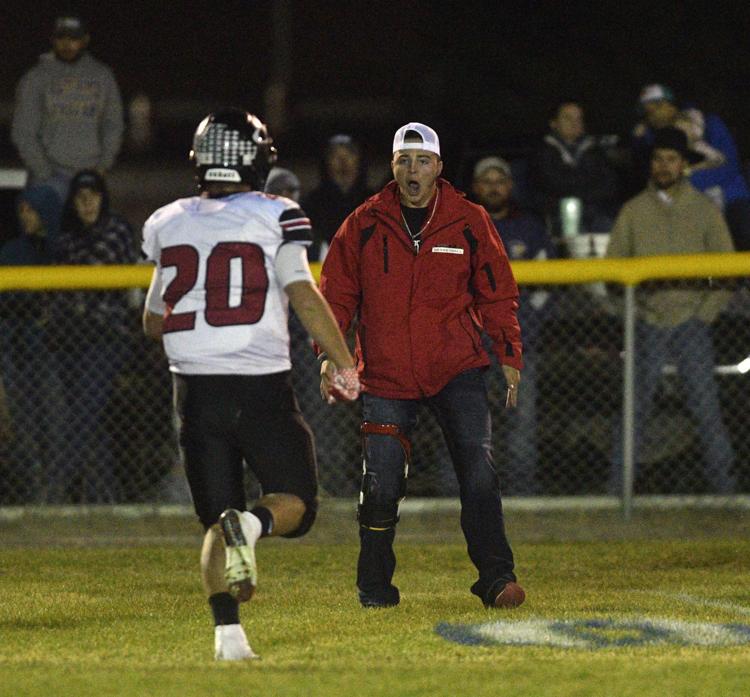 When Oakley played at rival Raft River in its final regular season game this past Friday, Cranney was on the sidelines, wearing a brace but walking around and standing for the entire contest. He watched on as the Hornets took a 22-6 lead into halftime with junior Chandler Jones under center. Jones took over for Cranney last season and led Oakley to the state semifinals. He was named the Times-News 8-man player of the year based largely on how he performed in Cranney's place. The offense looked productive under him again on Friday in Malta. Throughout the game, Cranney was involved from the sidelines. At any timeout, he was in the huddle. He gave input on what the Raft River defense was doing and how to combat it.
"He's that team guy," Craner said. "He wants to be part of it, and he is part of it. The fact that he's injured doesn't change anything."
When Raft River junior Kolton Durfee suffered what appeared to be a leg injury right near the Oakley sideline, Cranney stood over him, attempted to get him water and displayed the concern of someone who has experienced the same struggle.
Cranney said the adversity he's been through with multiple injuries and surgeries has made him take a step back and look at the big picture.
Now, he'll do everything in his power to help the Hornets navigate through the playoffs. When he looks back, he'll always cherish the opportunities he was given.
"It's been a real struggle, but I was allowed to play on a torn ACL for two games," Cranney said. "That was a true gift, to be able to come back on the field, knowing the injuries I had suffered.
"That's really all I can ask for, was two extra shots to play and to come out of it alive."