BURLEY — The opportunity came late, but it was better late than never for former Burley girls basketball player Quinlyn Ontiveros.
Ontiveros graduated in the spring, but she returned to her high school Tuesday to sign her letter of intent to play for Peninsula College in Port Angeles, Washington. She leaves for school on Friday, and her classes begin on Sept. 23.
It wasn't a straightforward road for her to end up playing college basketball, though.
First, Ontiveros made a big impression on her high school coach, Amber Whiting.
"Quinn was one for me, that, as a senior, bought all-in," Whiting said Friday to a group of Ontiveros' teammates, friends and family at the signing. "She's 100 percent in and gave me everything she had. I remember thinking that she has such a love for the game."
Once the season ended, the senior didn't have any immediate plans to play basketball at the next level. An ankle injury also kept her in a walking boot for three months, making it impossible for her to play or work out.
When the summer came around, Ontiveros helped the team out at its open gym workouts. She liked it so much that she asked Whiting if she could help coach the freshman team. Whiting agreed.
You have free articles remaining.
But when Peninsula College offered her the chance to play the game she loved again, she couldn't say no.
"I love the game of basketball and I always have,' Ontiveros said. "It's just really exciting for me to be able to get two more years out of it and get to play a little more."
Whiting said she knew Ontiveros could make it to college basketball after she performed well in a game against Jerome early in the year.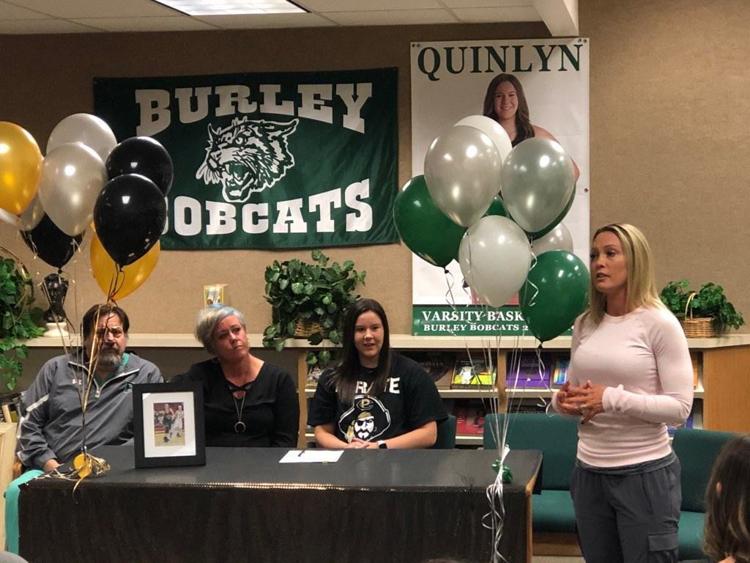 "If you watched her the rest of the season, she called for the ball, she wanted the ball, and she did all of the things that a leader would do and somebody who's going to the next level would do," Whiting said.
Once she recovered from her injury over the summer and found out she would have a chance to play in college, she kicked it into high gear to prepare herself physically.
"After I got this opportunity, I started working out more to get back in shape to go to this next level," she said.