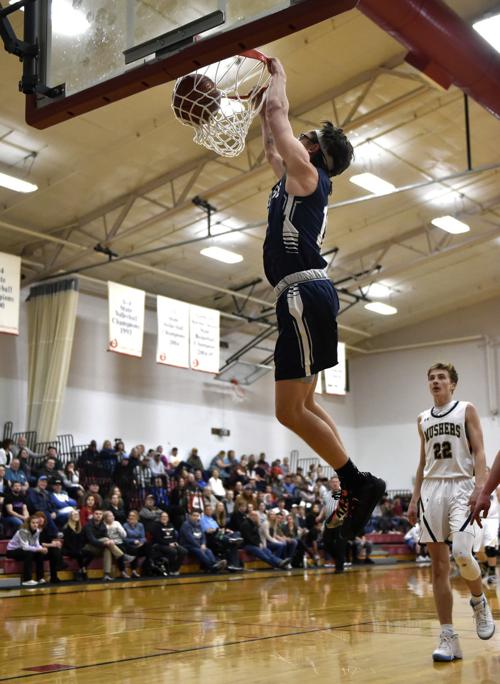 TWIN FALLS — Lighthouse Christian's Casper Block and Camas County's Trey Smith are different types of players. Block is a post player who controls the lane, and Smith dominates the perimeter.
What they have in common is that they both had seasons that made them worthy of being named Times-News boys basketball small school co-players of the year.
The two seniors have plenty of familiarity with each other. Their teams both play each other regularly in the Sawtooth Conference, and they played together on an AAU team in the offseason with several other of the best small school players from the area.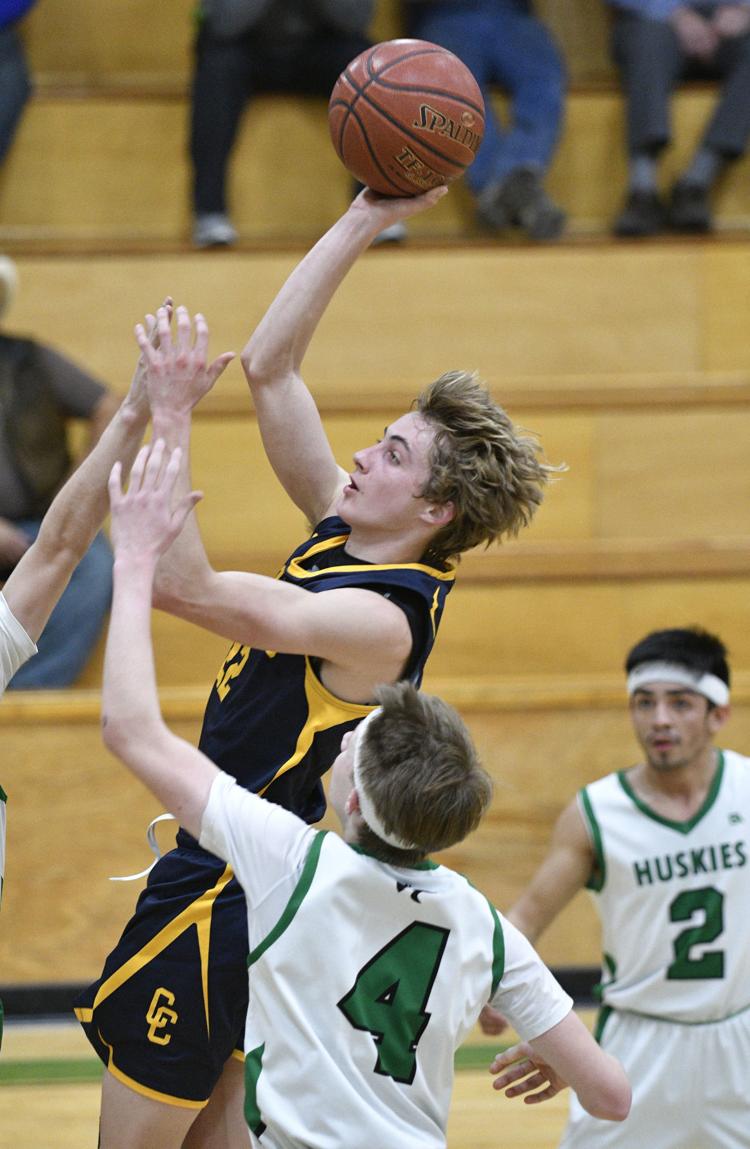 Block was the Sawtooth Conference's overall player of the year, and Smith was named offensive player of the year.
Since they play different positions and roles, they do not end up matched against each other regularly during games.
"He has me on the outside for sure," Block said of Smith.
Smith was already a Class 1A Division II top player last season, but he still found a way to improve in 2019-20. His scoring average jumped from 18.9 points per game to 27.2. He had 10 games of at least 30 points, including a 39-point effort against Richfield.
But Smith brings more to the table than just scoring ability. He set the school record for assists this season and averaged 4.8 per game, and was the team's leading rebounder with 8.4 per game.
He was just 5 foot 2 inches as a freshman, so he started his career as a point guard. Then a massive growth spurt gave him 8 more inches by the time his sophomore season started, and he now stands 6 foot 2 inches.
But his background playing point guard helped him stay a well-rounded player when he finally started to grow. That helped him have so much success running the point this season.
Camas County also plays with one of the shortest rotations in the state, with only six players seeing action in most games.
"I was kind of the scorer for the team," Smith said. "I was the point guard, so I managed the ball, and my team was good. We could all create for each other, so it was really fun."
Block also saw vast improvement from last season.
The senior was an all-state player last year on Lighthouse's 26-0 state championship team. But things did not go so smoothly in 2019-20.
Fellow all-state player Tyler Munsee went down with a leg injury near the end of football season and missed almost all of this year's basketball games. The Lions also stacked their early-season schedule with upper-division teams and difficult matchups and went into Christmas break with a 6-4 record.
"It's hard being a 26-0 team and coming back and doing the same thing the next year," Block said. "So many people want to beat you. You have everybody's eyes on you."
After the up-and-down start, Lighthouse won 13 straight games. They sputtered in districts however, losing back-to-back games to Carey and Dietrich to end the season.
Still, Block put together a strong, efficient season. He averaged 20.9 points per game and shot 57.6% from the field. He also pulled down 13.4 rebounds and dished out 3.8 assists per game while adding nearly two blocks per contest.
Not only did he want to improve on his averages from last year to make himself a better player, but also because he knew the team needed everyone to step up with a key starter missing.
"We all had to figure out a way to fit into a new role with (Munsee) missing on the court," Block said.
Smith and Block both represented their teams in the District IV all-star game after the season, and Smith was nominated to play in the statewide, all-class all-star game at North Idaho College. But that game was canceled due to the outbreak of COVID-19.
Both Block and Smith are on the cusp of achieving their dream of playing college basketball. Both said it's been their goal since they were young.
Block is committed to Tacoma Community College in Washington, and Smith is weighing a couple of community college options.
Smith said that while he has always wanted in college, it was hard to envision himself at this point just a few years ago.
"I was worried when I was 5 foot 2 my freshman year," he said with a laugh. "I was like, I don't know if this is possible."
Get in the game with our Prep Sports Newsletter
Sent weekly directly to your inbox!