After the girls side produced a state champion and the boys side had a state semifinal run, the 1A Division I Snake River Conference released its all-conference selections on Saturday.
Valley senior Zane Mussmann was named as the conference's player of the year, after a stellar campaign, in which he averaged more than 17 points and 13 rebounds per game.
Mussmann tallied double-digit point totals in each of Valley's three state tournament games, including two double-doubles, as the Vikings came up just short in the third place game.
His head coach, Brian Hardy, was named the conference's coach of the year after leading the Vikings to a 19-6 overall record and a conference championship. Valley went unbeaten in conference play over the course of the season.
On the girls side, the conference player of the year honor was split between two seniors who led Shoshone to a state title in Bailee Owens and Cierra Hennings.
Owens led the team in scoring and rebounding, pouring in 15 points per game and pulling down eight boards a night. Hennings did a bit of everything for the Indians, pitching in 11 points, six assists and 4.5 steals per game.
Hennings led the way with 17 points and 10 rebounds in Shoshone's win over Genesee in the 1A Division I state championship game on Feb. 16, while Owens sparked the Indians in that game with 16 points of her own.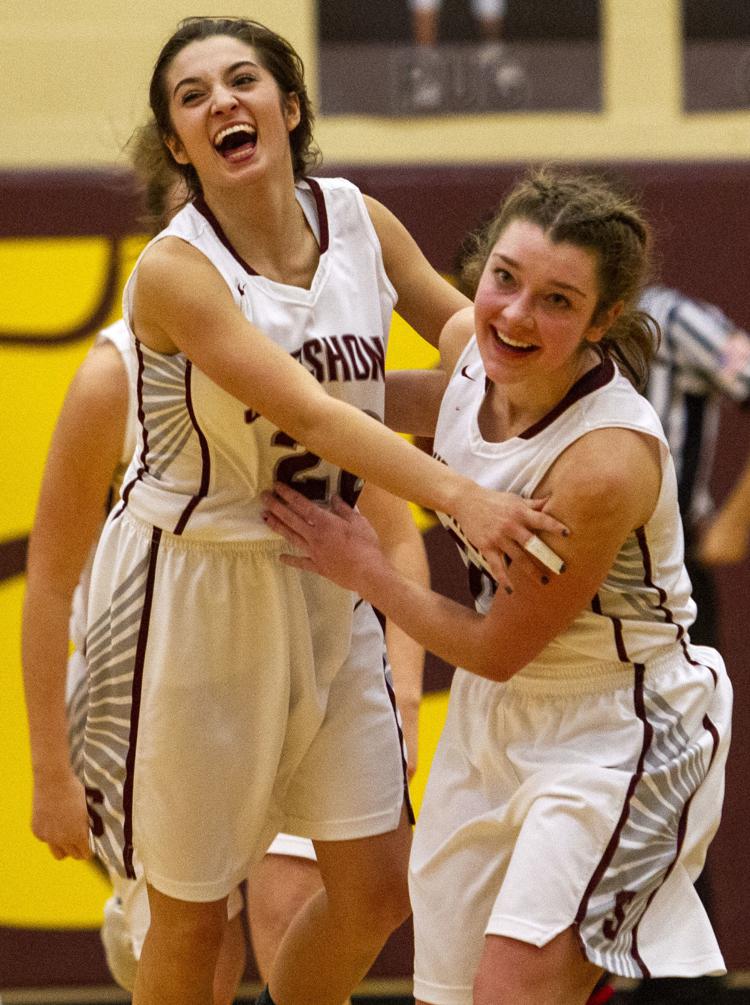 The duo's head coach, Tim Chapman, was selected as the conference's coach of the year, after leading Shoshone to that championship triumph, the third in program history and second under Chapman, with the first for him coming in 2005.
Shoshone went 24-1 this season, finishing unblemished in conference play, on its way to a league and state title. The Indians, under Chapman, won their final 17 games of the season.
On the boys side, the all-conference first team includes Valley senior point guard Jason Hardy, Raft River senior sharpshooter Rylee Spencer and Oakley's top scorer, senior Gannon Critchfield. Oakley junior point guard Chandler Jones joined Critchfield on the first team, as did Glenns Ferry senior guard Wacey Williams.
Williams' teammate, junior Kody Henslee, heads up the second team, followed by Raft River junior Justin Schumann, Valley senior Alex Korom, Shoshone senior Patrick Taber and Oakley senior Austin Bedke.
The all-conference honorable mention list includes Raft River sophomore Ryan Spaeth, Glenns Ferry senior Carson Grigg, Shoshone junior Denny Arroyo, Valley senior Nic Anderson and Oakley senior Slater Sagers.
The girls first team all-conference selections begin with one of Raft River's leading scorers, junior Kamri Ottley. A duo of Valley sophomores, Bailey Stephens and Makenna Kohtz, made the cut, as did two more Shoshone seniors in Patti Fitzgerald and Ari Regalado.
Oakley senior Mallory Beck kicks off the second team, followed by Raft River post Audah Jones. Valley senior guard Katie Johnson got the nod, as did Shoshone senior post Rionna Kerner and Raft River sophomore guard Kaybree Christensen.
Glenns Ferry junior Jaysan Self, Raft River sophomore Karlee Christensen, Valley senior Broganne Mangum and Oakley senior Liz Hardy were all selected as honorable mentions.
All-Snake River Conference Selections Boys
Player of the Year: Zane Mussmann, Sr., Valley
Coach of the Year: Brian Hardy, Valley
Rylee Spencer, Sr., Raft River
Gannon Critchfield, Sr., Oakley
Chandler Jones, Jr., Oakley
Wacey Williams, Sr., Glenns Ferry
Kody Henslee, Jr., Glenns Ferry
Justin Schumann, Jr., Raft River
Patrick Taber, Sr., Shoshone
Austin Bedke, Sr., Oakley
Ryan Spaeth, So., Raft River
Carson Grigg, Sr., Glenns Ferry
Denny Arroyo, Jr., Shoshone
Nic Anderson, Sr., Valley
Slater Sagers, Sr., Oakley
Girls
Player of the Year: Bailee Owens (Sr.) and Cierra Hennings (Sr.), Shoshone
Coach of the Year: Tim Chapman, Shoshone
Kamri Ottley, Jr., Raft River
Bailey Stephens, So., Valley
Makenna Kohtz, So., Valley
Patti Fitzgerald, Sr., Shoshone
Ari Regalado, Sr., Shoshone
Mallory Beck, Sr., Oakley
Audah Jones, Sr., Raft River
Katie Johnson, Sr., Valley
Rionna Kerner, Sr., Shoshone
Kaybree Christensen, So., Raft River
Jaysan Self, Jr., Glenns Ferry
Karlee Christensen, So., Raft River
Broganne Mangum, Sr., Valley