TWIN FALLS — According to College of Southern Idaho women's basketball head coach Randy Rogers, Minico High School senior Taylia Stimpson was more or less born in a gym.
Stimpson doesn't exactly deny that claim.
"Ever since I was little, my mom has loved basketball and that's something we've always been a part of," Stimpson said.
That upbringing has paid off, as the Spartans' standout scorer pledged her future to the Golden Eagles on Tuesday, signing her letter of intent to play basketball at CSI next season.
"Being able to come here, I'm super excited to play for Randy," Stimpson said. "I met all the girls, I love all the girls, I love the campus...it's comfortable. I'm super excited."
Stimpson had offers from Idaho State University, Eastern Washington University, Montana State University Billings and Utah State University Eastern, along with CSI.
In the end, her decision came because of that comfortability, which also had a family factor, given that CSI would be close enough that her family can watch her play.
On the other side, as excited as Stimpson is to get to CSI, the Golden Eagles seem just as excited to have her.
As players filed in to watch the signing ceremony, sophomore Ka'Maree Donald shouted "welcome" and flapped her wings like an eagle would. All the current CSI players gathered around Stimpson and took a group picture with their future teammate.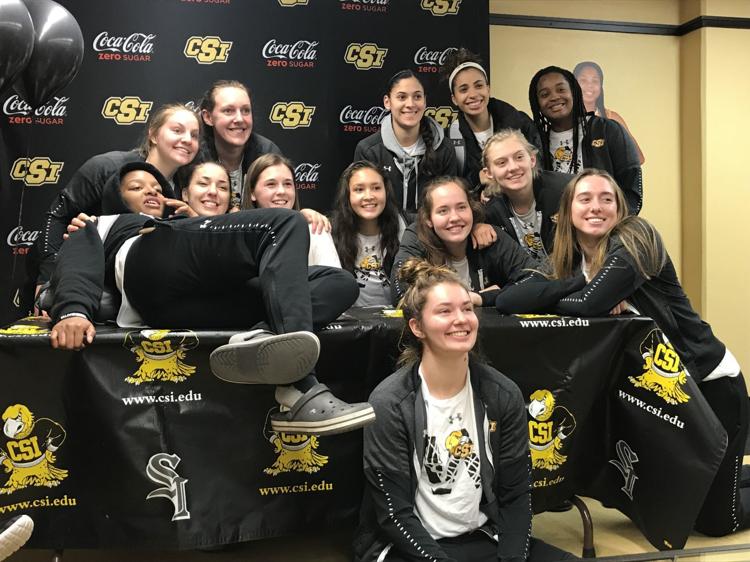 Not only will she fit in with those players as demonstrated already, but Stimpson's transition to the court should be seamless, too.
"She's probably one of the most athletic kids to ever come to CSI," Rogers said. "She has unbelievable quickness, [is] long, our style of play where we like to get up and down the court, I think she's gonna fit that really good, and she's a good defender."
Stimpson's junior season was cut short by a broken leg suffered in a game against Twin Falls, but it hasn't deterred her from excelling on the court for the Spartans this season.
She said having to sit out made her realize how much she missed and loved basketball. It became her mission to get better all the time to prevent a situation like that from putting her "behind everyone else."
"That's just her," Rogers said. "It was a broken leg and she was probably ready before the leg was ready."
When Minico's starting point guard, Taycee Harper, went down injured for the year earlier this season, Stimpson had to know the feeling all too well. And, as if teams already didn't know about her, the senior had to face even more attention from defenses.
It's hardly stopped her, as the Spartans are 10-5 on the season and she's constantly the top-scorer for the squad. Stimpson attributes that to her team coming together in Harper's absence.
"Our team just really flows together well," "We all see the court well. Granted, it sucked to lose our starting point guard, but we've done a good job to grow positively from it."
The Spartans have six more regular season contests to play before looking toward the postseason, and, if any run is to be made, Stimpson will be a big part of it.
After that, the senior's basketball career will take a step toward the next phase, where she'll look to succeed at CSI for two years and move on to finish her college career elsewhere.
Both parties involved very much look forward to Stimpson's coming two seasons as a Golden Eagle.
"If you had asked me six months ago if we were gonna get her to sign here, I would've said no, not a chance," Rogers said. "We're very fortunate...We like local kids.
"She's not a local kid that's gonna come in and not play. She's good enough right now to play for us."