TWIN FALLS — As first-year College of Southern Idaho men's basketball coach Jeff Reinert took over the program last spring, one of his early additions to the team was an incoming sophomore named Mike Hood, who transferred from Moberly Area Community College in Missouri.
"We didn't have a lot of options," said Reinert, who had to build a team from scratch in a matter of a few months. "We watched some film and took him, and we honestly had no idea what we were getting."
Hood, on the other hand, said he knew what he was capable of.
"I worked a lot during the summer and had good experience from Moberly," Hood said. "It was a good year for me and everything. I felt like something big was coming, I'll say that."
But few could have guessed how big those things were going to be.
By the end of Hood's one-season stop in Twin Falls, he left his mark on the program in a way that no one who watched would easily forget.
Hood set the CSI single-season scoring record with 705 points in 31 games, good for 22.7 points per game. His average also set the single-season record by three points per game.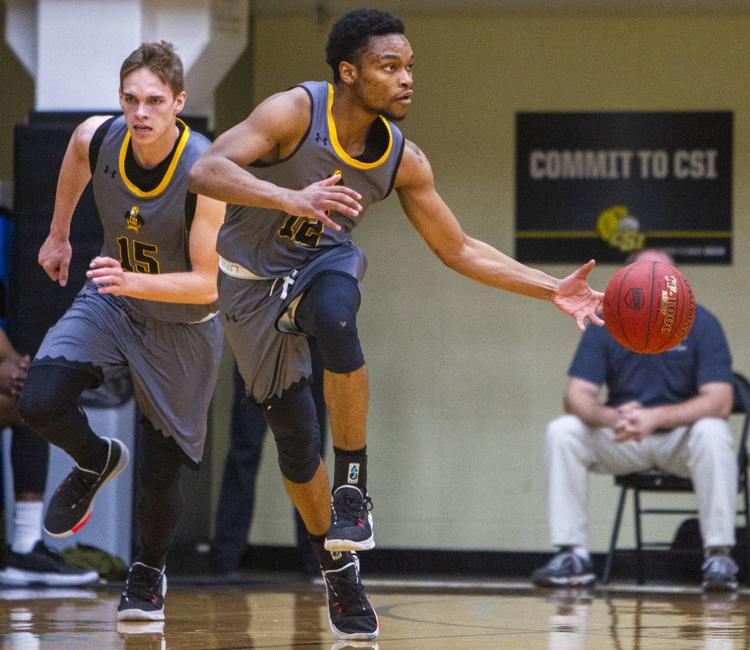 What was even more noteworthy about the scoring record was that he broke the record with fewer games to work with than his historical competition. Charles Jones, who set the previous record with 670 points in 2017-18, did so in 34 games. CSI hall-of-famer Pierre Jackson is third on the list with 669 points with 36 points during the 2010-11 season.
Finding the way
As CSI built its roster for this season, Hood brought something that the roster had little of: experience.
Hood, from Kansas City, Missouri, went to Shawnee Mission West High School and attended Link Year Prep in Branson, Missouri, for one season.
After that, he played one season for Moberly Area Community College, one of the country's top junior college teams. But he came off the bench and was looking for a bigger role.
Reinert, who was on the lookout for new players while in a tight time frame, heard about Hood's situation. The coach said that his initial conversation with Hood told him what he needed to know about the player's character.
"Mike said nothing negative about Moberly," Reinert said. "If a kid's complaining about the previous coach, it's a warning sign. He said nothing but good things, that (Moberly) is a great program, but that he was just looking for an opportunity to play more."
With CSI's roster consisting of mostly freshmen, Hood had a golden opportunity right away. Where most of the players were approaching their first season of college basketball, he had already played post-high school for two years.
"Playing with a whole new team where nobody knows each other, and on top of that there were no returners or anything, it definitely took a while to get the chemistry," Hood said.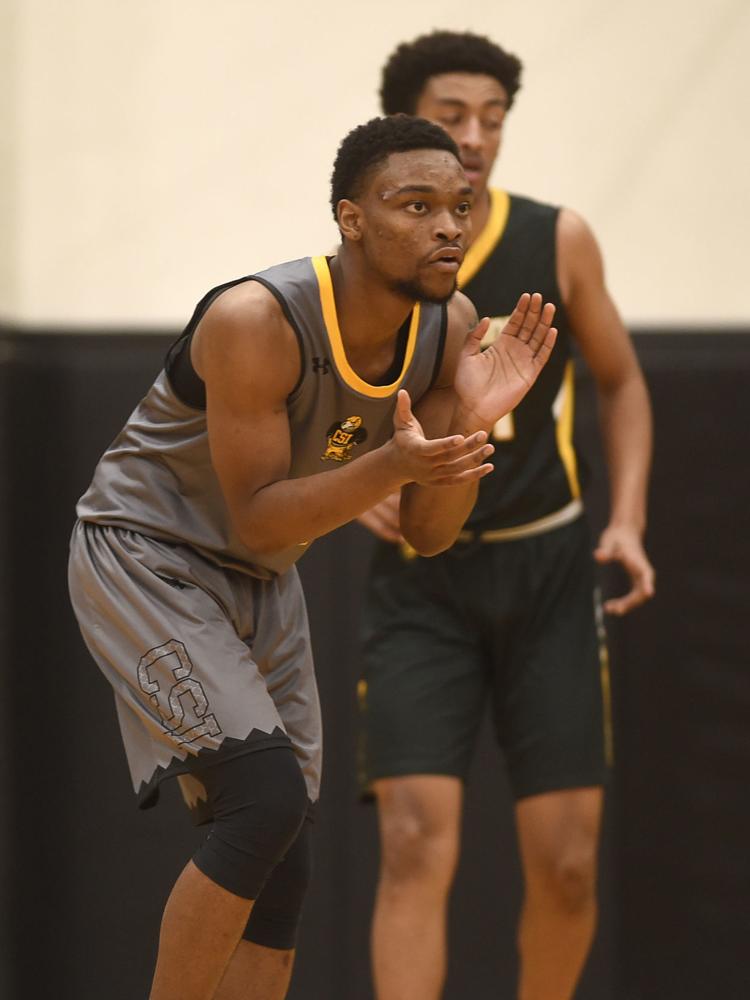 Making an impact
The coaching staff started to notice something he would do to help out the team. During shootaround time at practice, Hood would spend his time passing to the post players instead of getting his own shots up.
That isn't to say he didn't spend time on his own craft. He would get in the gym early in the morning, late at night, or before or after practice to shoot. But in practice, it was more important to help out the team.
"I like them to know that it's not just about me, and I want them to be comfortable with me passing them the ball and playing with them," Hood said. "I liked doing stuff like that in practice."
On the court, CSI had an up-and-down season and finished with a record of 16-15. They lost by two points to Snow College in the Region 18 tournament to end the year, but they played competitively with some of the country's top teams, including losing by single digits twice to Salt Lake Community College, who entered the NJCAA national tournament as the fourth seed nationally. That tournament was never played as the NJCAA called off all of its sports for the rest of the academic year due to the threat of COVID-19.
But through the highs and lows of the Golden Eagles' season, Hood's play remained a constant.
He started all 31 games and rarely left the court. He ended the season with the third-most minutes played per game in school history.
On top of his 22.7 points per game, he shot 45.7% from the field and 87.4% from the free throw line. He also showed a knack for knocking down three-pointers from long range. Region 18 picked him as a first-team all-region selection.
"When we were down, Mike was able to make big shots, deep shots," Reinert said. "He was incredible at going to the basket with his left hand and finishing around the rim."
His biggest games came at some of the biggest moments, too. He scored 34 points in 39 minutes while nearly leading his team to an upset over Salt Lake on Feb. 1. He later scored a season-high 36 points against Utah State University Eastern to end the regular season, which helped CSI improve its seeding for the regional tournament.
That was also the game where Hood passed Charles Jones for the single-season scoring record. But he had no idea he had set the record until after the season.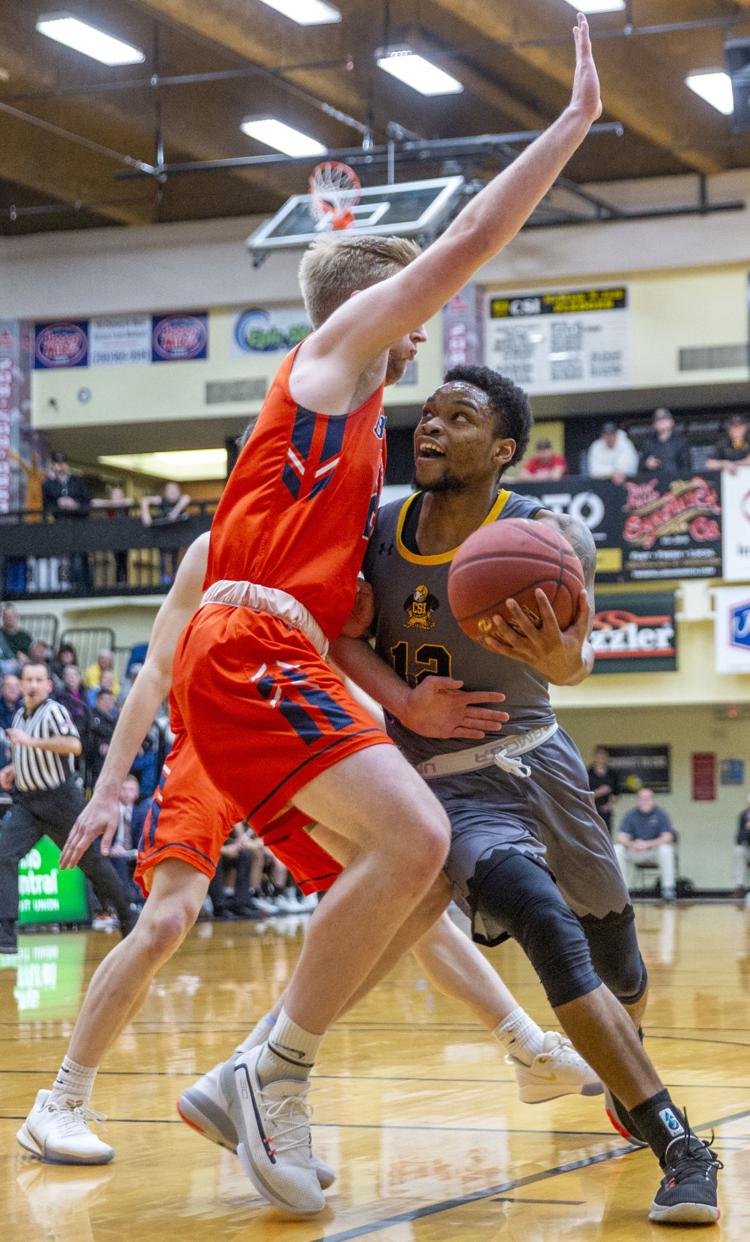 The aftermath
Hood's stop at CSI is a relatively brief one. He signed to play with Division I Montana State next year and only had one season with the Golden Eagles.
With the COVID-19 outbreak, CSI's classes are moving to an online format for the rest of the academic year, and Hood said he plans to stay home in Kansas City for the rest of the semester. The college is encouraging all of its students to stay off-campus if possible.
But as the sophomore spends his days in quiet gyms and weight rooms staying in playing shape for his future, he has fond memories of his time in Twin Falls.
"It means a lot knowing how big this program is, and not just that, but I had a connection with the fans here this year," he said. "These were some of the best fans I've played in front of. They always showed love after games, even after we lost."
Be the first to know
Get local news delivered to your inbox!