It's Aug. 31, 2017, and the Magic Valley Stampede Rodeo is underway in Filer. Money and rider points are on the line for competitors from around the Northwestern United States, and it's no different for College of Southern Idaho rodeo athlete Braxten Nielsen.
Nielsen preps himself atop a bucking horse for a run in the bareback riding event. He's first in the event schedule, and he hopes to set the tone for the night with a great ride.
"He leans back, grits his teeth and says, 'Let's ride,'" the announcer yells over the speakers as Nielsen nods his head to his supporting cast and the chute opens.
Immediately, things go wrong. The bronc tries to explode upwards, but his hooves shoot out from under him. It stumbles to the ground, plunging Nielsen into the back of the metal chute with give or take 1,000 pounds rolling on top of him.
On impact, Nielsen's L1 vertebrae bursts instantly, the tendons between his lumbar and thoracic vertebrae tear and his T12 fully dislocates.
He was paralyzed from the waist down, yet still atop the horse.
"(The horse) took two big jumps out of the chute and my friends and people who knew me already knew something wasn't right," Nielsen said recently. "I don't get bucked off like that."
No video exists with a clear shot of him being compressed against the chute. Nielsen said only one man had a shot of the incident up close, and he deleted it that night.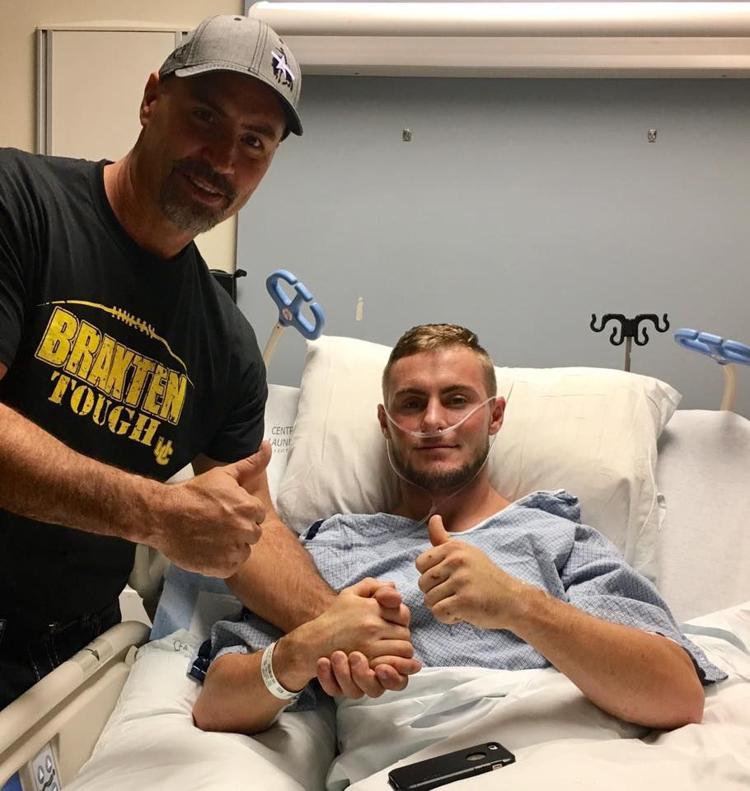 The first steps
Hopes were slim in the beginning.
The doctors at the University of Utah Hospital in Salt Lake City told Nielsen he had a less than 5 percent chance to walk on his own again.
"My dad asked the surgeon, 'So you're telling me my son is going to be in a wheelchair for the rest of his life?'" Nielsen said. "The surgeon told him, 'I don't want to give you any false hope, but yes, he will be submitted to a wheelchair.'"
Rick Nielsen, Braxten's father, is typically a positive person, but his mind wandered toward the potential negatives in that moment.
"There were just so many thoughts that come to your mind in that situation," Rick said. "The limitations and the change and what's going to come, so many things to consider. That was hard."
But Braxten remained unfazed.
"Of course I didn't want to believe that I was going to be in a wheelchair forever," he said. "They gave me a 5 percent chance. I thought, 'Heck, that's 5 percent I've got to work with.'"
Braxten's parents, Rick and Kathy, were with Braxten "almost every day," Rick said. He'd accumulated a couple weeks of sick time from his job as principal of Union High School in Roosevelt, Utah, and he and his wife — sometimes together, sometimes separate — made the trip regularly.
"It's kind of weird, even though he's 25 years old, we still have that love and concern that we had for him as a 10-year-old," Rick said.
Jordee Nielsen — no relation to Braxten, but he considers Jordee a "brother" — saw that positivity the moment he walked in during his first visit to see Braxten in the hospital.
"The first thing he said to me was, 'How are you doing Jordee? How are doing through all this?'" Jordee said. "He can't walk, and he was worried about how I was."
Braxten had plenty of friends visit, but few like Jordee. He went down every weekend to spend time with Braxten, often spending the night in the hospital. He sometimes helped Braxten get his legs under him, and they worked at trying to regain some mobility together. They also had fun. One night, Jordee put himself in a wheelchair like Braxten, and the two raced down the hall.
"I just tried to bring a smile to his face," Jordee said. "(I'd) tell him about what's going on at school and try to take his mind off it all."
Braxten also said the CSI community was a big support from afar. The volleyball team even broadcast videos of Braxten's progress at home games, including the first steps he took in therapy using handrails to keep his balance.
"The volleyball team kind of started it, in a way, at the ball games, supporting the foundation and everything," Braxten said. "They came to see me in the hospital, too, which was pretty awesome. (There was) a lot of support from CSI."
The first steps the volleyball team played on the jumbotron were the same ones that earned Braxten outpatient status. But on Oct. 20, as Braxten strolled out of the hospital, his most grueling work to regain his strength was just beginning.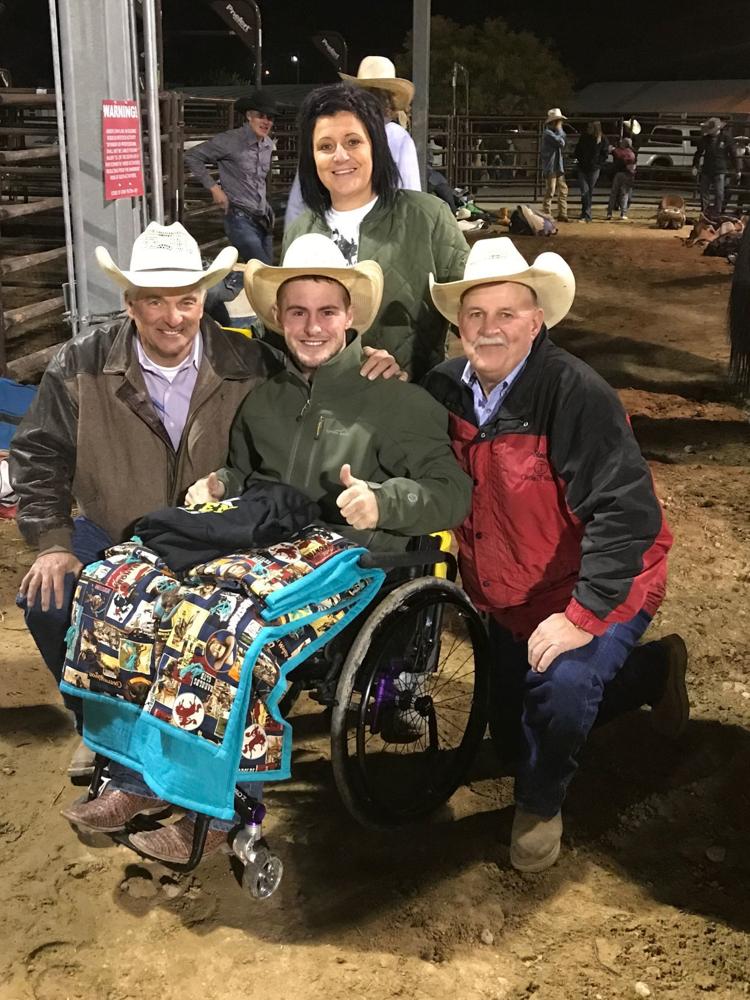 The hard work of walking
Braxten soon began his work at Neuroworx in Sandy, Utah, less than 20 miles from the University of Utah Hospital. He worked with Jan Black, the clinic's director and a certified physical therapist, to help regain the normal feeling of walking and moving around, but there was nothing normal about it for a while.
"I've always felt pretty physically athletic and had a lot of ability in that way, but it was a mental fight," Braxten said. "I felt that way in the hospital, too, but (Black) pushed me harder than I've ever been pushed before."
Braxten recovered at Neuroworx for four months, his body slowly putting together all the pieces of the puzzle. What started as simply standing months before went to "scooting out of the hospital," as Braxten put it. Then to the hard, forced stepping motions. By the time he left, he still had a walker and crutch in case he needed them.
But his sister, Chezney, had a challenge for him in early December: give up the walker and try to walk on his own.
By late winter, he was, and it gave him the confidence for his next step.
"I decided to enroll back in school," Braxten said. "I still had to use a crutch here or there, but I was ready for it."
He was overwhelmed by everyone who was willing to help him get back to CSI. Jordee and Steve Birnie, CSI's head rodeo coach, were by his side throughout the process. Jim Knight, an equine studies instructor at CSI, wanted to work with Braxten and get him back on a saddle whenever he was ready. Joel Bate, CSI's athletic director, had even reassured Braxten when he was at the hospital months earlier that he was ready to help however he could.
"(Bate) talked to me and said, 'As soon as you're ready to come back, we've got everything in place. The community and the school want you here. We want to help you reach your goals,'" Braxten said. "I'm very grateful Joel allowed me to do that, because I wouldn't have thought about coming back to school."
For his family a state away, it was a touching thing to hear about.
"The people in the Twin Falls area, we don't even know them," Rick said, "yet we'll hear from people there about things like the college letting him come back to the school. It's just nice how many people give."
As much as Braxten hates to say "can't," there are still a few things that he can't do.
His calf muscles don't fire correctly, leading to a flatfooted walking stroke. He can't lift anything more than 50 pounds overhead, though he can lift weights in other fashions. Even his bladder and bowels are still recovering from injuries to his nervous system.
But Braxten said he "feels great" and can do pretty much anything he wants to.
"I rode a saddle horse just because I wanted to prove to myself that I can do it mentally," he said. "I got on and was just walking around on a horse. So the limitations are really just I can't run, and I can't get back on a bucking horse yet."
But he sees himself back in bareback riding, sooner than one might expect.
Saddling back up
Setting and reaching goals. Shattering the boundary between possible and impossible. Nielsen plans to continue to do these things in the coming months and years.
In fact, he already has his next bareback ride planned: Jan. 12, 2019, at the National Western Stock Show and Rodeo in Denver. Then there's his "biggest goal": to come back to CSI and help it win a national championship.
"That's what helped me get through this, is setting goals and accomplishing them," Nielsen said. "If my body gives me the opportunity to get back on, yes, without a doubt I want to do it."
In bareback riding, danger is part of the game. A horse is trying to throw the competitor off of it, flailing wildly. Then there are the "freak accidents," like Braxten's — a slip of hooves leading to a ton of weight crashing back onto him.
The second-place finisher in bareback riding at the Twin Falls Stampede the night Nielsen was paralyzed was J.R. Vezain. He broke his back at a rodeo in British Columbia when the horse flipped over on top of him. CSI bareback riding alum Mason Clements broke three ribs and a left fibula in 2017, but rode through the pain to earn a top-15 spot in the nation.
Jordee saw a rider pronounced dead at a college rodeo finals because the rider's pulse stopped.
"It's dangerous, and we all know how dangerous it is," he said. "We all love it so much that we try to keep it out of our minds, and we just think about the good. You'll get hurt once a year and will think about it then, but we focus on what we love."
But Braxten is ready for the challenges associated with the sport he loves and doesn't shy away from thinking about the incident that almost took him out of the sport.
"There are some people who tell me, 'I have videos of your accident. I have pictures of your accident. Do you want them?' I say yes," he said. "Absolutely. I'll take them, because this is a defining moment for me that's helped me become the person that I want to be. It's humbled me. It's made me work hard for what I really want.