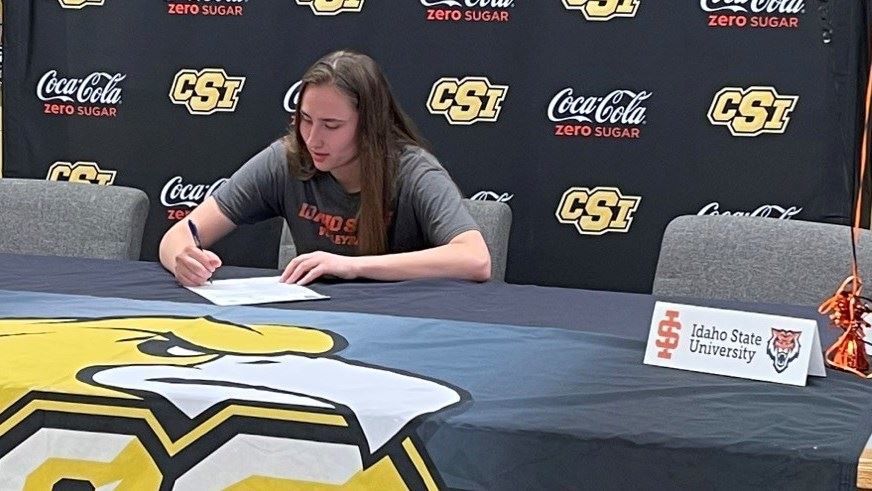 CSI Men's Rodeo wins final rodeo and region championship
TWIN FALLS, Idaho - The College of Southern Idaho Men's Rodeo Team claimed first place this past weekend at the Utah Valley University Rodeo and also won the Rocky Mountain Region Championship, qualifying for the College National Finals Rodeo in June.
The Golden Eagles finished the season with 6,999.50 points. The next closest team was USU Eastern with 5,068 points.
Six different cowboys will make the trip to Casper and represent the Golden Eagles. Two won individual region championships.
Chett Deitz was the Rocky Mountain Region Bareback Riding Champion and Brek Sanderson won the Steer Wrestling Championship.
The Golden Eagles had two individual earn reserve championships. Shaun Mentaberry was runner-up in Saddle Bronc Riding and Derek Wadsworth was reserve champion in Tie Down Roping.
The final two cowboys that will be representing CSI at the CNFR will be Russell Kay (4th in Saddle Bronc Riding) and Colt Ramsey (4th in Tie Down Roping).
While the women did not qualify a team or individual for the CNFR, they had a great year, taking third place overall in the Rocky Mountain Region. Kaylee Cornia finished fifth in Breakaway Roping and seventh in Goat Tying.
Southern Idaho Men's Basketball ends season at nationals with loss in second round
HUTCHINSON, Kan. - The third-seeded College of Southern Idaho Men's Basketball Team ended its national championship hopes Wednesday at the NJCAA National Tournament, losing to Indian River State 94-82.
The Golden Eagles finish the tournament tied for 13th in the nation.
Indian River came out hot from long range, knocking down six 3-pointers in the first nine minutes and CSI struggled to get shots to fall.
CSI shot just 42 percent from the field and 21 percent from the 3-point line compared to 56 percent for Indian River from the field and 41 percent from beyond the arc.
The Golden Eagles trailed by as much as 22 in the second half but were able to claw their way back to within 12 and just ran out of time.
Maurice Barnett led CSI with 22 points. He added eight rebounds and three assists. Tsotne Tsartsidze added 15 points and eight rebounds. Amoro Lado finished with 13 points and six rebounds, while Region 18 Player of the Year Deng Dut posted 12 points, four rebounds and three assists.
CSI, which won the Scenic West Athletic Conference Title and the Region 18 Championship, finishes the season with a 21-4 record.
CSI Women's Basketball ends season in first round at national tournament
LUBBOCK, Texas - The College of Southern Idaho Women's Basketball Team battled to the end but ultimately lost the war to Georgia Highlands 65-62 Monday in the opening round of the NJCAA National Tournament.
The Golden Eagles dominated in most every category on paper except turnovers and final score.
CSI shot 43 percent from the field compared to 29 percent for Georgia Highlands and 31 percent from long range compared to 17 percent for the opponent.
The Golden Eagles also won the battle of the boards 48-38.
But with a five-point lead and less than two minutes to play, the Golden Eagles turned the ball over five times and couldn't find a way to score. Georgia Highlands ended the game on a 10-0 run for the win.
CSI finished the game with 24 turnovers.
Kaitlin Burgess led the Golden Eagles with 13 points and six rebounds. Ashlee Strawbridge added 10 points and five rebounds while Courtney Stothard had nine point and seven rebounds.
Karmelah Dean finished the game with six points, four assists and six rebounds. Inside, Jordan Todd had six points and seven rebounds.
Offensively, both Kyra Paniora and Macie Knapp each scored eight points.
CSI end their 2020-2021 season 19-6 overall.
CSI's Taylor Burnham will stay close to home
TWIN FALLS, Idaho - College of Southern Idaho Volleyball's Taylor Burnham signed her letter of intent to play next fall at Idaho State University not far from Twin Falls.
The outside hitter earned Region 18 Conference honors both seasons at CSI. As a sophomore, she averaged 2.95 kills and 3.12 digs per set for the Golden Eagles, ranking her fourth in the Scenic West Athletic Conference for kills per set and seventh in the conference in digs per set. She also had a solid freshman season, averaging 2.72 kills and 2.99 digs per set.
Burnham is a Twin Falls High School graduate.
"We are excited for Taylor," said CSI Head Coach Jim Cartisser. "It will be great for her family to be able to watch her in her next journey. She has worked hard and was an integral part of our team. Taylor is a talented outside hitter that can also play defense and we wish her the very best at Idaho State."
Idaho State University competes in the Big Sky Conference.