LACEY, Wash. — Natalya Babcock led the College of Southern Idaho Women's Cross Country to a team title Saturday at the Ken Garland Classic.
Babcock, who won the 6K event in a time of 23:19, was just one of the Golden Eagles that shined. Audrey Camp placed fourth in 23:36, Lydia Felix was seventh in 23;45, Taya Brewer was eighth in 23:48 and Brooke Reed took ninth in 23:49.
The Golden Eagles dominated the other four-year schools competing, winning the team scoring with 29 points. Northwest Nazarene took second with 57 points and Northwest University was third followed by Saint Martin's.
CSI, which is the top-ranked NJCAA women's team in the country, next travels to Lewiston Oct. 16th for the Lewis Clark State College Meet.
CSI Men come out on top against all four-year schools
LACEY, Wash.—The College of Southern Idaho Men's Cross Country Team put together its best race of the year so far at the St. Martin's University Cross Country Meet Saturday.
The Golden Eagles took first place with five runners finishing in the top 10. CSI scored 35 points for the win. Northwest University took second with 48, Northwest Nazarene University was third, Saint Martin's fourth and Western Washington University fifth.
Individually, Shane Gard placed third overall in a time of 25.41 in the 8K race. Kenneth Merrell was sixth in 26:07, George Showers took seventh in 26:13; Joseph Ereaux was ninth in 26:27; and Cade Smith rounded out the CSI scoring in 10th with a time of 26:31.
The Golden Eagles travel next to Lewiston for the Lewis Clark State College Meet October 16th.
CSI pushes #6 Salt Lake to four but falls in conference opener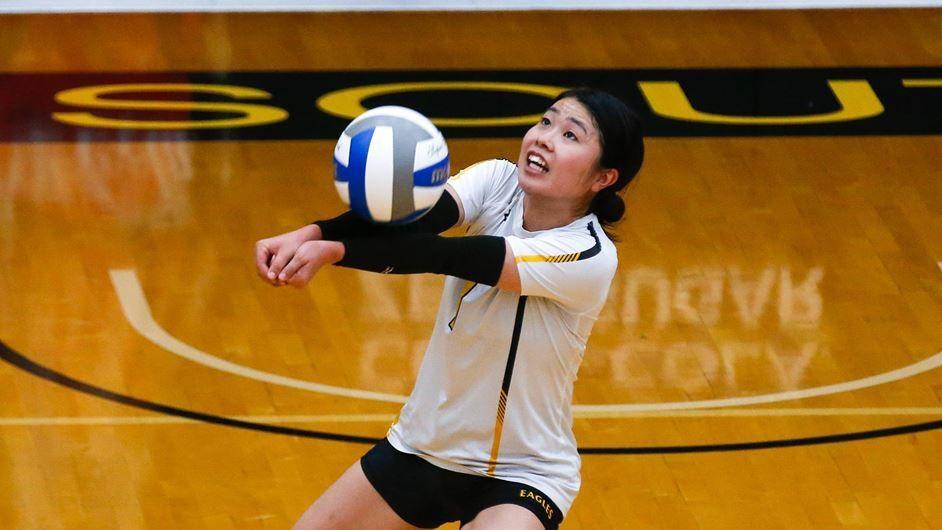 TWIN FALLS, Idaho—The College of Southern Idaho Volleyball Team came out on fire Wednesday against sixth-ranked Salt Lake CC, holding the Bruins to a .081 hitting percentage and handing them an opening set loss. But SLCC battled back ultimately taking the match 18-25, 25-17, 25-19, 25-20 in Scenic West Athletic Conference play.
Kavlyn Giacomelli led the Golden Eagles with 12 kills, 10 digs and three blocks. Mackenna Thayne added eight kills and Pia Selke had seven. Kait White was solid at the net, finishing with eight blocks.
Defensively Miyu Tsurumaki had 15 digs, while Kerra Trimble added nine. Sophia Casarez dished out 18 assists along with 13 digs and two service aces.
CSI, now 9-7 overall and 0-1 in conference play, travels to Price, Utah next Thursday to take on USU Eastern.
Next Match: 6p.m. at Utah State University Eastern
CSI Men's Rodeo wins at Idaho State; Women take fourth
POCATELLO, Idaho—The College of Southern Idaho Men's Rodeo Team claimed top honors Sept. 17 and 18 at the Idaho State University Rodeo and moved into first place in the Rocky Mountain Region Standings. The Golden Eagle Women placed fourth and are in fourth in the standings as well.
Leading the way for the men's team was Wes Shaw again. The freshman won the all-around last week and this week. He won Steer Wrestling and took fourth in Bareback Riding, sixth in Team Roping and seventh in Tie Down Roping. Teammate Brek Sanderson was close behind in the all-around, taking second overall. Sanderson placed second in Bull Riding and fourth in Steer Wrestling.
Other CSI cowboys that placed included Darien Johnson (2nd in Bareback Riding); Davis Otto (3rd in Bareback Riding); Colt Ramsey (4th in Tie Down Roping); Kyle Stewart (6th in Steer Wrestling and 3rd in Team Roping); Wyatt Lloyd (8th in Steer Wrestling); Aaron Champneys (3rd in Team Roping); Tel Shaw (6th in Team Roping); and Kellen Merica (4th in Team Roping).
On the women's side, Shelby Higgins placed third in Barrel Racing and Raegan Steed was sixth. Laney Acord finished fourth in Team Roping.
Golden Eagle Basketball's Sierra Davis named 2020-21 Female Student-Athlete of the Year
TWIN FALLS, Idaho—CSI's Sierra Davis had an impact on the CSI Women's Basketball Program, the CSI Athletic Department and the community as she balanced a successful career in basketball with high grades and community service during her time as a Golden Eagle. Because of that impact, Davis earned the 2020-21 Female Student-Athlete of the Year award from President Dean Fisher.
This annual president's award is typically announced at the sophomore athletic banquet but because of Covid-19 the banquet was canceled and this award is being announced by the CSI Athletic Department.
"In Sierra's two seasons she steadily improved in all aspects of the game," said CSI Head Coach Randy Rogers. "She worked nonstop on her fitness level, strength, outside shooting and became a great defender. She worked tirelessly on where she wanted to be. During her two years she became a quiet leader for our team. This past year her work ethic was second to none, setting a great example for her team in the classroom, in practice and in games."
Davis was recognized by other coaches in the region, being selected Region 18 honorable mention. Because of her work on and off the court, Davis earned a scholarship to the University of Charleston, West Virginia.
While her on-the-court efforts were impressive, it was her off the court that defined who she was.
Davis was involved in many community service projects, such as the MS walk, Kid's Feast and Rim-to-Rim, as well as working with youth during basketball camps.
In the classroom, Davis shined, finishing her two-year career at CSI with a 3.9 GPA, taking a heavy class load to prepare for a future in the medical field.
"Sierra will be missed but her legacy of what CSI is all about (academics, family and community) will continue," Rogers said.
Cross Country's Eric Christen honored as CSI's Male Student Athlete of the Year for 2020-2021
TWIN FALLS, Idaho—Highly successful on and off the court, Eric Christen made his mark during his time at College of Southern Idaho, being selected as the 2020-2021 Male Student-Athlete of the Year presented by President Dean Fisher.
This annual president's award is typically announced at the sophomore athletic banquet but due to the Covid-19 the banquet was canceled and this award is being announced by the CSI Athletic Department.
Christen not only excelled in cross country and distance track, but he also in the classroom, where he posted a two-year career 4.0 GPA at CSI, earning NJCAA national academic honors both years.
A three-time All-American, Christen earned that distinction in cross country, indoor track and outdoor track. He was instrumental in the Golden Eagles taking second at the NJCAA Division I Cross Country Championships last fall, where he posted the top CSI time and finished 11th overall individually.
Christen, who continued his running and academic career at Idaho State University, was chosen as a team captain at CSI because of his hard work, consistency and discipline.
"Eric is a determined, stubborn, goal-oriented and genuinely good person," said CSI Head Coach Lindsey Anderson. "He was always one of the first to volunteer to help out in whatever we were doing. He would see something that needed to be done and do it without being asked. Eric will continue to be very successful in his life and is truly one-of-a-kind person that we will miss at CSI."
Deng Dut named Rudy recipient for 2020-2021 school year
TWIN FALLS, Idaho—College of Southern Idaho Men's Basketball standout Deng Dut was honored by Golden Eagle Athletic Director Joel Bate for his tenacity while representing CSI on and off the court by being named the 2020-2021 Rudy recipient.
The Rudy Award is typically given out each spring at the CSI Athletic Awards Banquet but due to Covdi-19, the banquet was canceled this past spring.
This award, given by the CSI Athletic Director, recognizes accomplishments made by CSI sophomore student athletes who go above and beyond normal expectations and do something extraordinary that transcends perceived boundaries. The award is modeled after the character and spirit of the main character from the movie Rudy, whose desire was to play for Notre Dame Football despite not having the physical attributes of the stereotypical college football player. It is an award that has been given at the sophomore award banquet since 2009 and presented to student athletes who display that kind of spirit and determination in what they have achieved.
Dut took his game to the next level as a sophomore through hard work and daily discipline. There was rarely a day that Dut didn't reach out to an assistant coach for a morning individual workout, in addition to his class work and practice. He would often come back late in the evening to shoot additional shots as well. All of this hard work culminated in a Region 18 Player of the Year award, a First-Team All-American honor and a Region 18 Championship title for his Golden Eagle team.
"Deng's leadership and humble kindness was felt and appreciated by everyone in our basketball program and our athletic department," said CSI Head Coach Jeff Reinert. "He did things 'the right way' on a daily basis, both on and off the court."