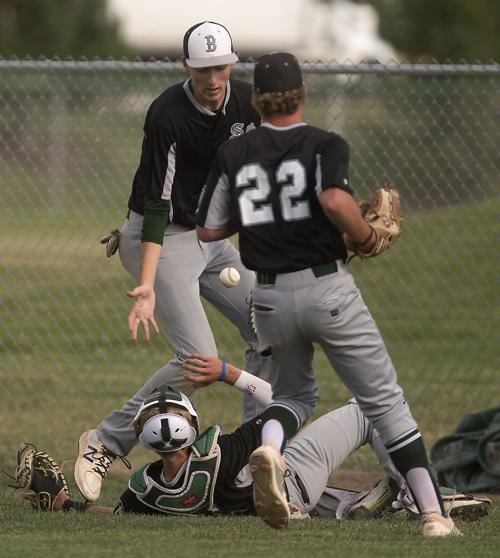 BURLEY — Easton Watterson is the kind of ballplayer who'll run through a brick wall to help his team. Or, at least, he'll try.
His longtime coach on the Burley High School and American Legion teams, Devin Kunz, remembers when Watterson was catching a game against Wood River at the College of Southern Idaho baseball field. The CSI backstop is — unlike most high school backstops — brick.
Watterson was chasing a pop up in foul ground. He laid out to make the catch — and dove headfirst into the wall. He suffered a concussion and had to come out of the game.
"I mean, we thought he'd died," Kunz said. "He's just willing to do anything to get an out."
Now Watterson, who has spent the last two years as an outfielder for Treasure Valley Community College in Ontario, Oregon, will be taking his hard-nosed style of play to Eastern Oregon. The Mountaineers haven't had a baseball team for eight years, but this coming spring they're bringing baseball back and will be competing in the Cascade Conference, which is part of the National Association of Intercollegiate Athletics.
"I'm really excited to go there," Watterson said.
Watterson noted that he had a few options for schools, but he picked Eastern Oregon because of his faith in the head coach, financial reasons, the opportunity to be a team leader and because the school is relatively close to home.
Because the coronavirus outbreak ruined the 2020 baseball season, Watterson will have three years of eligibility at Eastern Oregon, instead of two years.
The Burley baseball program has produced more than its fair share of good baseball players in the past 12 years. Kunz noted that he's seen 16 kids play college baseball, an impressive number for a small, rural community.
Kunz said he thinks Watterson's gritty style will help him find success at Eastern Oregon. Watterson said he's hoping to play well enough that he'll get a chance to play Division I baseball at some point.
"Just looking at him, he doesn't knock your socks off," Kunz said, noting that Watterson is on the smaller side. "He's really savvy to the game. He's kind of old-school, where he just gets dirty and gets after it ... I love him like a son, he's a great kid."
Be the first to know
Get local news delivered to your inbox!